Baby First Puree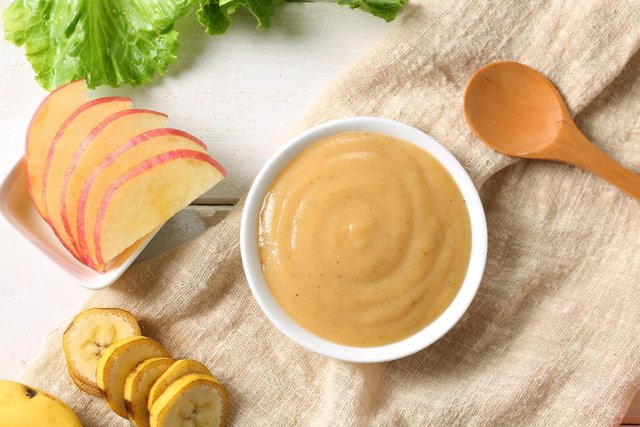 Photo:pixabay
Hello,
Today I will write about baby food. We all know how much breast milk is healthy for babies.
But how the baby grows, so does her requirements flow-grow.
When your baby is 6 months old, you can give them a first food.
What is the baby first food?
It's fruit or vegetable puree.
For the first food, it's best if you can use organic fruit and vegetables.
Also, you need a good blender.
If you have read and tried my previous posts, I'm sure you have it. 😂
What to use for the baby's first food?
🍌 BANANA 🍌 - banana is great first food for baby. They're sweet, which may help the baby more readily accept the first food experience.
🍎 APPLE 🍎 - apple is another great first food for baby. They contain two types of fiber, insoluble and soluble fiber. Both types of fiber help maintain bowel regularity.
Also, these fruits are rich in vitamins and minerals.
Scroll down and find the recipe for the baby's first food.
The banana & apple puree is the best combination for the baby's first puree.
You need:
1 medium apple
1 banana
Water or breast milk, as needed
Instructions:
Peel the skin off from apple and cut it
Put the sliced apple in a pan, cover in water and simmer for 5-10 minutes
Now blend it with banana and water or milk until smooth puree
Serve immediately.
In every market, you can find finished puree. But how healthy is it for your baby?
Not really!
P.S.: Also, adults can eat.
P.S.S.: Just keep in mind what the baby can eat at that age.
Enjoy the time with your babies!