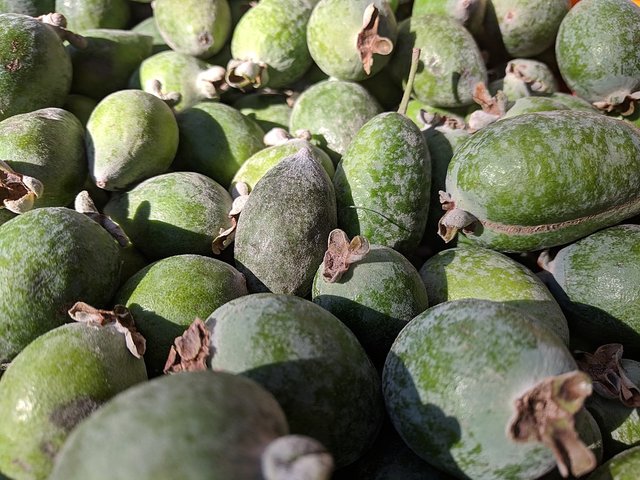 The fruit scene here in wintertime is dominated by citrus. Oranges, mandarins, grapefruits, lemons, limes, and kumquats are common sights in the markets. Apples and some pears can be eaten straight through the winter and into spring also. To make things more interesting, we also have pomegranates, persimmons, and kiwis for parts of this period when local, temperate fruit trees are asleep. Of course, there are bananas, pineapples, and offseason berries imported from distant locations, but I'd rather buy local produce whenever possible.
Green Eggs
Occasionally, in the late fall or even in the middle of winter, we also get some feijoas. The feijoa is a strange fruit that resembles a guava. Indeed, its other name is pineapple guava,even though it is not closely related to true guavas. It's an oval fruit, somewhat smaller than an egg, and covered with leathery, emerald green skin. These plants are native to the highlands of South America; the name honors a Portuguese naturalist who collected samples in southern Brazil.
I cut the small ones once widthwise, just like a kiwi, and then scoop out the edible part with a spoon. With the elongated ones, it's easier to cut them once lengthwise for easy eating. The seeds are covered with a sweet, gelatinous meat, while the surrounding white pulp is slightly coarser, but tastes just as good. Scooping all of this out for fresh eating leaves only the tough skin, which is not consumed.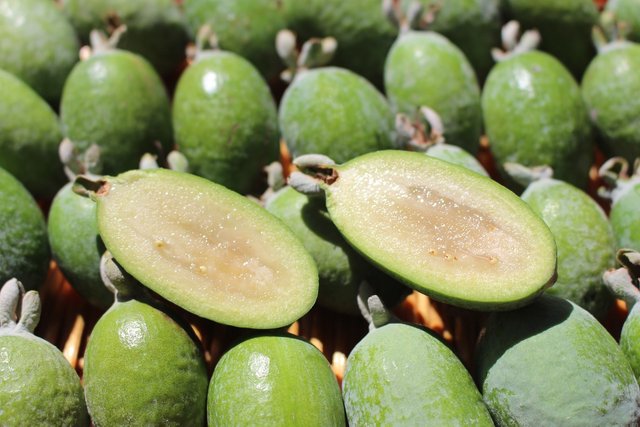 Feijoa. Public domain.
And Mint. No, Apple Mint.
What does a feijoa taste like? I knew you would ask, if you have not tried one before. It tastes kind of like a guava, but quite unique. First, a ripe feijoa fruit is sweet. These are the fruits that fall from the tree naturally or, if picked too soon so they can mature off the tree, the ripened fruits become slightly soft to the touch (like a ripe banana). The outside will have some dark blotches if it is truly ripe.
The sweetness is rather like apple or perhaps pineapple. There is some aromatic essence there, not guava, and I'd argue that it's not quite significant enough to resemble pineapple either. Some would call it slightly citrusy. And then there is the aftertaste: you get a snap of mint. Yes, mint from a fruit. It does taste like mint or maybe wintergreen, overlayed on top of that sweet apple/some say pineapple/maybe citrus flavor. Take a glass of apple juice, squirt in a very little bit of orange or pineapple juice, and drop a peppermint tea bag in that juice for a few minutes before drinking it: that would be as close as I could come to reverse-engineering the feijoa taste.
If I had my choice, I'd take a tropical pink guava instead, but only because those are some of my favorite fruits. The feijoa is a warm temperate or subtropical cousin; it has a truly unique taste that is not quite as good as a pink guava, but it is still a very nice fruit. The first time you eat one, you might be turned off by the minty ending. It is a weird sensation from a fruit. But that's an acquired taste. Once you have a few of these little eggs, you start to appreciate that this is a very good fruit.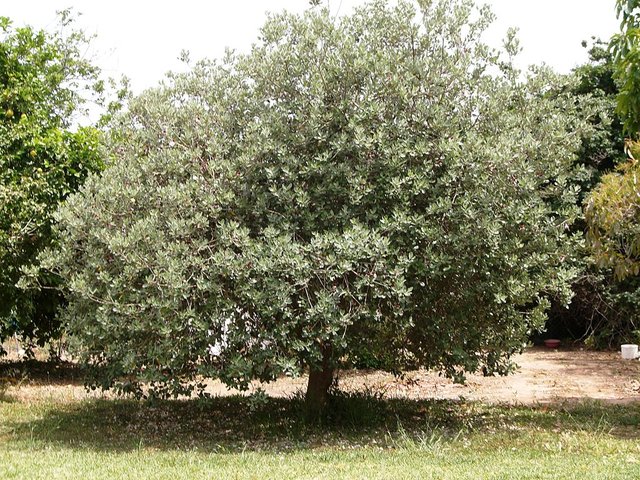 The Tree or Bush
Feijoas grow on a bush or small tree that looks a lot like other guavas. It's an evergreen shrub, so it retains its leaves year-round in climates where it can survive. These are attractive bushes and the green leaves have a fuzzy gray underside with lovely pink/purple and red flowers, making them an attractive contrast with other landscape plants. Feijoas can be grown from seed and will probably produce acceptable fruit, but for the best fruiting specimens, it's better to buy a grafted plant of a variety like Nazemetz or Coolidge that has proven to produce large, tasty fruits (a list of some named cultivars appears in the California Rare Fruit Growers link below).
In the United States, growing climates can include some of the warmer states, such as Florida, Texas, the Carolinas, and California. With winter protection from greenhouses, etc., there are people growing feijoa as far north as Minnesota, and I'm sure someone in Canada is doing the same. It does need protection in cold climates, though, since the plant can suffer winter damage below about 15 F (-9 C) degrees. Those who do not get many fruit can still eat the blossoms, lovely tropical-looking pink/purple and red flowers which are quite edible and sweet also.
Feijoas are high in Vitamin C along with smaller amounts of B-vitamins and minerals such as magnesium. They contain a good deal of fiber and are low in sugar. Studies of the antioxidants in feijoa have found that they show some benefits for regulating blood sugar and improving cognitive function in the brain. Because the fruits are smaller than, say, an apple, eating one is not a big caloric commitment. These make nice snacks or easy additions to breakfast. For the few weeks per year that these are available, eating one in the morning feels like a great way to start my day.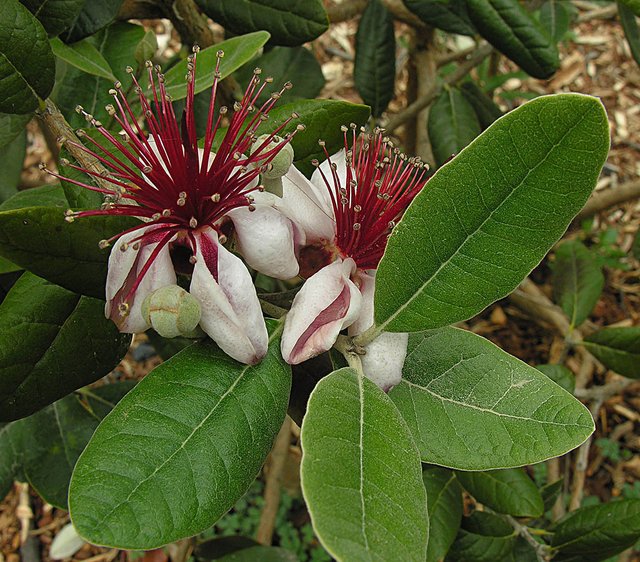 References:
https://heartmdinstitute.com/diet-nutrition/feijoa-healthiest-fruit-youve-never-heard/
https://www.suncrestnurseries.com/pfts_show.php?id=feijsu
https://en.wikipedia.org/wiki/Acca_sellowiana
https://www.crfg.org/pubs/ff/feijoa.html
https://www.organicfacts.net/health-benefits/fruit/pineapple-guava-feijoa.html
The three photos without reference information are used with Creative Commons licenses via Wikimedia.com. Top image by grendelkhan. Tree image by yelod. Flower image by Dick Culbert. The second image, as indicated in the text, is public domain.