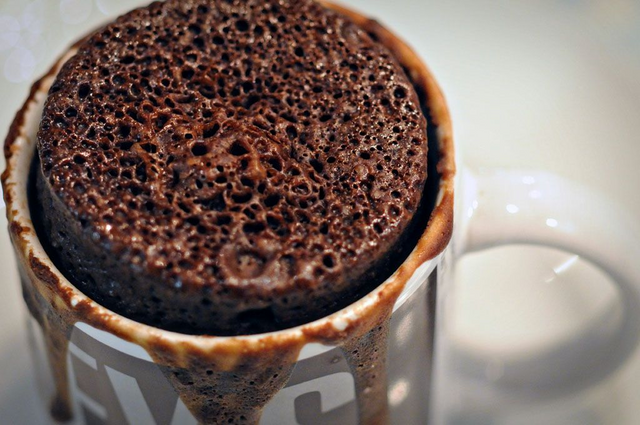 Have you ever gotten any craving for cake, but didn't want to invest too much time? It might not be the healthier choice, but a mug cake can satisfy you! It takes about 3 minutes to prepare, 2 minutes to bake and a few minutes to enjoy!
Ingredients:
Get a big mug and throw in:
1/4 (of the mug) flour
1 small egg (if you have medium sized-eggs, it would work)
1.5-2 tablespoons of Sugar
2-3 tablespoons of Milk
1.5 tablespoons of cocoa powder (unsweetened)
Half a tablespoon of chocolate chips
2 tablespoons of any vegetable oil (Virgin Olive Oil would work the best, flavor-wise)
A pinch of salt
A pinch of powdered vanilla, or some vanilla extract
Preparation:
Mix the ingredients inside the mug.
Put it inside your microwave oven.
Cook in maximum power for 2 minutes or until it rises to the top of your mug (it may drip a little on the side)
Let it cool down a little bit for 3-4 minutes.
Enjoy!
Take it to the next level:
You could throw some chocolate trimmings or chocolate chips on top. As they melt, they'll form some kind of chocolate glaze. Don't expect it to be perfect though, the cake will absorb most of the chocolate as it melts.

Make your cake colorful by adding white chocolate chips

Missing some nut? Add some chopped ones before stirring! Just make sure the ingredients don't take up more than half of the mug!
Tips
Mix it thoroughly until it is a smooth brownish-looking mass.
Use a fork to mix it, not a spoon!
A spoon will work, but a fork will make it a lot faster 🥄
The ingredients shouldn't take up more than half of the mug, as it may/will overflow!
If you are afraid it will overflow, put a microwave-safe plastic tray below your mug, and no cake will go to waste ;)
Sources
I found the original recipy on Food Network but I made some changes of my own (the original recipy calls for 5 tablespons of Sugar! That's a lot!)
Image taken from Pinterest. I forgot to take a pic of mine as I got greedy when I took it out of the microwave oven. 🥄