Hi guys, today i really would love to share you the recipe of this rolled steamed rainbow cake.
you can serve it to your family and they will love it 😄
please check the recipe out below 😉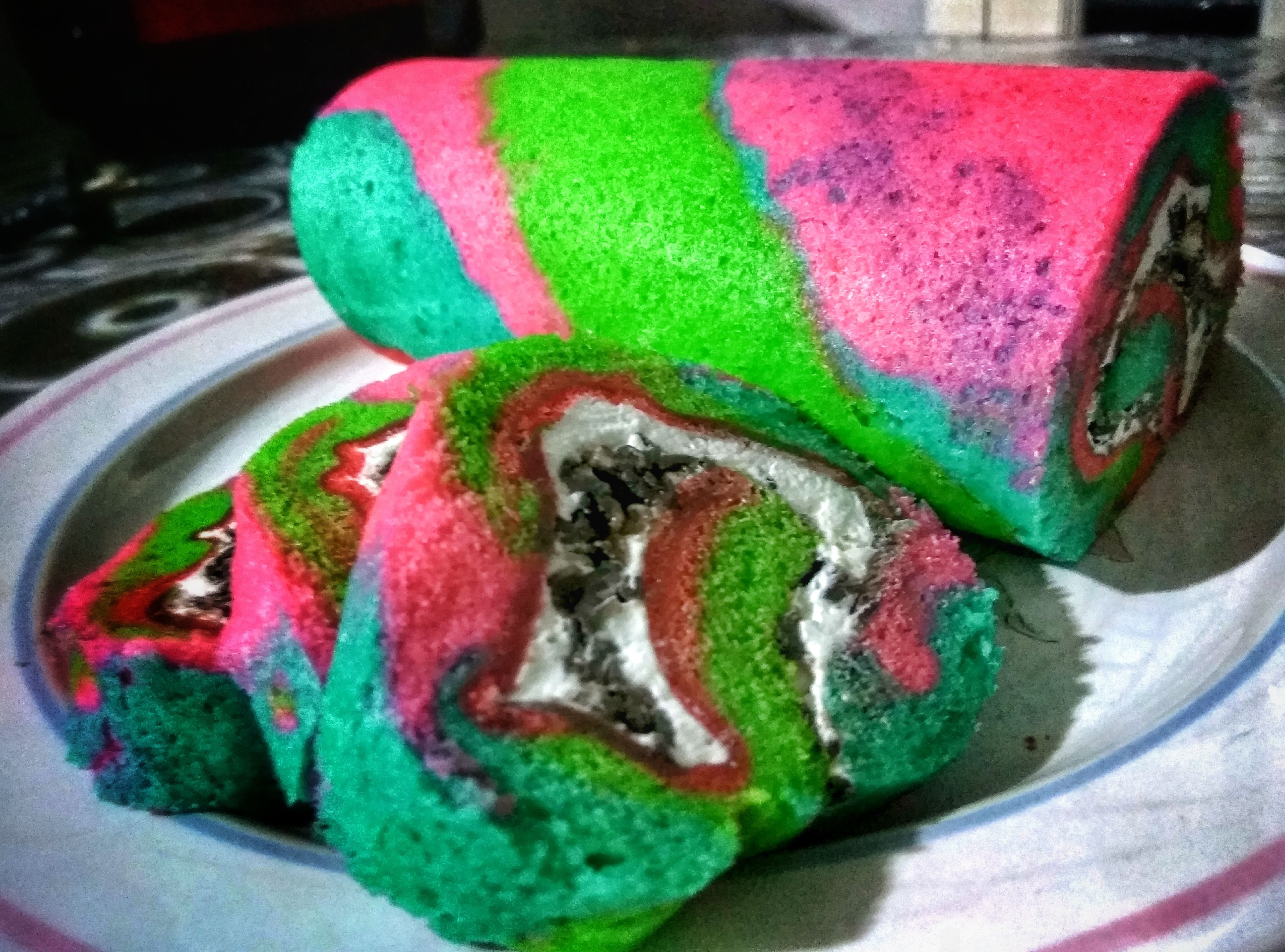 ingredients:
8 eggs
100 gr sugar
1 tsp emulsifier
90 gr Wheat flour
10 gr of cornstarch
10 gr Milk powder
1/2 tsp Vanilla
60 ml of vegetable oil
for the substance:
Cream and Cheese (modified it as you like)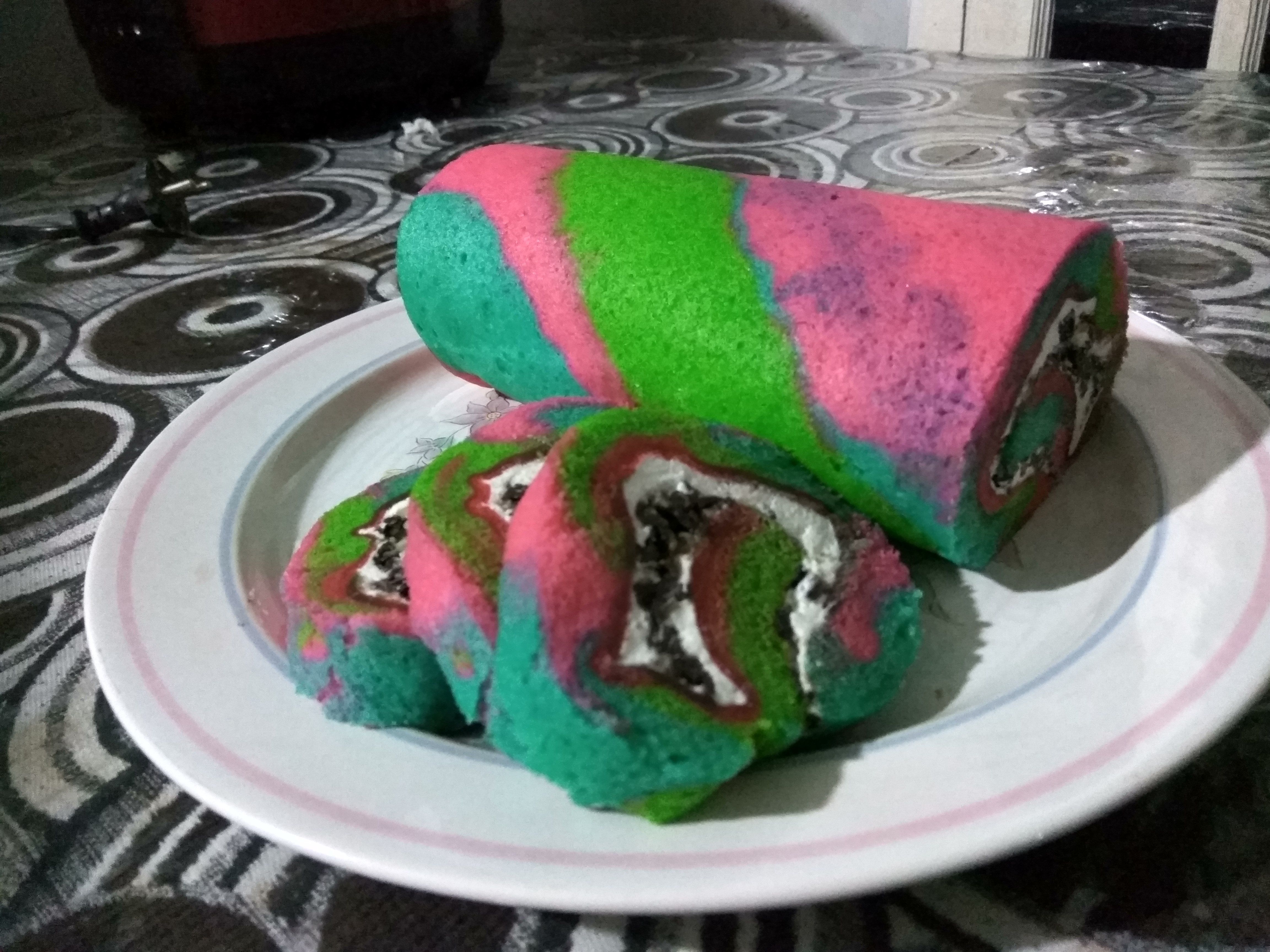 the steps:
~ Mix eggs + sugar + emulsifier, then shake with high speed mixer until it thickened and streak
~ Enter wheat flour + cornstarch + Milk powder + vanilla little by little in the dough. Use a low speed mixer.
~ Pour vegetable oil into the dough using a low speed mixer until well blended.
~ Divide the dough into 5 parts of color (or according your taste) then put in pipping bag to make it easier to form rainbow motif in the baking sheet.
~ The shape in the 26x26x3 cm braid shake with the bottom that has already smeared with oil (allow the edges of the pan without smear so it will not shrink when the steaming time of the process). Make sure the steam blade is already boiling and its steam as much as possible when the dough goes into the steaming, and do not forget to apply napkins or cloth on the seal of steam so that there will no water drips into the dough.
~ Gently rock the pans or shake it on the table slowly before the process of steamed, so that there will no cavity in the sponge.
~ Steam for about 10 -15 minutes. After being ejected from the steamer, immediately take the sponge and rolls. Let it until really cool to give a spread of cream or jam according to the taste and then roll it back.
~ Cut the sponge and serve.
Note. for rainbow motifs, I spray to pan shake alternately from the baking pan in alternating color, and so on until it runs out. Or you can also use the other techniques as well.
.
.
.
Hai semuanya, hari ini aku akan membagikan resep bolu gulung pelangi kukus. Kalian dapat menyajikannya untuk keluarga. Check resepnya di bawah ini yaa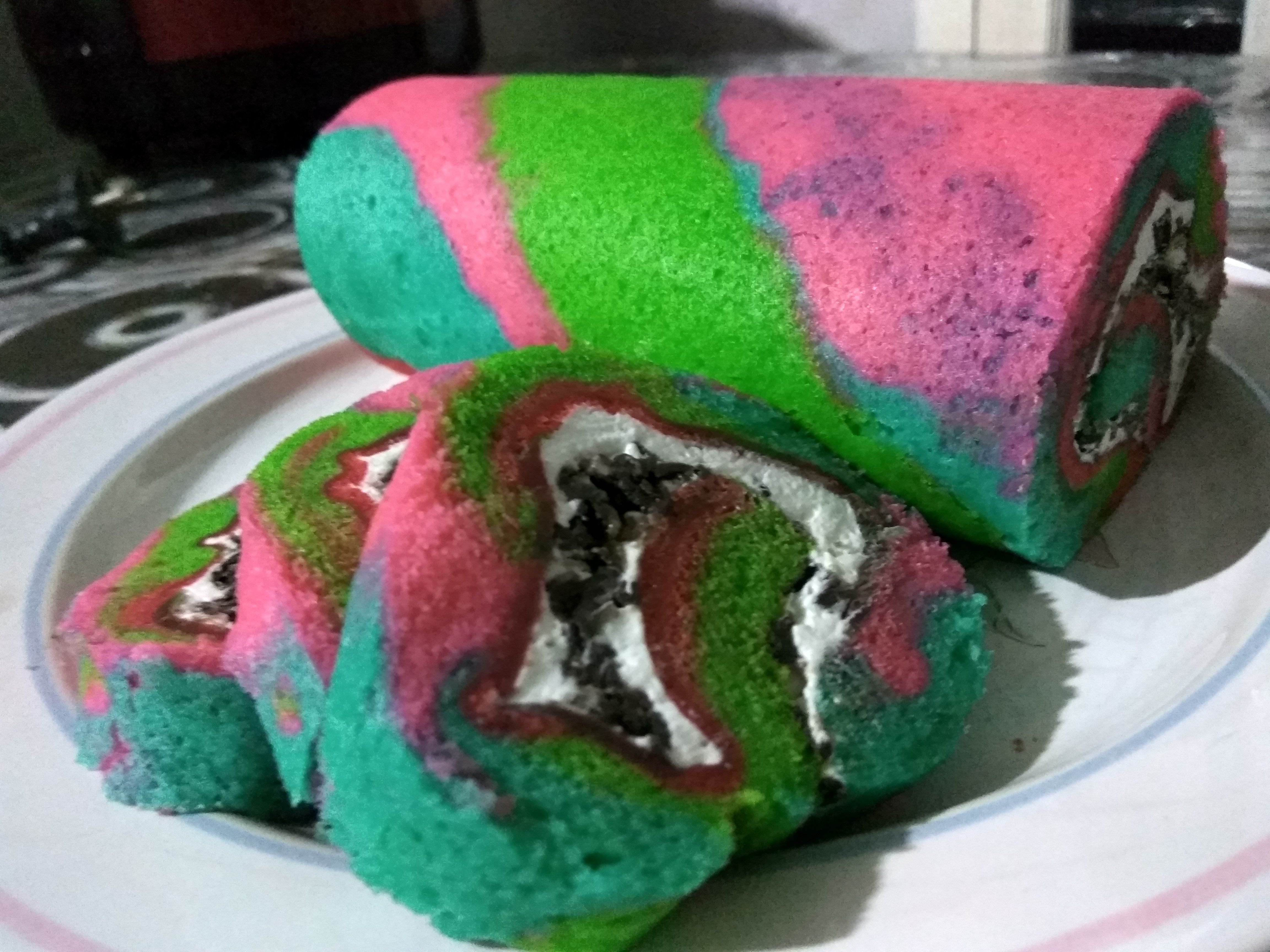 bahan:
8 butir telur
100 gr gula
1 sdt SP
90 gr Tepung terigu
10 gr Tepung maizena
10 gr Susu bubuk
1/2 sdt Vanili
60 ml Minyak sayur
Bahan olesan :
Cream dan keju parut (atau dapat disesuaikan dengan selera)
Langkah-langkahnya:
~ Campur telur + gula + SP lalu kocok dg mixer kecepatan tinggi sampai kental berjejak
~Masukkan tepung terigu + maizena + Susu bubuk + vanili sedikit demi sedikit dalam adonan. Gunakan mixer kecepatan rendah.
~Tuang minyak sayur kedalam adonan memakai mixer kecepatan rendah sampai tercampur rata.
~Bagi adonan menjadi 5 bagian warna (atau sesuai selera), kemudian masukkan dalam pipping bag untuk memudahkan membentuk motif rainbow dalam loyang.
~Bentuk dalam loyang ukuran 26x26x3 cm yang bagian bawahnya sdh diolesi minyak (bagian pinggir loyang biarkan tanpa olesan supaya tidak menciut waktu proses pengukusan). Pastikan dandang kukusan sdh dalam keadaan mendidih dan uap nya banyak sblm adonan masuk ke dalan pengukusan dan alasi serbet atau Kain pd penutup dandang kukusan spy tidak ada air yg menetes di adonan.
~ Goyangkan loyang perlahan atau hentak2 kan di meja secara perlahan sebelum proses dikukus supaya tdk ada rongga di dalam bolu nya.
~ Kukus selama kira-kira 10 -15 menit. Setelah keluarin dr kukusan segera gulung bolunya. Diamkan sampai benar2 dingin untuk di beri olesan cream atau selai sesuai selera kemudian gulung kembali.
~Bolu siap dipotong dan disajikan.
Note. untuk motif pengaturan rainbow, saya semprotkan ke loyang secara bergantian dr ujung loyang secara bergantian warnanya, begitu seterusnya sampai habis. Atau bisa dg teknik lain juga.