Cheer up with this succulent Ratatouille. Recipe # 3 with @ daniel9339.
Ratatouille
Hello again Steemit community, today I bring you a new recipe ideal for vegetarians or also to accompany a dish of meat, fish or it is perfect at an entrance accompanied by some bruschettas. Today's recipe is about the famous Ratatouille which is a typical French preparation originating from the southeast in the Provencal region. This dish consists of stewing in olive oil a series of vegetables and some species, and all others, together, separated, crispy and other very white.
---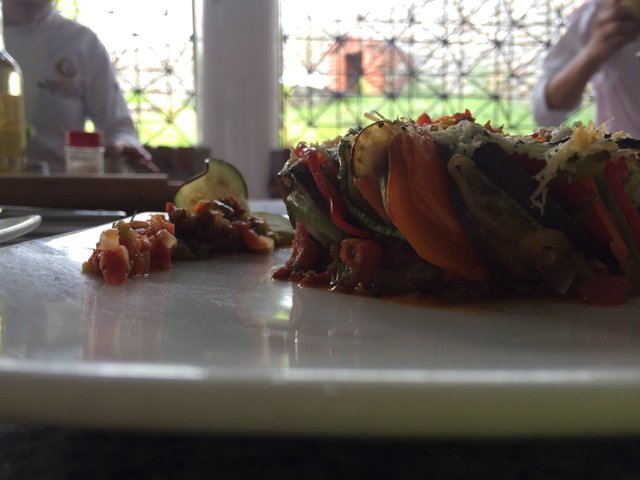 ---
Ingredients:
• carrot
• Eggplant.
• Zucchini.
• Red and green paprika.
• Onion.
• Garlic.
• Ripe tomato.
• Olive oil.
• Salt and pepper.
• Aromatic herbs to taste.
• Ground paprika
• Garlic and ground onion.
• Parmesan.
• Parsley.
NOTE: The quantities depend on how much Ratatouille you want to make.

Preparation:

1- Wash the carrot, eggplant, squash and paprika, then slice with the help of a mandolin (vegetable slicing tool), reserve each one separately.

2- Take a little of each vegetable slice and cut in brunoise, next to the onion, garlic and tomato, to unite all in the same container.

3- The vegetables that were cut into brunoise add them to a pan together with the olive oil, ground garlic, ground onion, ground paprika, aromatic herbs salt and pepper over low heat for about 15 minutes, this will be a kind of sauce where you will finish the cooking of Ratatouille. After the cooking time reserve.

4- The eggplant slices should be seasoned with salt and pepper and left to rest for 20 minutes so that they absorb the flavor, then wash them again.

5- In a frying pan with oil, cook each slice of vegetables separately until they soften a little, this will take between 10 to 20 minutes each and when you finish reserving.

6- When all the stewed vegetables are ready, join them in a larger pan with the sauce that was done previously and cook for 2 minutes.

7- Cut the parsley finely and put it over the preparation and then remove it from the heat.

8- Everything is ready to serve, culminating in Ratatouille with a bit of grated Parmesan cheese, a little more pepper and a drizzle of olive oil. Enjoy your delicious Ratatouille.

---

---

As always I invite you to present your dishes with harmony to make them more pleasant for diners, get creative.

---

I hope you are encouraged to prepare this very simple recipe, any questions or comments leave it in the comments and until next time.