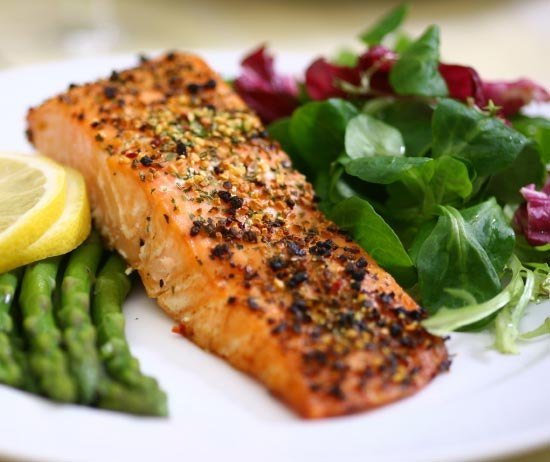 Today let us remember the useful product such as fish and prepare a very tasty dish - salmon, baked with walnut crust.
For 4 servings you will need:
140 g wholemeal bread
50 g walnuts, chopped
3 tbsp. tablespoon chopped fresh parsley
3 tbsp. tablespoon chopped fresh chives
Finely grated zest of 1 orange
A pinch of nutmeg
85 g butter
4 salmon fillets
1 tbsp. teaspoon freshly ground black peppercorns or 1 tbsp. teaspoon ground black pepper
1 egg yolk
To get the most delicious fish, do the following:
Preheat the oven. With the combine do bread crumbs. Smeshyvaem crumb of bread with nuts, herbs, orange peel and nutmeg. Melt the butter in a frying pan, when the foam will be mixed with breadcrumbs and nuts, and we will cook until the butter is absorbed and the crumbs are golden in color.
Set aside and let cool slightly.
Rub into the fish freshly ground pepper, place on a baking sheet skin side down.
Salmon lubricate the beaten egg yolk, sprinkle with crumbs. Zapekaem15-20 minutes until cooked.
Serve immediately better, using a side dish to your taste)
Bon Appetit!!