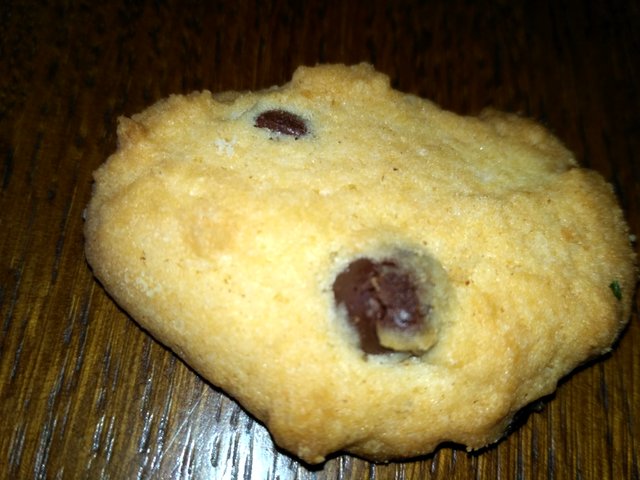 Cześć! Ciocia ostatnio mi dała przepis na pieguski, na które już dawno szukałam przepisu. Chciałam sprawdzony przepis i taki który będzie mi smakował, a właśnie takie jadłam u mojej cioci. Przepis macie tutaj:
• 1 kostka masła
• 1 szklanka cukru
• 2½ szklanki mąki
• 1 jajko
• 1 łyżeczka sody oczyszczonej
• szczypta soli
• czekoladki, orzechy, rodzynki
Wykonanie:
Utrzyj masło z cukrem, a następnie dodaj jajko. Wsyp mąkę z sodą, solą i wymieszaj do jednolitej konsystencji. Później do masy dodaj czekoladki i inne dodatki, które wybrałeś/aś. Wymieszaj.
Z masy formuj małe kulki, idealne wychodzą na małej łyżeczce i układaj na blaszce zachowując odległość, ponieważ ciastka się rozlewają. Jeśli zrobiłeś dość małe ciasteczka piecz 10 minut, jeśli troszkę większe - 12 minut. Jednak jeśli nie jesteś pewny/a patrz ciągle na nie. Gdy je wyciągniesz odczekaj chwilkę, ponieważ są miękkie, lecz po 2-3 minutach są już kruche. Z tej porcji wychodzi około 50 piegusków.
Smacznego!
Cześć!
Hey! My aunt recently gave me a recipe for pieguski, which I had long been looking for a recipe for. I wanted a checked recipe and one that I would like to taste, and that's what I ate at my aunt's. The recipe you have here:
• 1 cube of butter
• 1 cup of sugar
• 2½ glasses of flour
• 1 egg
• 1 teaspoon of baking soda
• pinch of salt
• chocolates, nuts, raisins
Execution:
Whisk the butter with sugar and then add the egg. Pour flour with baking soda, salt and mix to a homogeneous consistency. Then add the chocolates and other accessories you chose to the mass. Mix.
Form small balls from the mass, perfect on a small teaspoon and put on the baking tray keeping the distance, because the cakes are spilling. If you've done quite small cookies, bake 10 minutes, if a little bigger - 12 minutes. However, if you are not sure, keep looking at them. When you pull them out, wait a moment, because they are soft, but after 2-3 minutes they are already fragile. Approximately 50 piegusks come out of this portion.
Bon Appetit!
Bye!