🎆Holi Special 🎨 : Gujia (Vegan)😍
Holi is the spring festival celebrated across the Indian subcontinent, specially in India. It is a festival of color. This two days festival is celebrated by relishing delicious food and sweets and playing with colors.
Gujia is a famous sweet prepared in Indian kitchen on the occasion of Holi. It is is a sweet dumpling, traditionally made with suji or Maida flour wheat flour and stuffed with a mixture of grated and roasted dry fruits, khoya, coconuts etc and deep fried in animal fat like ghee.
Here I made its vegan version by skipping khoya and enriched with more dry fruits in stuffing and vegetable oil is used for frying.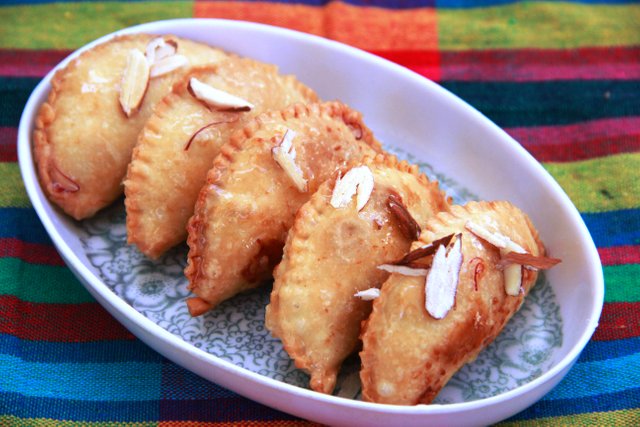 Ingredients
Wheat flour 2 cups
Semolina 1/2 cup
Dry fruits of your choice 1 cup
Cardamom powder 1tsp
Desiccated coconut powder 1/4 cup
Saffron for garnishing (optional)
Powdered Sugar 1/2 cup for stuffing
Granulated sugar to make sugar syrup 1/2 cup
Vegetable oil for frying
Vegan milk to add in stuffing if required 1/4 cup
Water to make dough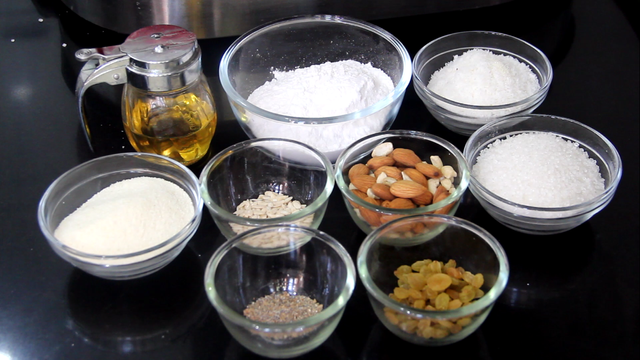 Procedure
Knead wheat flour with water and 2 tbsp vegetable oil. It should not be soft. Keep it little hard.
To make stuffing, In a pan add semolina, desiccated coconut powder, chopped dry fruits, powdered sugar, cardamom powder and some oil. Heat on low flame until mixture becomes soft, add some milk if required.
Make small poori out of dough and make gujia with the help of gujia mould as shown below in the photograph.
Fill poories with stuffing and seal it properly, use water to seal edges.
Deep fry in vegetable oil.
Make sugar syrup and coat gujia with syrup. Coating with sugar syrup is an optonal.
Garnish with chopped dry fruits and saffron threads.