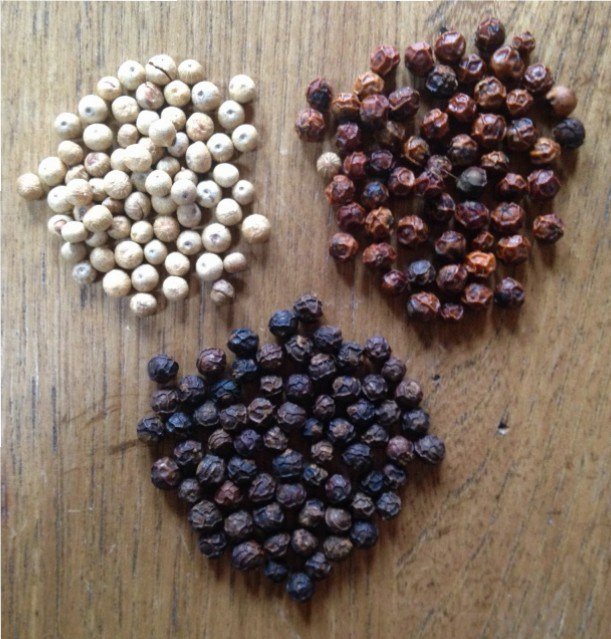 In the quiet Kampot region of southeast Cambodia grows what could very well be the world's best pepper – by far! The pepper is levels above anything you might find in the grocery store. It's so good that, in 2010, it was awarded 'Geographically Indicated' status, putting it in a class of products like Champagne, Parma ham, and other food items associated with their origins of region.
European gourmands have long known about the wonders of Kampot pepper and have praised it for its complex flavors and pungent, yet sweet aroma. Food expert Anthony Bourdain is a fan: "It's got a floral dimension that's really something special."
Others describe it as having 'notes of eucalyptus and mint' or 'woodsy with an almost fruity taste.' Not words that automatically come to mind, perhaps, with your ordinary table pepper.
And to think, mankind nearly lost this wonderful spice forever when the Khmer Rouge destroyed all of the pepper plantations in the 1970s!
What's so special about this unique pepper? First, there are the pepper vines that have been praised since at least the times of the Angkorian empire 1000 years ago. Then there is the unique micro-climate in which they grow: a mineral-rich flatland nestled between the karst limestone mountains and the tropical Sea of Thailand bathed with just the right amount of rainfall and abundant sunshine that allow the pepper plants to flourish. Organic fertilizers might include a mixture of cow dung and bat guano from the caves in the nearby mountains.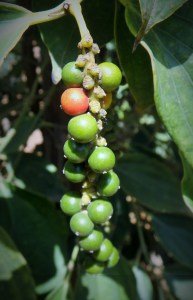 Between March and July, the individual peppercorns are picked by hand at just the right stages depending on the desired use. Black pepper is the common end product, resulting from picking green peppercorns and drying them in the sun. If the 'corns' are allowed to ripen a little more, you get a red pepper which is sweeter and more fully developed in taste with less heat. It goes well with red meats and desserts. White pepper is made by soaking the red peppercorns until the skins come off, making a milder spice that is good with fish or mashed potatoes.
In the late 1800s, French colonists recognized the pepper's special qualities and were soon exporting it to Europe. Any respectable restaurant in France would have the sought-after Kampot pepper in its spice racks. By the 1960's, some 100,000 tonnes annually were being exported. That all came crashing to a halt with the advent of the Khmer Rouge in the 1970s. There was no room for luxuries like pepper in their harsh ideology and the plantations were destroyed and converted into rice paddies.
When the Khmer Rouge were finally ousted in the 1990s, many feared that the pepper was gone forever. But living things have a tenacious desire to survive and sure enough, a few plants were found growing in the wild. Equally crucially, some of the farmers who had the knowledge of the ancient growing methods had survived the genocide.
They painstakingly took a few plants and began to rebuild the plantations (after clearing out a few landmines!). A few families got together and formed the Kampot Pepper Farmers' Association to share and safeguard the knowledge and skills associated with pepper farming. Though production increases every year, it's still a very rare crop with only a few hundred hectares yielding about 30 metric tonnes of exportable pepper. On the plus side, the premium price and high demand is giving Kampot growers a good living and the future looks secure. It's a good turn for a poor country that hasn't gotten many breaks in the last few decades.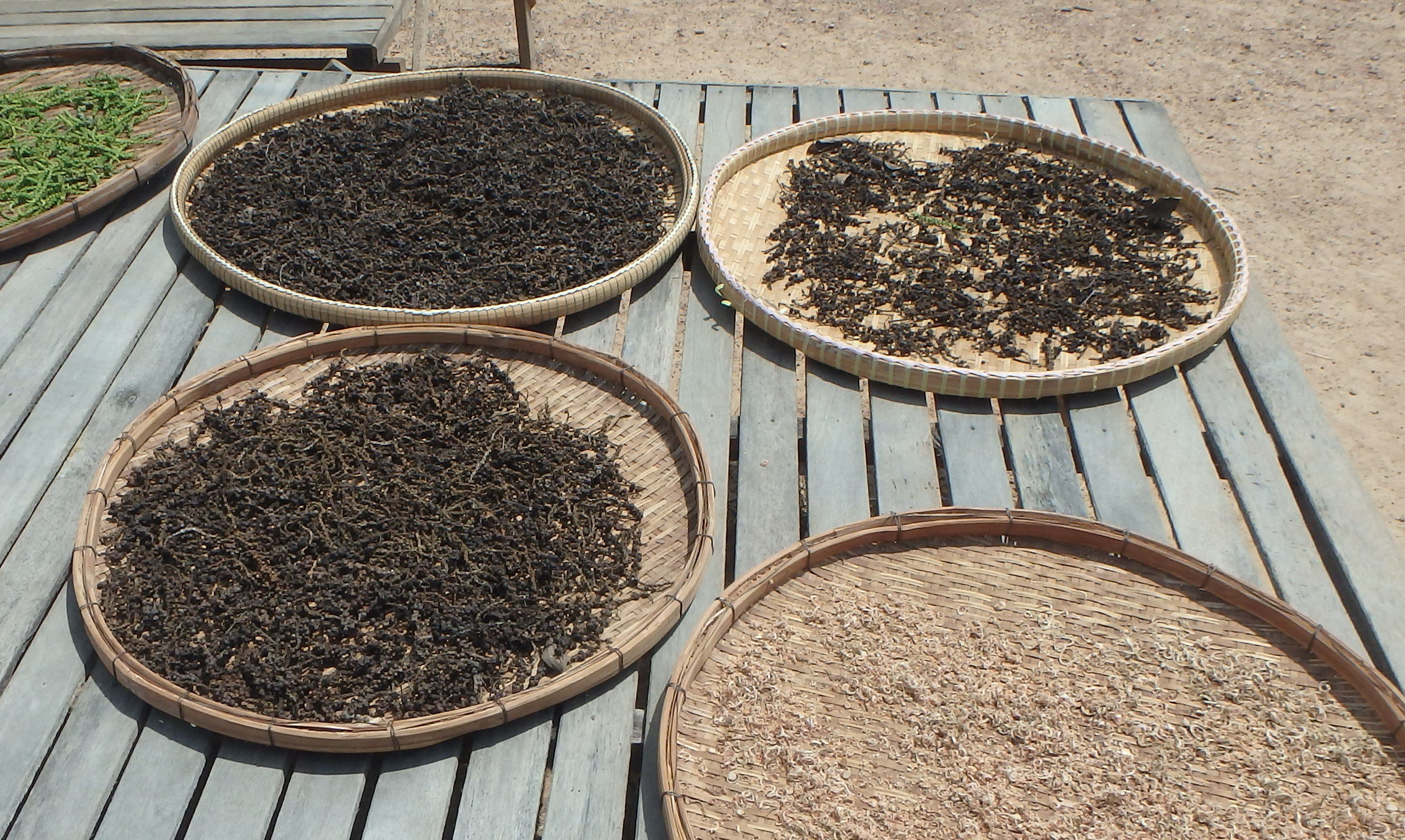 I had a chance to visit a pepperfarm in Kampot recently. I asked a tuktuk driver to take me to the nearest farm and after a bumpy ride down some dirt roads, arrived at Sothy Pepperfarm. A short tour introduced us to the different varieties and we got to nibble some green peppercorns right off the vine. They were selling black pepper for about $8 for a 160 gram bag and $11 for red or white pepper. They warned us to be wary of unscrupulous sellers in the market who try to mix in some of the cheaper Vietnamese variety. Genuine Kampot pepper will be sealed and have a GI batch number that is traceable to the grower and ensures 'authenticity, purity, traceability, and sustainable organic farming methods.'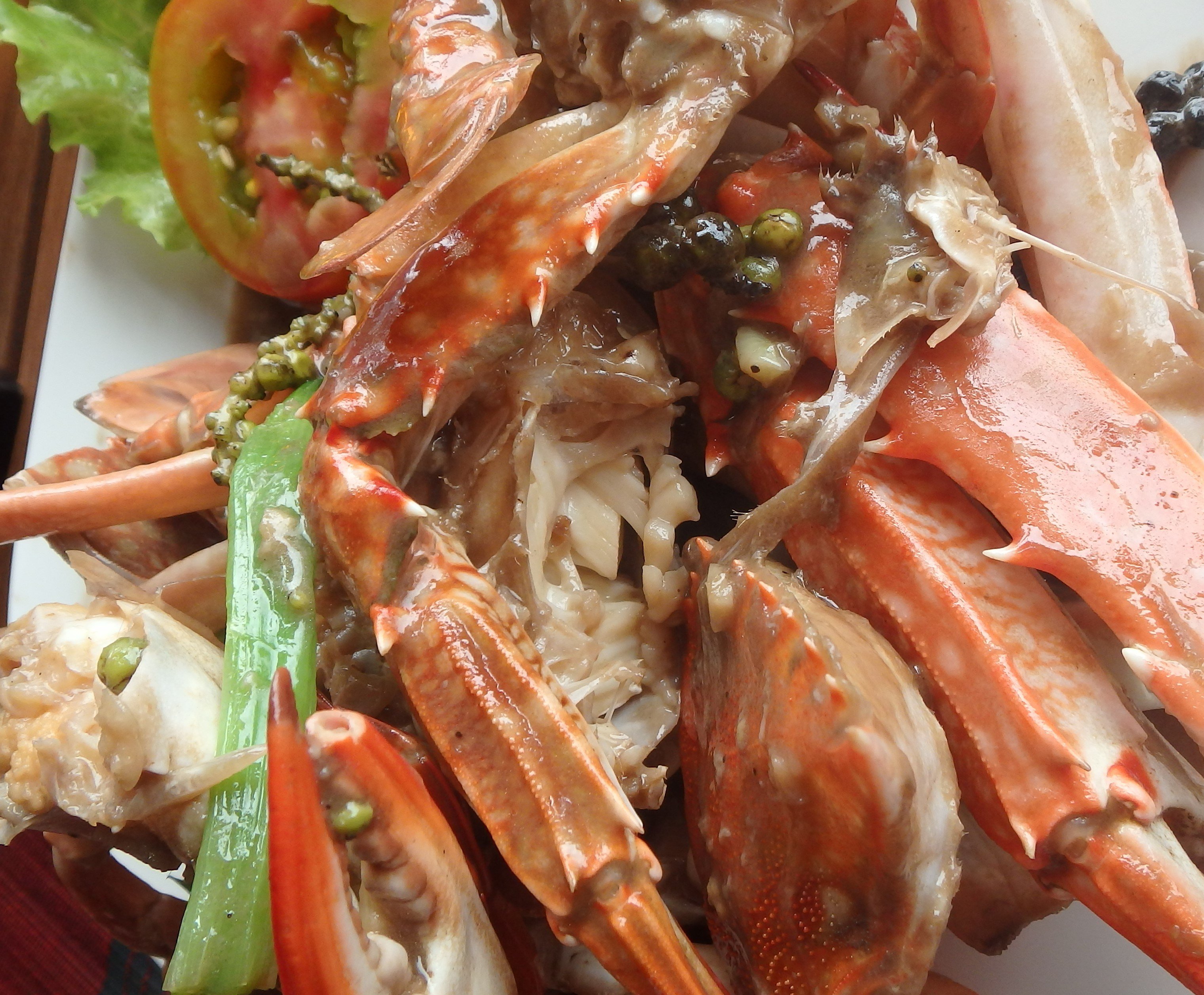 In nearby Kep-on-sea, I ordered crab encrusted in green peppers, surely one of the tastiest dishes I've ever eaten. If you want to try this dish, or any of the others that incorporate green pepper, you have to travel to Cambodia, as pepper in its green stage is best eaten within three days of picking off the vine! I always buy some to take home when I'm in Cambodia and carefully ration it out over the following months.
Once you try Kampot pepper, it's hard to go back to the ordinary stuff. As they say at the Kampot dinner table, pass the pepper and salt!