Halloween Marijuana Recipes: Bloodshot Eyes Deviled Eggs from Cannabis Cheri (Cannabis Recipe)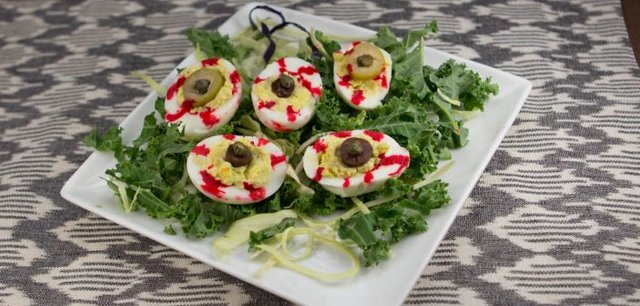 Big devil egg fan over here! Stuffed hard boiled eggs are an ancient snack and continues to evolve. At the moment they seem to be making a come back with the bar food scene, but they do not seem to have ever went away in the Americana party scene. Not sure if they are popular picnic items any longer.
Cannabis Cheri makes them her own with this creepy eye ball variant.
Ingredients
6 large eggs
1/4 cup mayonnaise
1 1/2 tablespoons cannabis infused oil
1/2 teaspoon apple cider vinegar
1 1/2 teaspoons Dijon mustard
1/8 teaspoon salt
1/2 teaspoon pepper
12 black or green olive slices
12 capers
small amount of red food coloring
Get the recipe at :
https://www.cannabischeri.com/food/recipes/halloween-marijuana-recipes-bloodshot-eyes-deviled-eggs/
Follow @cannabisrecipe for more Weed recipes.
Image Source : Cannabis Cheri