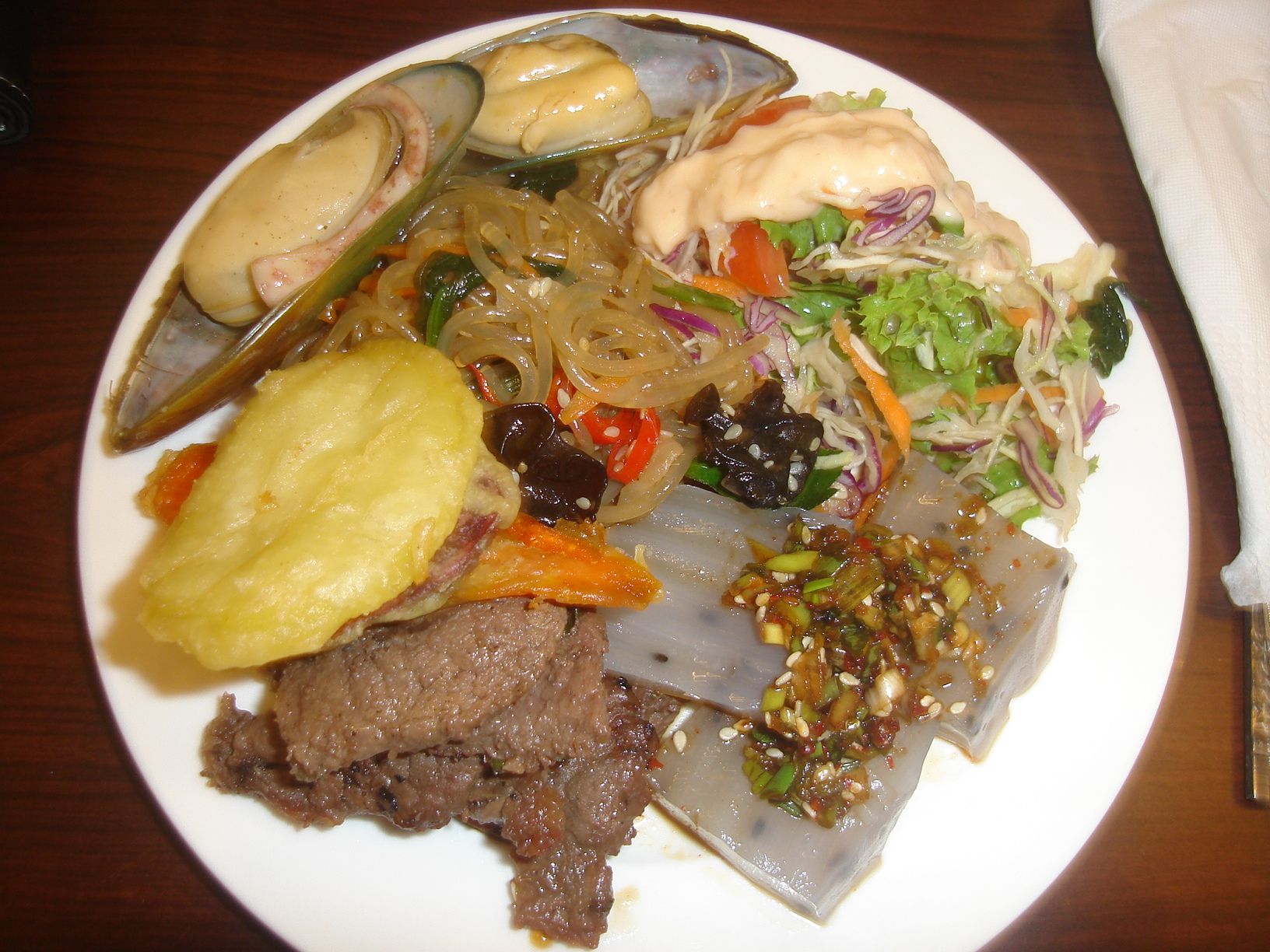 A Korean Restaurant tucked in the country side of Auckland hidden behind rows of Apple trees slowly going down the drive way a long building (the restaurant), with vege patches growing along the side with plenty of parking at the back to accommodate the restaurant guests that are mostly Koreans that mostly come weekly to catch up with friends and family over a home style buffet meal.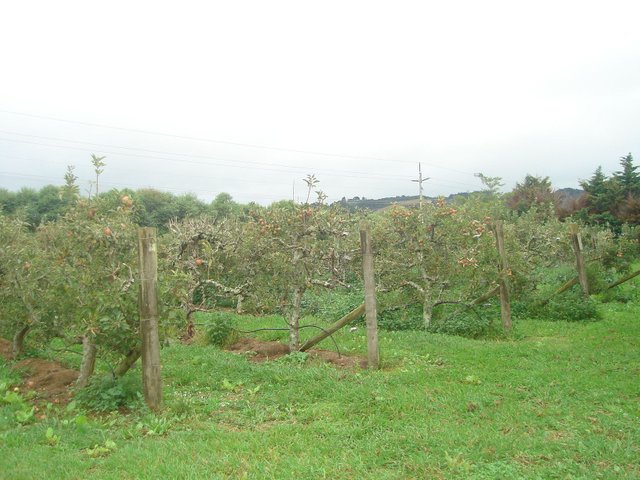 The rows of apple trees that great you when you first arrive, which gives the name of the restaurant Korean Apple Orchard Restaurant.
Many Koreans (maybe just the one's we've spoken too) in Auckland refer this restaurant as the famous Korean Restaurant in Auckland.
When you drive up this is on the other side of the driveway, the back of the restaurant.
---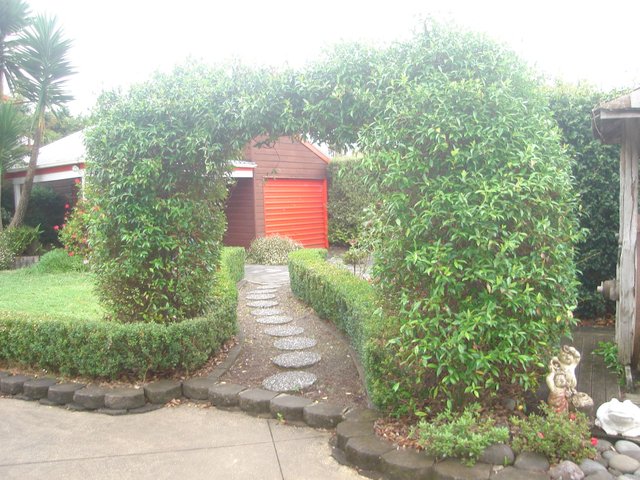 Once you've parked the car you will come thru the other side of the hedge past the house where the owners live and thru to this hedge where you will be able to see the restaurant.
---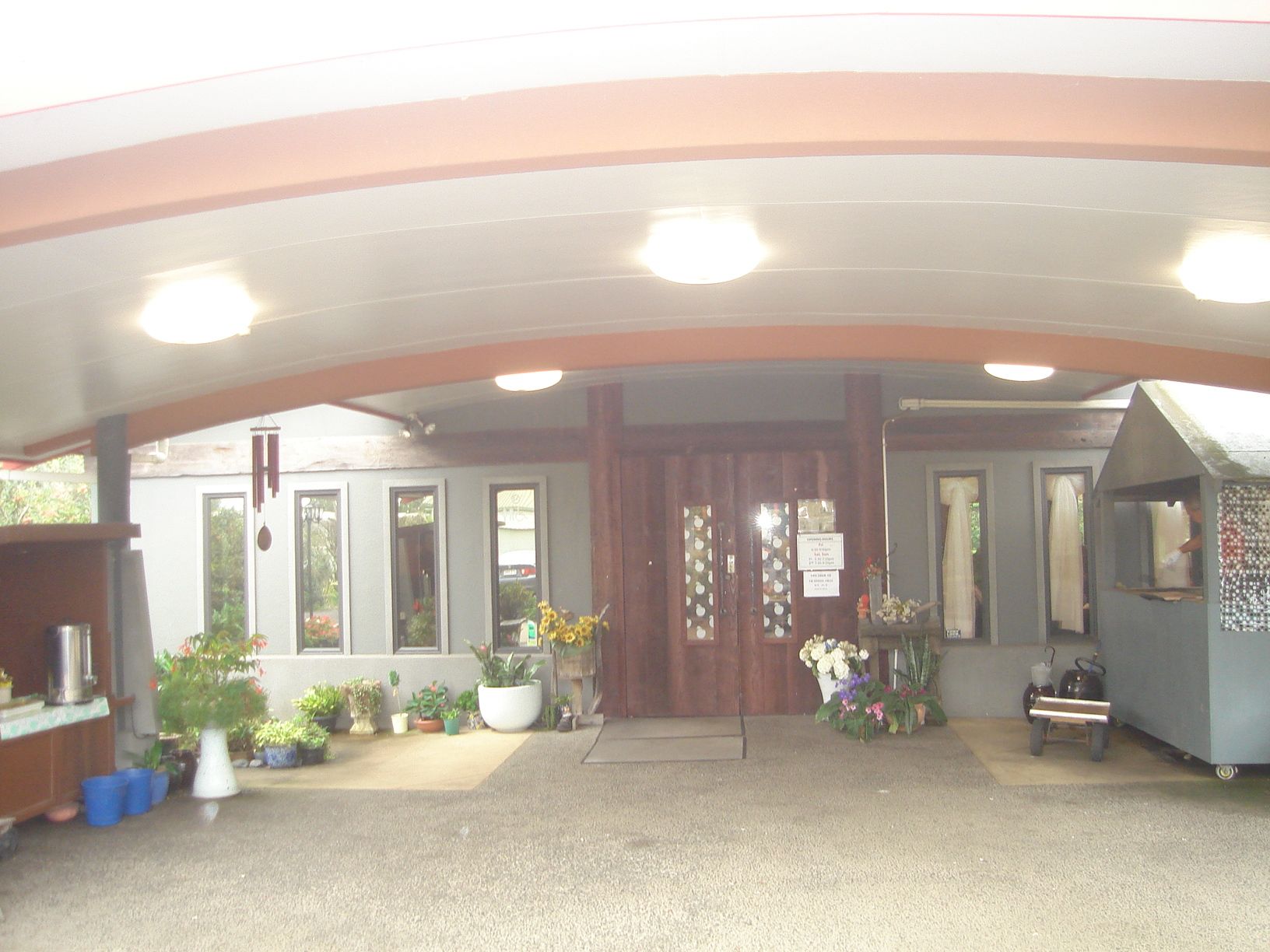 Thru the big beautiful front doors awaits a Korean buffet, but before we walk thru the doors lets explore the outdoors a little more to work up your appetite.
On the left hand side is a coffee cart where you can help your self to a cup of coffee while your waiting for your session or after your meal, where your free to walk the grounds.
On the right hand side is where the meat gets cook on the coals, A lovely man spends his time tending to the meat for the hungry crowds.
---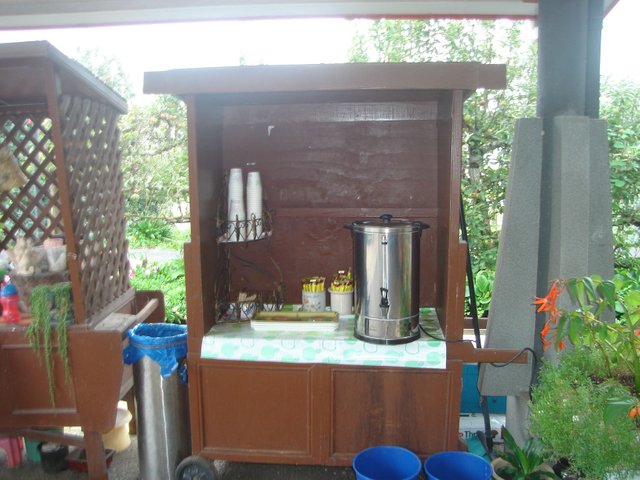 Close up of the help yourself coffee cart.
---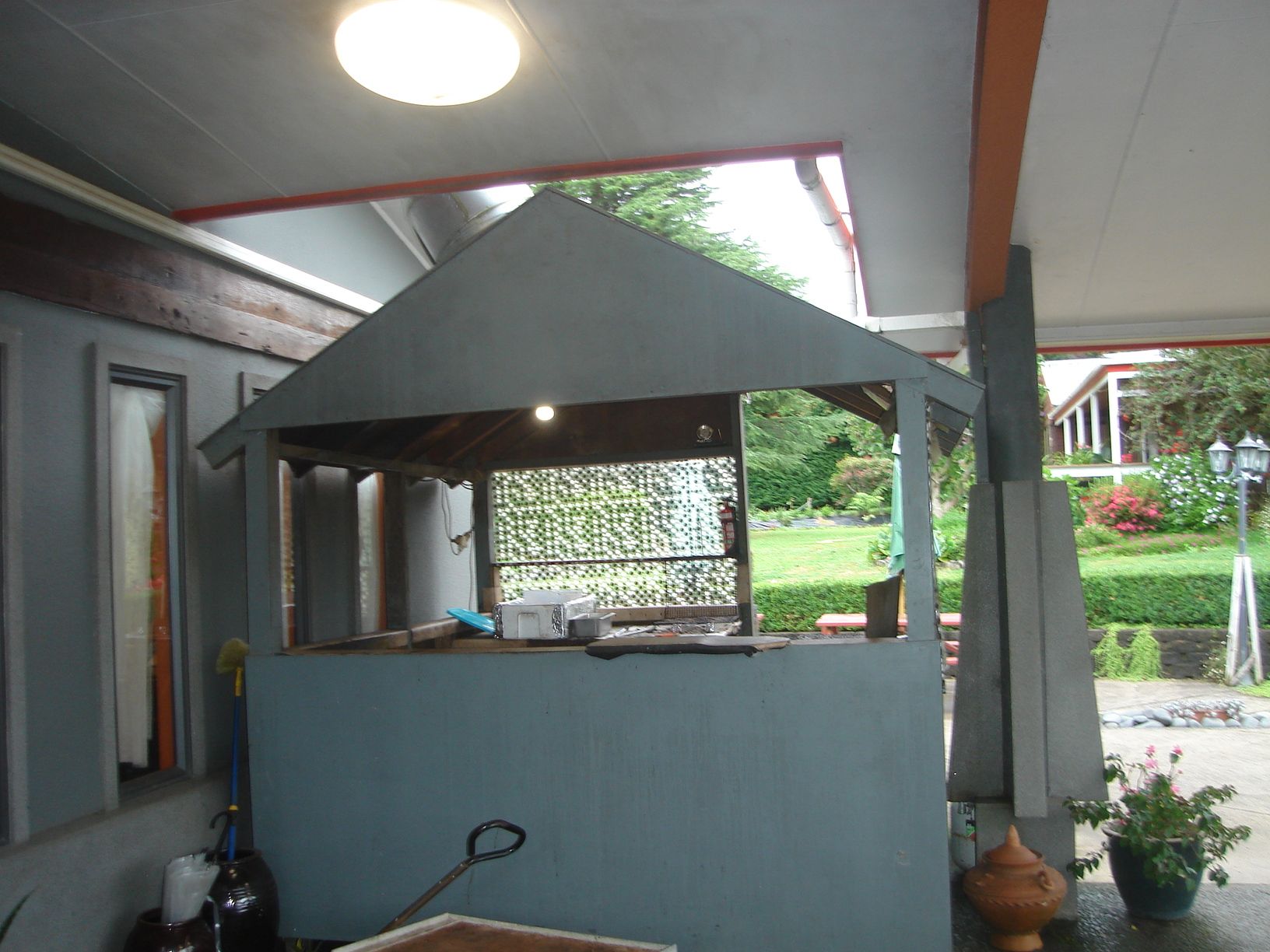 Close up of the meat BBQ area.
---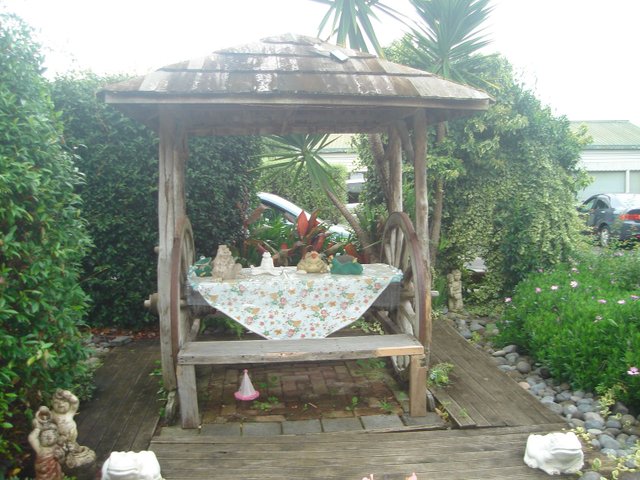 If you swing around there will be this cute little area to take a seat, relax while you wait or drink your coffee.
---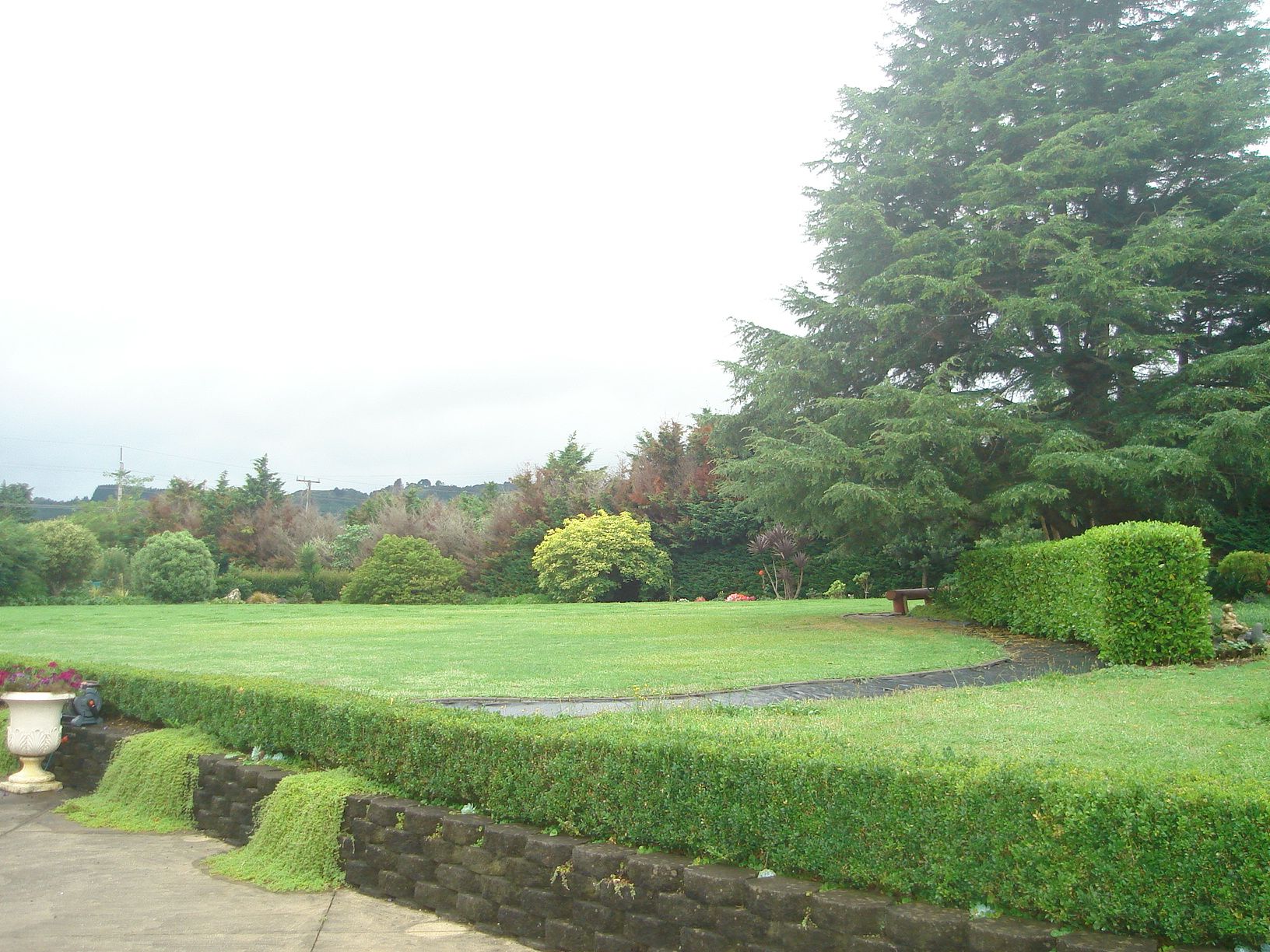 If you head right, going past the bbq area you'll see beautiful open space where you can take a stroll around or send the kids to run about to work up their appetite or to work off some of their meal.
They also hold weddings out here is this open space.
---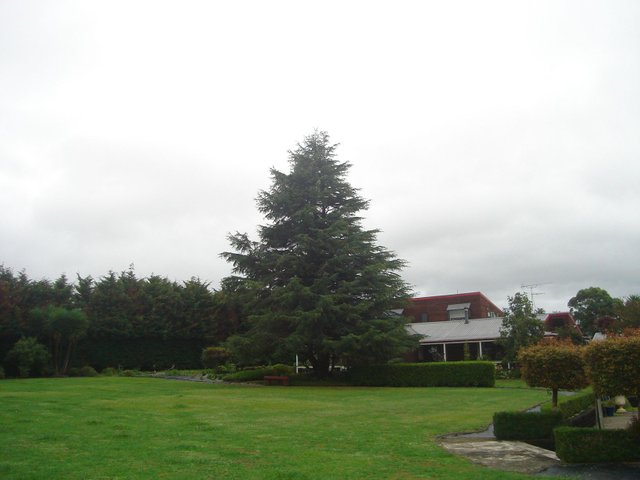 The view of the open space taken from the other side.
I think we have all worked up a great appetite so lets see some more plates of food.
---
BBQ Beef, Sashami, Sushi, Fried Seaweed, Kimchi, an a jelly type dish - which is yummy with their sauce available.
---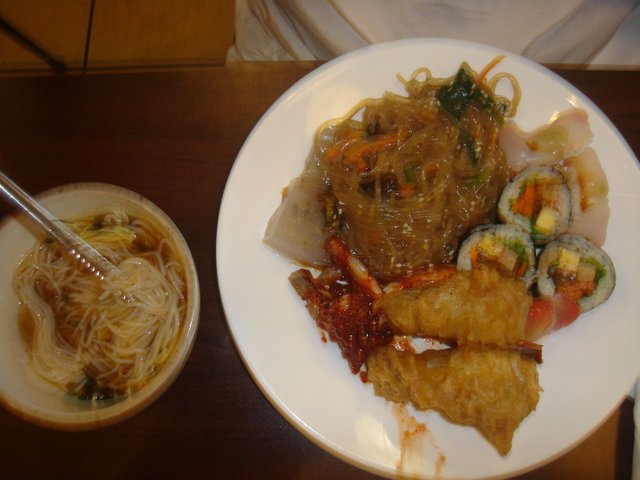 Noodle soup, Fried chicken done in a Korean batter, Vermicelli, Sashami, Sushi, Jelly
---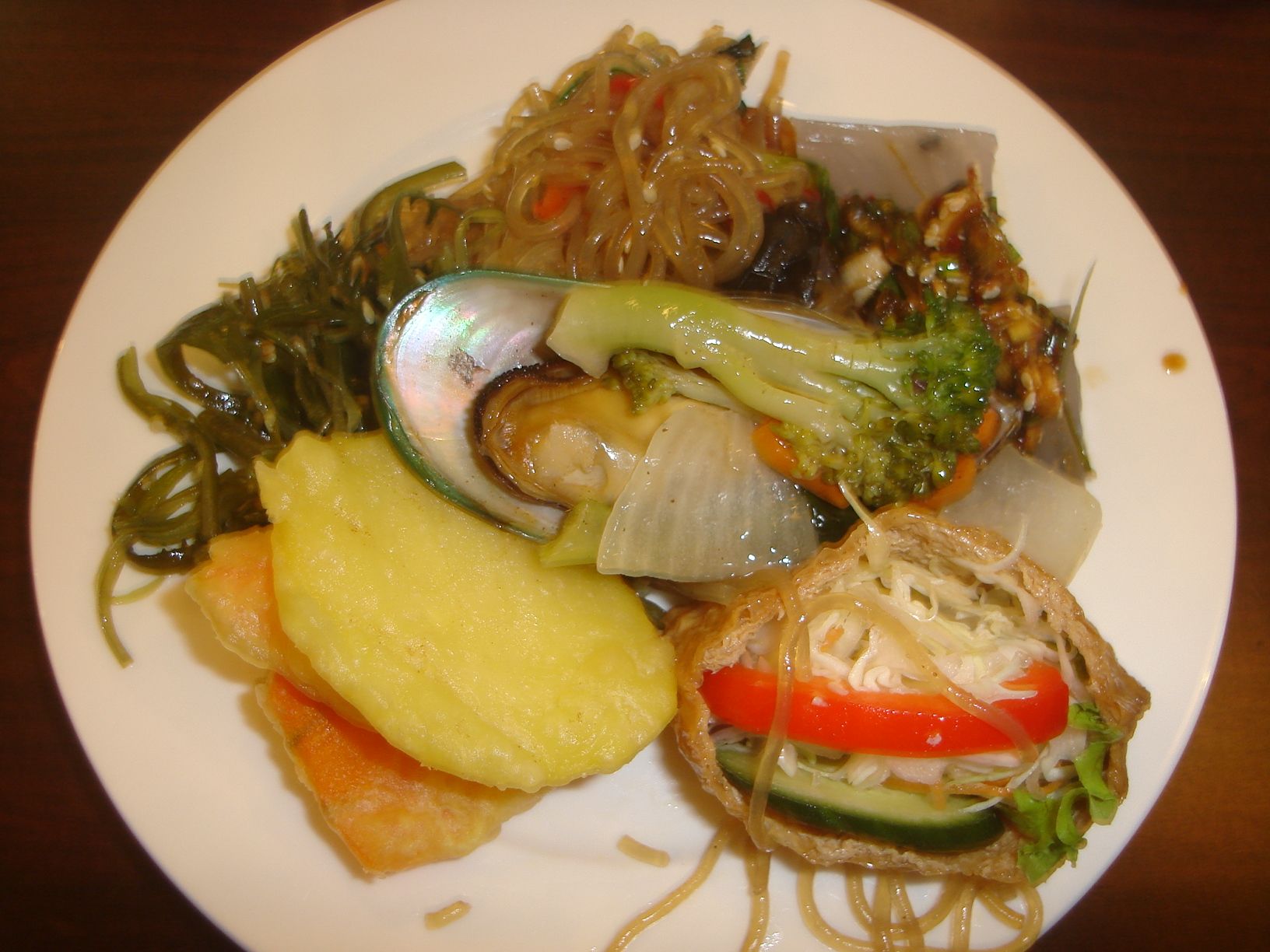 Bean Curd parcel with vegetables, Vermicelli, Jelly, Fried Seaweed, Mussels with octopus and vegetables, Battered Potatoes and Carrots.
---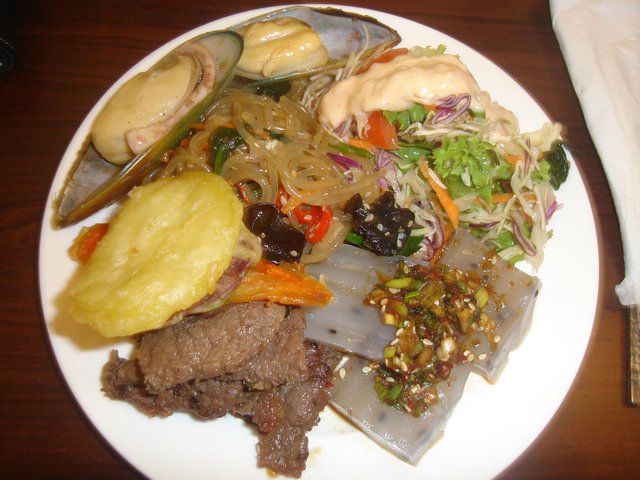 Picture for the top of the post, BBQ Beef, Jelly in sauce, Salad with a ranch dressing, Battered Potatoes/Carrots/Kumara (Sweet Potato), Vermicelli, Mussels with Octopus
---
These are just some of the main dishes you can add to your plate, you eat then leave your plate on the side of the table to be collect then go and grab another plate to grab some more.
Many dishes to choose from like Black and White steamed rice, Raw crab, Different soups, Salad, Seaweed, Kimchi, Pickles, Sushi, Sashami, Korean bbq pork n beef, Fried chicken, Vermicelli, Pancakes, Mussels with octopus and vegetables, Battered vegetables, Jelly, Bean curd with vegetables.
---
If you still have room for the dessert table there is a small selection of mini Vanilla and Chocolate Cupcakes, Puff pastry filled pastry's with seasoned fruit, Fruit salad and Korean Black Rice Dessert.
---
There is a jug of Ice water on each table, A drink at the dessert table might of been fizzy, Coffee n Tea out side.
You can also BYO your own drinks weather its a bottle of wine of a bottle of juice for the table.
---
It gets really busy as only opened three times a week Friday, Saturday, Sunday.
Saturday and Sunday has two sessions - 5.30pm - 7.30pm and 7.30 - 9.30pm.
Bookings are essential so you get a table.
During the week groups can book for functions.
Great atmosphere, Great food at a great price for a buffet of $30 per Adult.
Whats your favorite Korean dish to eat?
Pictures taken on a Sony Digital Still Camera.
---
Thank you for stopping by really appreciate it, have a fabulous Day/Evening!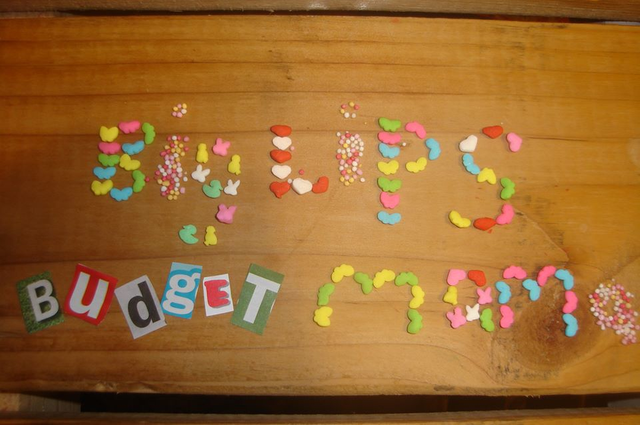 ---
Steemit if full of great community's here are two you may like to check out: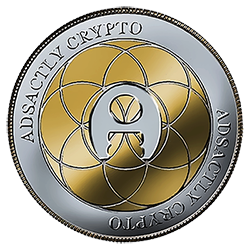 The @adsactly society is fabulous - Don't take my word for it check them out on
discord if your interested in the crypto sphere, society.
---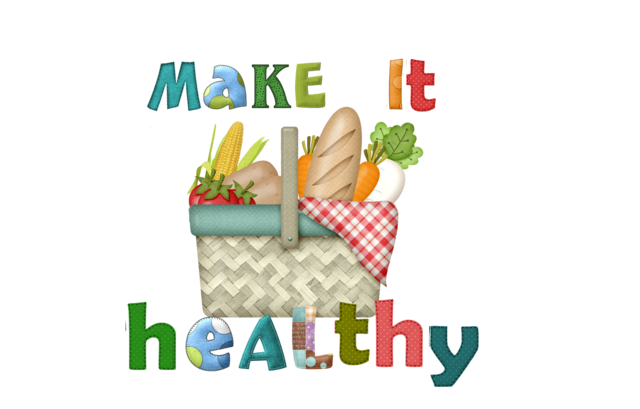 #makeithealthy project is being held by the fabulous @woman-onthe-wing so you don't need to go healthy by yourself.