As babies grow, they need to produce a lot of new blood cells. To do that, they need a lot of iron. In the first 6 months of life, babies can get all they need from breast milk. However, as they get bigger, supplementation is often recommended.
BUT WAIT, THERE'S SOMETHING ELSE!! Most people don't know that adequate iron protects children from lead poisoning. The body prefers to absorb iron, but if there is not enough, it will absorb extra lead from the environment. A baby with anemia gets a double hit for brain development - not enough red blood cells AND picking up and storing all of the traces of lead in the environment.
Pediatricians often recommend vitamin drops to ensure adequate iron. However, most babies hate them and it is a constant parenting struggle.
Many people do not realize that BLACKSTRAP MOLASSES is a natural high iron food (along with a number of other minerals. It's sweet and strong flavored and many babies love it mixed into yogurt, cereal or pureed fruit. Also, it washes out better than those staining vitamin drops.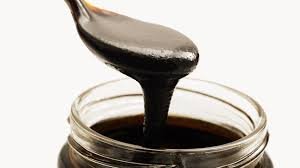 Image courtesy of Healthline.com
Good luck, and keep growing the healthy babies.
BeriBeri Quite Contrary * Sugar Cane Lover * Stain Fighter * Gingerbread Woman