So I've been phasing my diet. Meaning I'm switching it up every 4 weeks (for now).
In doing so I can pay closer attention to any adverse affects one type of food (or food group) may have on my system.
I learned about it when I started the 131 Method put out by Chalene Johnson.
She entered my life by way of BeachBody and her amazing fitness program TurboFire. I got so fit back in my 30s when I followed that program.
Then I let myself go. I hit my 40s (and now mid-forties) and working out and eating less do not work the same with these old hormones!
Anyway...my point...131...
It's 3 phases: ignite, nourish, and renew. Each phase lasts 4 weeks (though, once you do it once, you can adjust the cycle lengths to suit your needs and whatnot).
I'm not going to go into detail about it, you can click the link if you want the deep info, for now I'll just say that the science makes sense and I'm feeling great.
So I did Ignite last month(-ish) and am currently in nourish phase.
I may go further into my full experience (which was my plan to start but got too busy to get on here to document it) but the end result of Ignite phase was a loss of 9 pounds and 5 inches overall. In 4 weeks.
Before I started this I could barely make a fist without feeling like my hands were swollen. They are back to my normal, non-arthritic feeling, hands.
Three weeks of a Keto-type diet, followed by a mini-fast for 3 days, ending in a couple days of testing foods I thought might have been causing inflammation in my body.
My first test was eggs. I love eggs. I am good with eggs.
My second test food was going to be cheese/dairy, but I 'accidentally' ate all the garlic from the oil I was infusing and ended up with a massive headache almost immediately.
I decided, instead of testing my third food (peppers...nightshades), I'd test cheese again without the garlic.
Now that I am in nourish, I'm eating more plant-based diet.
So for one of my meals, I decided to have veggie fajita salad....loaded with peppers and onions. Since I already suspected peppers might be a problem, and I knew too much garlic (and most likely onions) might cause some trouble, I was not surprised to end up with a flushed face and a bit of a sore throat after my lunch!
I know most of the inflammation that has gone away is due to giving up refined white flour (bread, pasta, pastries) and cutting WAY back on sugar (I can count how many cookies and pieces of cake I've had on one hand!), but it is very interesting to really take a step back after eating a particular food and noticing the real affect it has.
I love onions and garlic, but now I know that I need to be careful not to overdue it if I don't want to end up with a pretty gnarly headache.
And to think all the times I had headaches 'for no reason' not realizing I had probably had some food that did not work well with my body.
I am just starting week 2 of nourish. This is not my favorite. I find myself feeling more hungry during this phase and more prone to cravings of sweets. I never felt that way on ignite, due to the higher fat consumption.
Moving forward I will need to be sure to add a little more healthy fats to my lunch dishes.
Last week a favorite dish was what they called a 'veggie wrap' as it was to be eaten in a lettuce wrap. I just put it over mixed greens.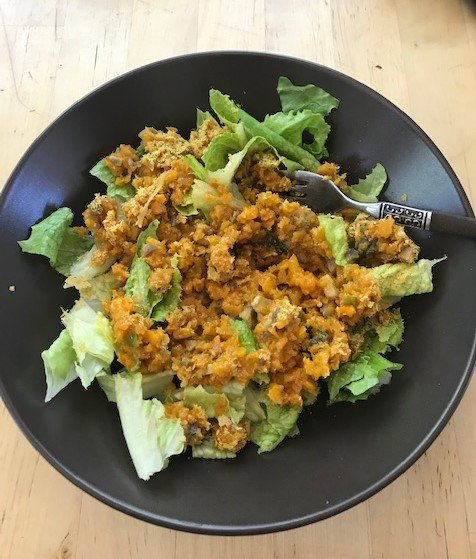 It's basically 'riced' butternut squash with some walnuts and mushrooms, but so good!
This week, after the fajita incident, I'm probably gonna stay away from too many peppers.
I really liked this dish which is the Chicken Lo Mein recipe but I swapped shrimp for the chicken.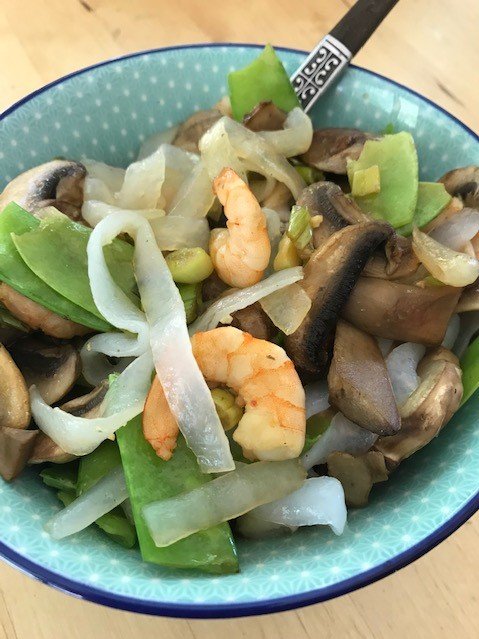 My first experience with Miracle Noodles, but I thought they were good. They fit the dish!
Speaking of dishes...it went really nicely with my rice bowl!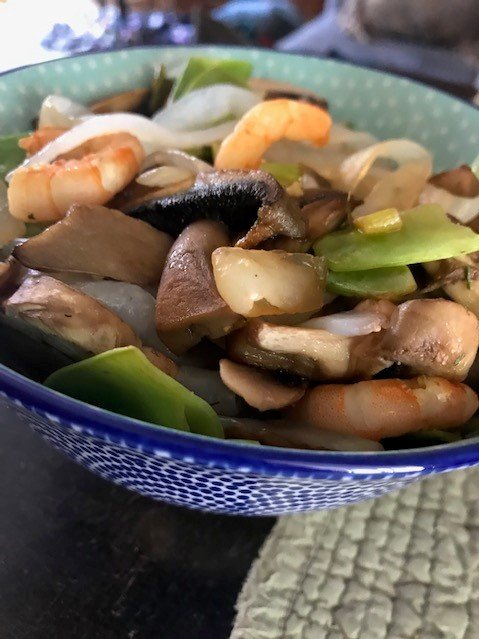 I will definitely try to keep up with my journey with this as the third phase is a modified carb-cycling type diet and seems the most complicated.
For now, I'm just trying to keep my cravings at bay and continue to limit my hooch consumption!
Wish me luck ;)