Misal Pav - Indian Street food - Spice hit - A #baconbaba story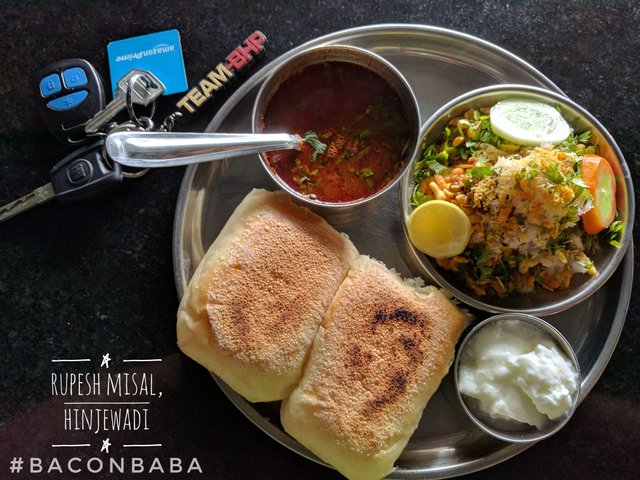 Misal is a street food specialty of Maharashtra, India. The literal meaning of the word Misal is 'Mixture'.
The dish is eaten for breakfast or as a midday snack or meal, often as part of misal pav. It is quite easy to make, is cheap, and is rather nutritional. The taste of misal ranges from mildly to extremely spicy.
The main ingredients are 'matki' (sprouts), tarri (a spicy watery gravy), potatoes, dahi (yogurt), and farsaan (dried fried snacks). It is served with chopped onions, tomatoes, pav (bread) and lemon.
The overall flavor of misal is very delicious, with a distinct spice hit.
Pictured here is Rupesh Misal, Hinjewadi, Pune. Good balanced flavor in their regular misal with lots of farsan. However the kicker was the tikkhat tarri. Super spicy, left with the lingering heat on my lips - just the way I like it!
Thank you for reading!
--
@baconbaba
Foodie. Carnovire. Couch Potato.
Follow my food-ventures at @baconbaba!
--
Website: https://baconbaba.com
Instagram: https://instagram.com/baconbaba
Twitter: https://twitter.com/thebaconbaba
Facebook: https://facebook.com/thebaconbaba
Zomato: https://www.zomato.com/rahulthegreatest
--