Als heutiges Sommerdessert habe ich ein
geliertes Champagnersüppchen mit gefüllten Himbeeren und Kirschsorbet
hergestellt.
Today's summer dessert is a
jellied champagne soup with filled raspberries and cherry sorbet
produced.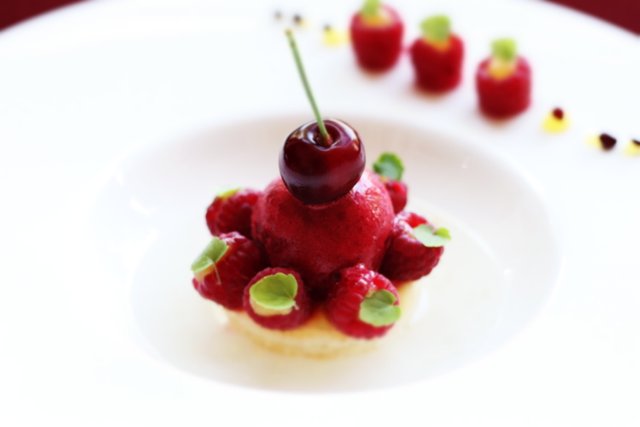 Ich habe einen Orangen-Savarin gebacken und Ihn in der Mitte eines tiefen des Teller platziert. Darauf habe ich eine Kugel Kirschsorbet gegeben und drum herum, sowie auf den Rand einige Himbeeren welche ich mit einer Orangencreme gefüllt habe gesetzt.
Zur Dekoration habe ich eine entkernte Kirsche mit Stiel ebenfalls mit der Orangencreme gefüllt und auf die Kugel gesetzt. Außerdem habe ich etwas Kresse und ein paar Kügelchen Himbeerknallbrause verwendet um die Optik abzurunden.
Vor dem servieren wird noch das gut gekühlte gelierte Champagnersüppchen in den Teller gegeben.
I baked an orange savarin and placed it in the middle of a deep plate. I put a ball of cherry sorbet on top and put some raspberries on the edge, which I filled with an orange cream.
For decoration I filled a cherry with orange cream and put it on the ball. I also used some cress and a few raspberry spray to round off the look.
Before serving, the well chilled champagne soup is added to the plate.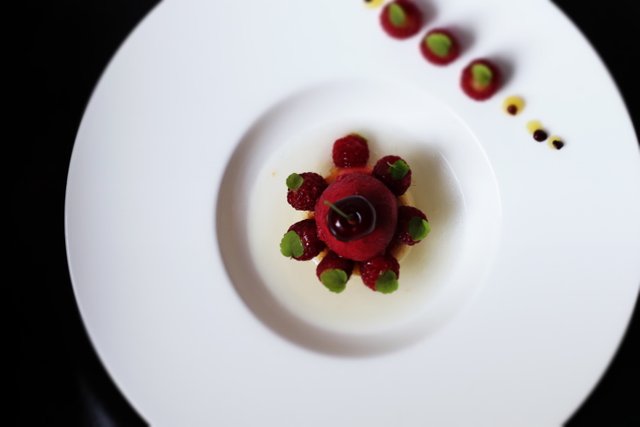 Rezept zum Nachmachen
Recipe to imitate
100g Zucker mit 100ml Wasser erhitzen. Darin 2 zuvor eingeweichte und ausgedrückte Blatt Gelatine auflösen und mit 300ml Champagner aufgießen. 2 Esslöffel Japanischen Kirschblütensirup hinzugeben und das Ganze im Kühlschrank erkalten lassen.

Heat 100g sugar with 100ml water. Dissolve 2 previously soaked and squeezed leaves of gelatine in it and add 300ml of champagne. Add 2 tablespoons of Japanese cherry blossom syrup and leave to cool in the fridge.

Vor dem Servieren kurz mit einem Mixstab aufmixen.

Mix briefly with a blender before serving.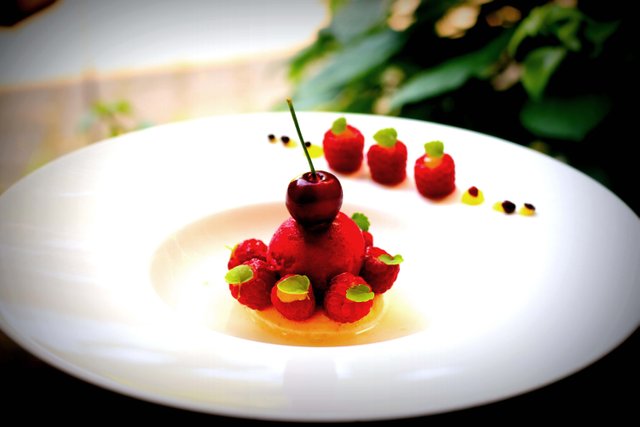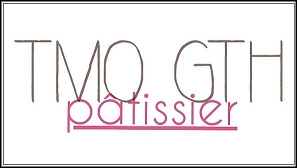 Do you have any questions? Ask me here or on discord @aynama
Hast du fragen? Frag mich hier oder auf discord @aynama