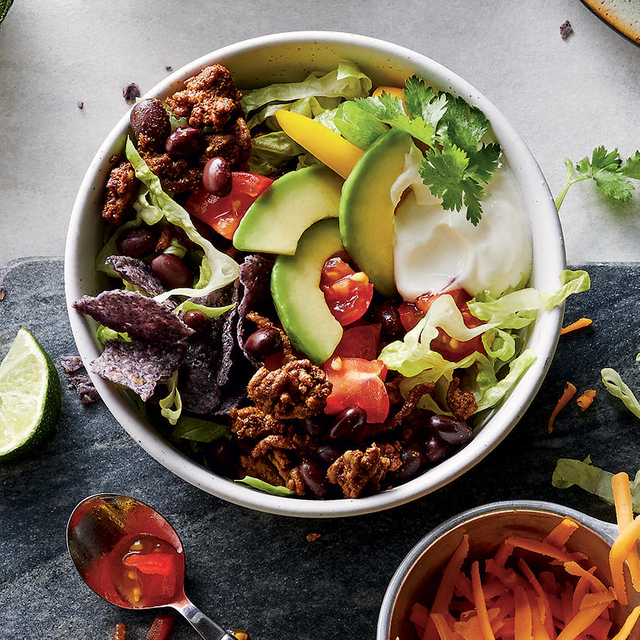 INGREDIENTS
1 1/2 tablespoons chili seasoning
2 teaspoons ground cumin
2 teaspoons onion powder
1 teaspoon garlic powder
1/2 teaspoon salt
1/2 teaspoon pepper
1 lb lean ground beef
1 can black beans, drained and rinsed (19 oz/540 ml)
4 cups romaine lettuce, cut into strips
2 tomatoes, diced
1 pepper, sliced
1 avocado, sliced
1/2 cup grated cheddar cheese
1 cup homemade corn chips, coarsely crushed (see recipe)
1/2 cup sour cream (optional)
2 tablespoons fresh coriander, chopped (optional)
NUTRIENT VALUES
Per serving with chips
Fibre15 gSodium871 mgProtein36 gCalories525Total fat27 gCholesterol75 mgSaturated fat9 gTotal carbohydrates38 g
PREPARATION
In small bowl, combine chili seasoning, cumin, onion and garlic powders, salt and pepper. In a large skillet, cook ground beef over medium-high heat, breaking up with wooden spoon, for 5 minutes or until no longer pink. Degrease pan, add spice mixture and black beans, and continue cooking for 2 minutes.

Divide lettuce among bowls. Cover with ground beef topping, then garnish with tomatoes, bell pepper, avocado and cheddar cheese. Serve the bowls sprinkled with the corn chips (See recipe) and garnished with sour cream and coriander, if desired.
A good trick
Sprinkle the avocado slices with a little lime juice. In addition to preventing them from turning black, lime enhances their taste.
http://www.coupdepouce.com/cuisine/plats-principaux/recette/bols-repas-a-la-tex-mex#cxrecs_s