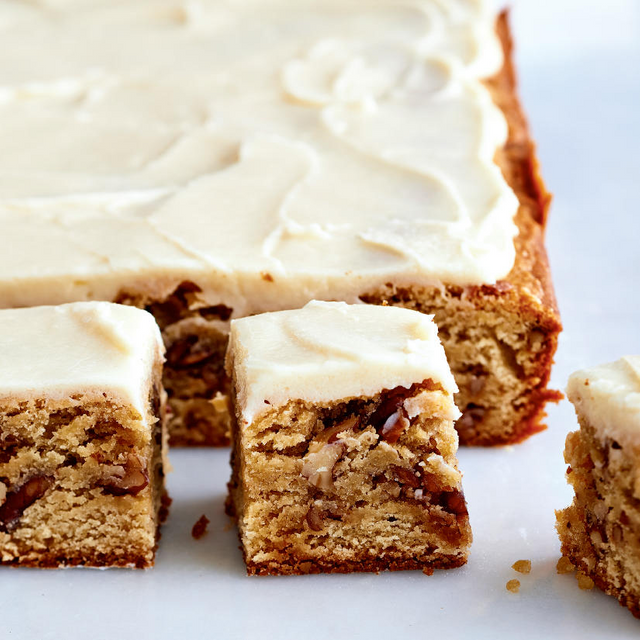 INGREDIENTS
Caramelized walnuts:
1 1/2 cups chopped walnuts
1/4 cup packed brown sugar
1/4 cup melted butter
Blondies:
2 1/2 cups flour
1/4 teaspoon salt
1 cup softened butter
2 1/4 cups packed brown sugar
4 eggs
1 tablespoon vanilla
Cream cheese icing:
1/2 package cream cheese, softened (half of an 8 oz/250 g package)
1 tablespoon softened butter
1 1/4 cups icing sugar
3 tablespoons packed brown sugar
NUTRIENT VALUES
per square
Fibre1 gSodium65 mgProtein2 gCalories166Total fat9 gCholesterol31 mgSaturated fat4 gTotal carbohydrate21 g
PREPARATION
Preparation of walnuts
In a bowl, combine walnuts, brown sugar and butter. Spread walnut mixture on parchment-lined baking sheet. Bake in preheated 375°F (190°C) oven for 10 minutes or until nuts are golden and coating is bubbling. Stir while still warm, spread in a single layer and let cool. Break the pieces stuck together. Reserve.
Preparation of squares
In a bowl, combine flour and salt. Reserve. In a large bowl, using an electric mixer, beat butter and brown sugar until light and fluffy. Beat in eggs one at a time, then add vanilla. Beating at low speed, stir in reserved dry ingredients in half until dough is smooth. Using a wooden spoon, gently lift in the reserved walnuts. Line a 13" x 9" (33 cm x 23 cm) baking pan with parchment paper, letting it hang over the sides, then pour the batter into the pan. Smooth the top.

Bake in preheated 325°F (160°C) oven for 35 minutes or until toothpick inserted in centre comes out with a few moist crumbs. Place pan on rack and cool completely.
Frosting preparation
In a large bowl, using electric mixer (use clean beaters), beat cream cheese with butter until smooth. Beat in icing sugar and brown sugar until icing is smooth. Spread icing over cooled cake. Let stand at room temperature 30 minutes or until icing has set. Unmould by lifting parchment paper and cut into squares. (The squares will keep up to 3 days in the refrigerator.)
A good thing
To prepare the caramelized nuts for these golden version brownies, it is important to stir the nuts well while they are still warm to prevent them from sticking together.
http://www.coupdepouce.com/cuisine/desserts/recette/blondies-aux-noix-caramelisees#cxrecs_s