Apple Caramel Entremets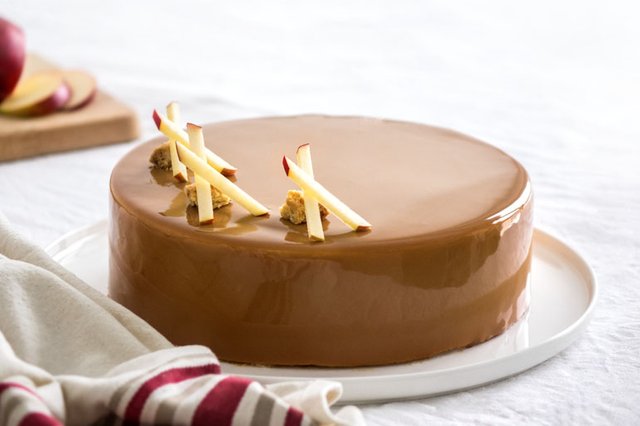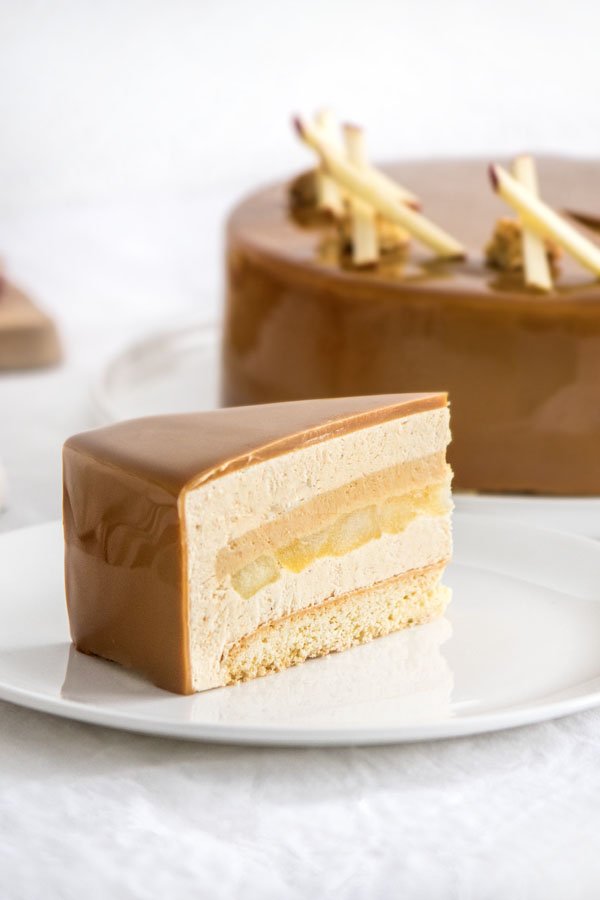 Ingredients :
Breton shortbread:
40 g egg yolk (2 yolks)
80 g sugar
100 g soft butter (at room temperature)
130 g flour type 55
4 g baking powder
a pinch of fleur de sel salt
The creamy caramel:
50 g sugar
125 g milk
20 g egg yolk (one yolk)
5 g cornstarch (cornstarch type)
0.6 g gelatin
70 g butter
A pinch of fleur de sel salt
Melting apples:
2 apples (I used royal gala)
20 g sugar
20 g butter
Whipped cream caramel:
100 g sugar
58 g liquid cream
50 g butter
a pinch of salt (0.6 g)
500 g whipping cream
5 g gelatin
Caramel mirror icing:
250 g sugar
250 g liquid cream
10 g gelatin
Preparation :
D-3 : Prepare the Breton shortbread, then the insert composed of the creamy caramel and the melting apples.
j-2 : Make the chantilly caramel then the assembly of the desserts. The dessert is more than 5 cm high, if you use a classic circle of 4.5 cm pay attention and provide a rhodoïd of 6 cm.
D-1 : Make the caramel icing then ice your apple caramel dessert before letting it defrost overnight in the refrigerator.
D-Day: finish the decor and serve your apple caramel dessert.
Breton shortbread:
Preheat your oven to 160°C rotary heat.

Whisk the yolks and sugar together.
Add the butter, the latter must be very soft, think of taking it out in advance, then mix with a maryse or a wooden spoon.
Add flour, yeast and a pinch of fleur de sel. Mix again until the dough is homogeneous.

Spread the dough between two sheets of baking paper about 1 cm thick. Make sure you can cut an 18 cm circle in it.
It is not necessary to cut your circle now, the dough will spread anyway still during baking.
Bake for 20 to 25 minutes at 160°C rotating heat.
Immediately after leaving the oven, cut out an 18 cm circle. The easiest way is to insert the circle of this size which you will then use for your insert.
Keep the shortbread in the open air until it is assembled (be careful it is fragile as long as it is not completely cooled).
The creamy caramel:
Soak the gelatin in a large bowl of cold water.
Heat the milk.

Caramelize the sugar then decrypt it by pouring the hot milk little by little while mixing.
Whisk the yolks and starch together. Pour the caramel on top, mix and pour again into your pan.

Bring to a boil, as for a custard cream, while mixing with your whisk so that the bottom does not burn.
Remove from heat and add drained gelatin.
When the cream is at 50°C, add the butter cut into pieces, the fleur de sel and mix with a hand blender (or whisk otherwise).
Pour your cream in a circle of 18 cm previously filmed, to avoid that it runs everywhere, then reserve it in the freezer.
Melting apples:

Wash, peel and cut the apples into small cubes of about 1.5 cm.
Melt butter in a skillet over medium heat. Add apples and sugar and mix.
Cook your apples for 15 minutes, stirring occasionally.
Remove from heat and let cool.
Pour your fondant apples over the creamy caramel smoothing to obtain the flattest possible insert. You can pack apples, but make sure your creamy is already well taken.
Whipped cream caramel:
Soak the gelatin in a large bowl of cold water.
Heat the 58 g of cream.

Caramelize the sugar then decrypt by pouring the hot cream little by little while mixing.
Add the fleur de sel and butter and mix until the butter is completely incorporated.
Pour into a bowl through a strainer to filter the caramel pieces.
Add the previously drained gelatin, mix then reserve the preparation in the refrigerator.

Whip the 500 g of whipping cream in your food processor or with an electric whisk to obtain the consistency of a whipped cream.
Check the temperature of the caramel, it must not exceed 30°C. Pour it into a large bowl, add a third of the whipped cream and mix slowly with a whisk. Continue mixing gently, adding the remaining cream.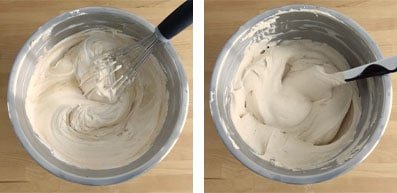 Assembly :
Prepare your mould or dessert circle.

If you use a circle, stretch a piece of film paper (of good quality, otherwise it is impossible) on your circle. If it does not stick well you can moisten the circle slightly, then pull gently on the film to tighten it well.
Turn your circle over on a plate and place a strip of rhodoid inside.

Pour half the whipped cream caramel in your circle. Remove your insert from the freezer and place it on the whipped cream, pressing lightly. I chose to place the apples towards me at the time of the assembly, because it is thus easier to fill the irregularities with whipped cream.
Pour the remaining whipped cream caramel, taking care to fill any holes between the apple pieces.
Smooth coarsely then gently place the Breton shortbread, smooth side up.
Press gently, distributing the weight well on the shortbread so as not to break it, until the whipped cream rises on the edges. Smooth then reserve in the freezer for the night.
Caramel mirror icing:
Heat the cream.

Caramelize the sugar. Given the quantity, I recommend that you do not pour everything at once into your pan, but go three or four times. Once the sugar caramelizes you can add sugar, and so on.
Decry the caramel with the hot cream while mixing.
To know the exact amount of gelatin to use, you must weigh your caramel, because its weight varies according to the amount of cream that evaporates during cooking. Count 10 g gelatin for 500 g caramel.
Moisturize your gelatin 10 minutes in a large bowl of cold water. Drain it then add it to your caramel and mix (even after 10 minutes it should still be hot enough)
Your icing should reach 27°C. Once at the right temperature, mix it with a hand blender to homogenize it and use it immediately.
Decor and finish :

Unmould your dessert and place it on a rack.
Place the rack on a baking sheet or container that will hold the excess icing and pour it over your dessert.
Using a large spatula, slide the dessert onto the grill and place it on your plate.
To decorate this apple caramel dessert, I cut some apple sticks, then put them in a lemon juice to prevent them from oxidizing. I also used the Breton shortbread falls. You can use it by simply cutting small cubes to hide the base of your dessert if it is not very beautiful.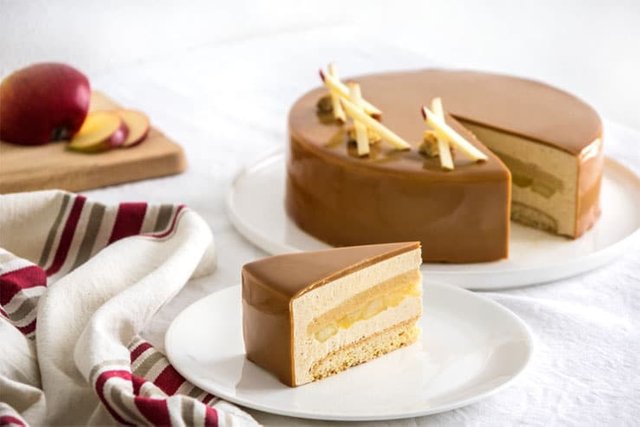 Tips and advice to remember:
Do not hesitate to play with your fire to make the caramel: if it does not melt, increase the temperature. But if he starts smoking, reduce it so that the caramel is not too bitter.
You can also mix it gently throughout cooking, with a wooden spoon or a maryse (but be careful it must withstand very high temperatures).
To decry a caramel: always think of using a large saucepan when you make a caramel, in order to avoid projections that could burn you.
The milk or cream must always be very hot, to avoid as much as possible a temperature shock with the hot caramel.
Finally, pour your liquid in a very small amount at first, mix well then add more, increasing the dose each time. It is important to mix well to avoid crystallization of the caramel.
Cut the Breton shortbread as soon as it comes out of the oven, it is still soft enough not to split. Then let it cool completely before handling, gently because it remains fragile.
I used royal gala apples for the insert, if you don't find some, take cooking apples that keep some hold not to get a compote.