When cooking fried chicken, I always wanted it to be juicy and tender while crispy outside. For me, it is very helpful to use buttermilk in tenderizing and keeping its juice. Also, don't be surprised because my cooking procedure includes baking after frying to make it juicy, tender, crispy and less greasy.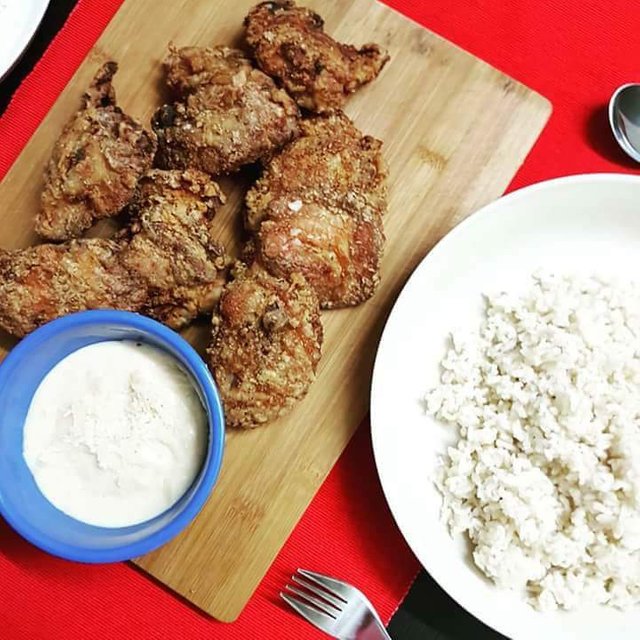 Ingredients:
4 lbs chicken, cut into serving pieces
4 cups buttermilk
4 cups all-purpose flour
4 teaspoon salt
2 teaspoon ground black pepper
2 cup extra virgin olive oil
Instructions:
✅In a large bowl, mix well chicken and buttermilk. Then put it in the chiller to marinade overnight.
✅In a separate bowl, mix well the flour, salt and ground black pepper.
✅Dredge the marinated chicken in the flour mixture and set aside.
✅Heat the pan and pour-in olive oil.
✅When the oil is hot enough, fry the chicken for 4 minutes per side. Then transfer in a baking tray.
✅Preheat the oven to 400 degrees Fahrenheit. ✅Bake semi-fried chicken for 30 minutes then reduce the heat to 350 degrees Fahrenheit for 15 minutes. Then,transfer to plate and serve!
Serving size: 8
That's all! Perfect pair to a steaming hot rice.
Have a healthy diet Steemians!
Thank you,
Arwin
Please like @teardrops on Facebook and Twitter:
https://www.facebook.com/teardropstokens/
https://twitter.com/teardropstokens
Support and Vote "steemgigs" for witness. It will be really helpful. He run a full public RPC 256 GB node as well to balance the steem ecosystem on "wss://steemd.steemgigs.org"
To vote my witness, simply visit https://steemit.com/~witnesses and type in "steemgigs" into the first search box for witnesses.
If you want @surpassinggoogle to make witness voting decisions on your behalf, simply visit https://steemit.com/~witnesses and type in "surpassinggoogle" in the second box for proxy.