Hola Steemit.
A little while ago I wrote a review about one of my favourite restaurants in Brisbane: Julius Pizzeria. You can read that post here.
Aside from adoring Italian food, I have always been partial to Thai food as well. I am not a big fan of Asian cuisine generally and I haven't ever really had a chance to eat a lot of it, but I do enjoy Thai food.
My favourite Thai dish to order is usually a Thai green or red curry. I love the spicy flavours paired with the 'clean' feeling you get from eating a mixture of lean protein, spices and vegetables. Not to mention the beautiful colours and visual that the food presents.
The restaurant I ate at for this review was Phat Elephant located in the Brisbane CBD on Adelaide Street.
Firstly, I will say that it is a busy restaurant and I would definitely make a reservation. My friends and I didn't and we had to wait to be seated.
The restaurant is decorated very nicely and has a nice enough atmosphere. It has seating indoor, as well as outdoors. We initially sat at the counter while we waited for a table to become available. As our food arrived we were able to move outside and sit on the end of a long rectangular table shared with some other randoms.
For table water we had these silver ornate bowls/cups, which were nice looking and interesting to drink from.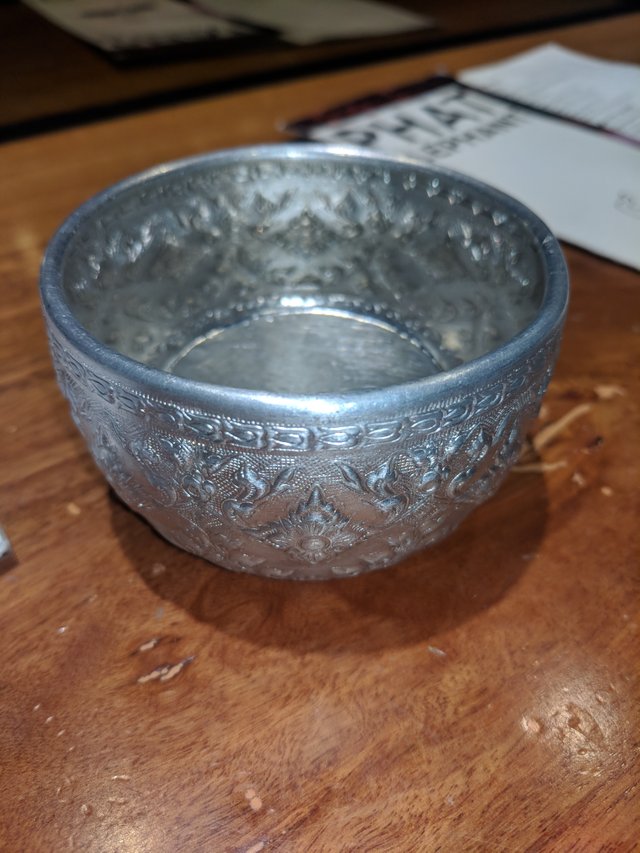 For my dinner I ordered a main course only as I am trying not to over eat. The main I ordered was a Thai green chicken curry with rice:
I
It presented a little bland in colour and presentation, but I couldn't fault the taste of the food at all. If I could, I would eat this dish a few nights a week. My curry was mild, but still had enough of a spicy kick to enjoy the full flavour. It was very delicious and thoroughly enjoyable to eat. The portion size didn't leave me feeling overly full at all and to be honest I would have liked a little more because it was so good.
However, that is all the positive things I have to say about the experience.
Now onto the negative. The major downside of the evening was the customer service. Phat Elephant has an interesting policy with it's billing as we discovered. When we initially ordered, we were sitting inside the restaurant building and we were handed a blank bill with a code on it identify our order. We were instructed to take this to the till as we were leaving to pay for our food - pretty standard operating policy for most restaurants.
When we were later moved outside, we were handed another blank invoice with a code on it to identify our order at the till for when we paid. I believe the reason for getting a new one was because we'd moved physical location.
Several minutes later however, as my friends and I were enjoying our meal, we were approached by another waiter with a bill with itemized charges for our food. My friend informed the waiter that we'd already been reissued with a bill to take the till. The waiter then told us, in quite an assertive way, that we had to pay immediately for the food we were eating because we were sitting outside (presumably they thought we were going to skip without paying) and therefore we had to pay immediately as per their policy for patrons seated outside.
I found it extremely rude, given that we had had 2 waiters basically give us the impression that it was a postpaid restaurant and give us instructions to pay afterwards. For a 3rd waiter to then interrupt our meal and demand we pay, before taking another bite of food, is poor customer service. I felt it impugned our character and it was not good service at all.
To conclude, I will give Phat Elephant a split rating rather than an overall rating. Firstly, for the food I will give them 3.9/5. Pretty good score.
For customer service, I give them 1.9/5. I will probably never eat there again after this experience, but that is not to say other folks who like Thai shouldn't give them a go, just don't expect too much in the area of customer service.
Thanks for reading. Leave us an upvote and a follow if you please.
Apsis
Sources:
Thai Red Curry with Chicken - RecipeTin Eats
Source: https://www.recipetineats.com/thai-red-curry-with-chicken/