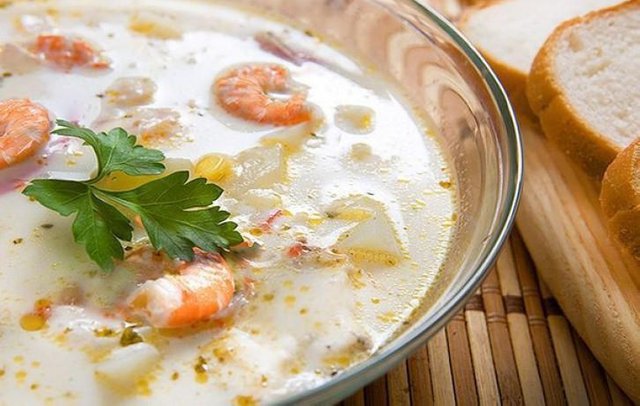 📌Cheese soup with shrimp is unobtrusive first hot dish that will win you and your family for their tenderness, excellent flavor, quick cooking, and incredible, simply divine gusto. This dish will satisfy even the most finicky eaters!
📜Ingredients:
✅Cheese — 400 grams
✅Potatoes — 200 grams
✅Carrots — 100 grams
✅Sea salt — 1 teaspoon
✅Refined sunflower oil — 40 ml
✅The dried ground fennel — 30 grams
✅Parsley, dried ground — 30 grams
✅Shrimp (shelled, frozen) — 200 grams
💡Tips:
✔ App instead of sunflower refined oil you can use olive oil or butter.
✔ This set of spices listed in this recipe can be supplemented with lemongrass, sage, safflower or saffron.
✔ This is optional carrots can be peresushit with onions or leeks, to the mass of the products of 100 grams of a vegetable.
⏳Preparation:
1️⃣ first turn on the stove at a strong level and put it on a deep pot filled with the right amount of clean water. The mass of the fluid depends on your desire. If you want thicker soup, use 1.5 liters of water, if less dense - 2 liters. When the liquid boils, helping himself to a tablespoon, dissolved in 400 grams of melted cheese.
2️⃣ After you peel the skin of potatoes, wash them under cold running water from sand and any other contaminants. Dry paper kitchen towels from excess moisture, alternately stacked on a cutting Board, shred a cube with a diameter of 1 - 1.5 inches, throws in a pot of cheese boiling repeatedly with water and boil for 10 to 15 minutes.
3️⃣ Then as well as potato peel from peel carrots, wash it under cold water, dry with paper towels and RUB on a small grater directly into a deep bowl. Carrots will not be visible in the soup, but will give it a nice hue, taste and aroma.
4️⃣ While cooking the potatoes, turn the next burner on the stove on a medium level and put it on a pan with 40 milliliters of sunflower refined oil. When the fat heats up, throws him shredded carrots, and continuously stirring the cooking vegetables with a spatula, fry for 3 to 4 minutes until soft and light Golden brown. Much to roast carrots is not necessary, it should just slightly to soften. Once the vegetables reach the desired texture, immediately remove the pan from the stove.
5️⃣ once the potato is cooked, add stewed carrots, peeled, frozen shrimps, salt to taste and again bring almost finished soup to a boil. After boiling in the same pot at the input 30 grams of dried dill and parsley.
Mix all the ingredients of the first hot dishes, wooden cooking spoon, proverjaem 3 minutes, turn off the stove, cover the pan with a lid and give the soup to stand for 25 to 30 minutes. Then, using a ladle pour it on a deep plate and served to the dining table.
6️⃣ Cheese soup with shrimp served hot like the first hot dish for dinner. This soup can be supplemented with fresh chopped herbs dill, parsley, cilantro, green onions, also in each serving you can put the croutons of white bread or sprinkle flavored pudding grated on a fine grater cheese. Enjoy, Bon appetite!
More recipes look at
or