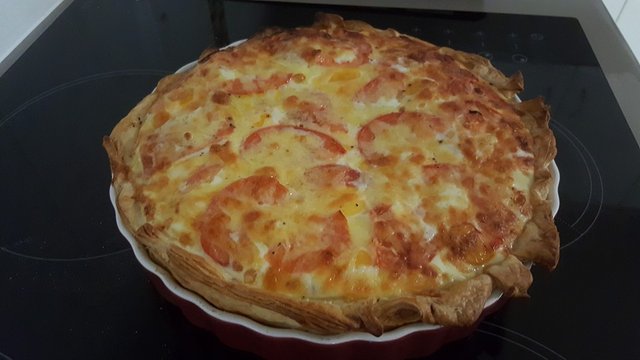 Woohoo, teaching my kids early learning cooking skills is proving to be such a big success!!! This was made with no help at all except turning the oven onto fan-bake!!!!!!!
Kalee made this amazing pie with:
16 eggs
8 rashes bacon sliced finely
2 tomatoes sliced finely
puff pastry sheets
grated cheese
salt
pepper
First she sprayed the flan dish with canola oil and then she placed enough pastry around to cover side and bottom of dish. She spread around the sliced bacon and cracked eggs individually into a cup and then poured one by one onto the pastry (last time she put them all in a bowl forst and the last cracked egg was rotten inside and had to throw them all out :( Lesson learnt.
She then put on sliced tomatoes and a handful of grated cheese. Salt and pepper was put ontop and into the over for 35 mins or until pastry was golden and egg springs back to touch :)
Super simple and so tasty. Served with a side of broccoli. Easy peasy meals for the working family.
........and so much better than the dinner I made last night...he he