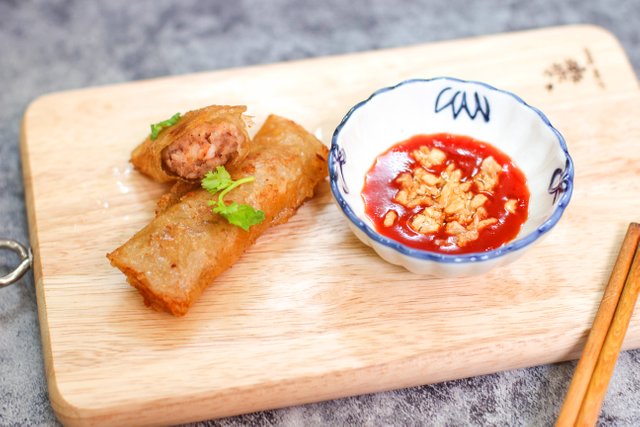 Ingredients.
300 grams of shrimp (shelled and deveined).
200 grams of minced pork.
Pieces of rice paper wrapper.
Pig stock powder, sugar, white pepper, garlic oil, cooking oil and chilli sauce.
Instructions.
Put shrimps into a mortar, crushed with the pestle.
Mix well the pork, shrimps, pig stock powder, white pepper and garlic oil for about 20 minutes for soak up.
Before you start, you will need soaking the rice paper wrappers. To do this, fill a shallow bowl with some tap or filtered water. Take one rice paper wrapper and immerse it completely in the water. Make sure that the wrapper is completely wet. Put the wet wrapper on a large empty plate. Before you begin filling, wait about 30 seconds for the wrapper to soften.
Place 1 tablespoon of the filling and 1 shrimp in the middle (about 1 inch from the edge of the wrapper), on the side closest to you. Using the back of a spoon, press the filling flat into the shape of a small chocolate bar.
Make sure that this first fold completely covers the filling, and pull the edge of the fold slightly under the filling making a taut, small parcel.
Next, fold one side. Using both your hands, fold the right side of the wrapper toward the center, stopping where the filling is. Do the same with the other side-fold the left side of the wrapper toward the center, stopping where the filling is.
Continue folding the wrapper by grabbing the enclosed filling and turning it over until it reaches the end of the wrapper. Check all sides to make sure there are no loose ends on the wrapper. This ensures the filling won't escape when frying.
Heat oil in the frying-pan over low heat, put the rolls into oil, deep fry until golden, transfer and drains rolls up right for about 2 or 3 minutes.
Serve hot with chilli sauce.
And done, hope you enjoy!