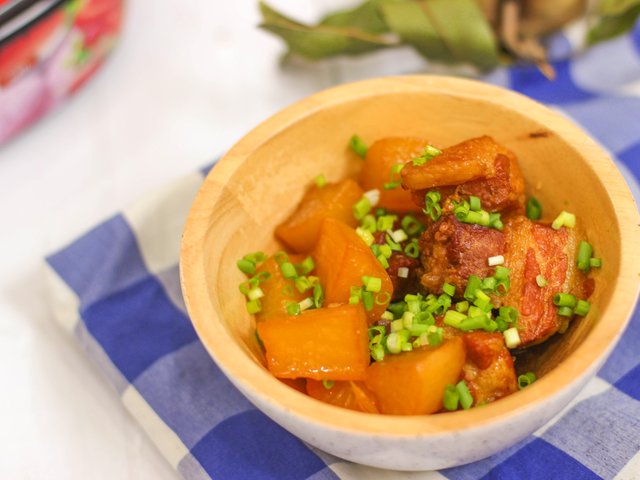 Ingredients.
400 grams of pork side.
300 grams of daikon (cut into pieces).
Green onion ( chopped).
15 grams of sugar for caramel.
2 teaspoons of pork stock powder.
3 tablespoons of fish sauce.
Cooking oil.
Instructions.
Bring 2 cups of water, boiling on high, when the water is boiling, add the pork for about 2 minutes just clean it. Drain and rinse the pork until the water is clear. Then cut it into large pieces.
Mix well the pork with pork stock powder for about 10 minutes.
Heat cooking oil in the frying-pan over medium high heat, add the pork and fry on the both side until golden. Then set aside.
Make the caramel: add sugar to the saucepan over medium heat, stir the sugar so it heats evenly, when it gets darker than caramel and just starts to smoke. Add 1/2 cups of water to the sugar to halt the cooking process and stir until the sugar dissolves. You are done. Then put the pork into, stir-fry well for a minute, add 1 cup of water. Simmer for about 30 minutes or until the sauce is thickens a little (stiriing occasionally). About 15 minutes before the dish is done, add the daikon and continue to simmer.
Final step is add fish sauce and continue to cook for a minute.
Sprinkle green onion on top, serve warm with cooked rice.
And done, hope you enjoy!