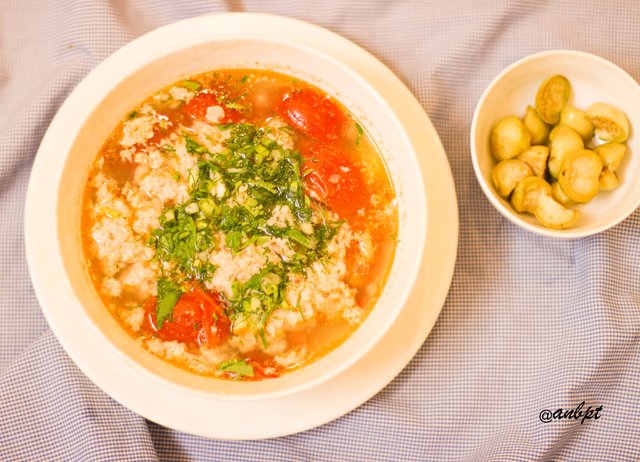 Ingredients.
300 grams of mashed crab (fresh or canned) or 200 grams of shrimp (shelled, deveined and mashed).
1 shallot (finely chopped).
Laska leaves (thinly sliced).
Green onion (thinly sliced).
Dill (thinly sliced).
Salt, sugar, vegetable oil.
3 tomatoes ( cut into wedges).
2 tablespoons tamarin pulp.
Instructions.
Combine the mashed crab with 2 cups of water in the saucepan, mix well. Strain and sieve the mashed crab. Bring to a boil over medium heat, stir well for about 4 minutes till the crab meat float to the surface. Slowly remove the cooked crab meat and put it into a bowl. Set aside.
Heat vegetable oil in a pan, add shallot, and fry well till golden. Add tomatoes and fry stir well until soft. Set aside.
Bring to a boil the crab broth which you've just cooked. Add fried tomatoes and salt, sugar, tamarin pulp. Cook for about 2 minutes. Then slowly add crab meat and green onion, laska leaves, dill. Add salt, tamarin pulp to taste.
Serve hot with cooked rice or rice noodles.
And done, hope you enjoy!