It's a Saturday afternoon and just a bit too chilly to be sitting outside, but I need all the sun I could get since I've been holed up in my apartment all week. Rob and I walked over to Mendocino Farms on Fairfax and 3rd to grab a late lunch. We have been meaning to check this place out but have never had the time. I'll be honest I'm always skeptical about salad and sandwich restaurants. Maybe it's the inner Asian speaking, but I always feel like I could just as easily make a delicious sandwich at home so why pay 10 bucks for one. Well, today I woke up with a terrible headache and by lunchtime, I was way too exhausted to cook a meal so we decided it's time to give this place a shot.
When we walked in the first thing I saw was a huge menu display. A friendly host standing next to it welcomed us in and walked us through the ordering process. He explained that we will order here at the menu, grab a sample, pay at the register, then seat ourselves and wait for our food to come out at the counter. He recommended that we try their most popular sandwiches and so we ordered the "Not so Fried" and the Pork Belly Ban Mi sandwiches. We grabbed a sample of their homemade potato salad, paid for our meal, and made our way outside.
The potato salad was delicious! It was tart, a bit spicy and had yummy chunks of potato. A typical hipsterfied potato salad. I was thoroughly impressed and excited for our sandwiches after tasting that.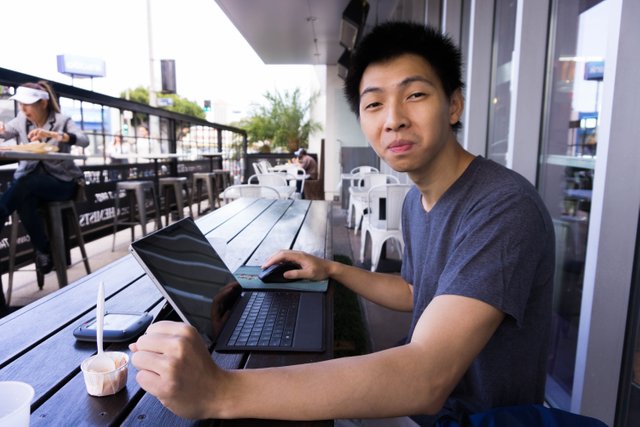 We sat at a dark wooden bench because I thought it would look nice in a flat lay. It ended up not mattering because I choose to shoot from a different angle once the food came out. The food was ready within 10 minutes, Rob went to grab it from the counter when the buzzer rang. You can see for yourself that the sandwiches were beautifully made.
The Pork Belly Bahn Mi caught me off guard because it didn't come on a traditional baguette. Honestly, it was much easier to eat in panini form, so I'll have to give it to them for switching things up a bit. The pork belly was a little dry but still, it was quite tasty. However, the veggies in the sandwich were disappointing. The carrots and radishes were not well pickled and tasted quite plain. Their lack of tartness ended up not balancing out the fattiness of the pork belly like they should, leaving my mouth with an oily aftertaste. But overall, the sandwich was delicious especially with a little blob of BBQ sauce, I mean how can you go wrong with pork belly? I would definitely recommend it to anyone who's open to trying something new. I wouldn't recommend it if you're craving authentic Bahn Mi flavors though. Maybe try Pho Saigon Pearl a few blocks down.
The "Not So Fried" sandwich was a chicken sandwich with "krispies, herb aioli, mustard pickle slaw, tomatoes, pickled red onions, on toasted ciabatta". With my first bite, I was unimpressed. I'm honestly surprised that it's their best seller. I'm not a fan of messy sandwiches, they make me anxious when eating leading me to eat the whole thing very quickly to avoid making a mess. This was definitely one of those situations. The individual elements of the sandwich were well made, the bread was perfectly toasty with the aioli, the chicken was juicy, the mustard pickle slaw was delicious and the fried bits gave it an interesting crunch. However, the enormous chunk of chicken breast made it difficult to not accidentally pull all the chicken out in one bite. The most disappointing thing was that each bite was either all chicken or all fillings. No matter how I tried, I couldn't get an even bite without making a mess.
After my meal, I was able to pull out my laptop to write this piece. Honestly, the free wifi really gave them a bonus point in my books. Sitting here is pretty relaxing since they're located right across from the Grove, I get a great view of the palm trees and the farmers market. It does get annoying that every 10 minutes or so a large bus stops in front of the restaurant creating a suffocating cloud of pollution that drifts right into the seating area. There are also some pretty rude drivers blaring their horns as they run through the red at the intersection. But what can you do? It is LA! Overall, the vibe here is great, you can chill here with a couple of coworkers for your lunch break and gab over the latest office gossip while feeling like the most basic LA bitch. Or bring your laptop and get some writing done, which is even better.
I've decided that Mendocino Farms deserves at least four stars for their cleanliness, above average food, friendly staff, and great location. If you're in the area, and willing to spend 10 bucks on a sandwich, it's definitely on my recommended list! Just maybe don't get the "Not so Fried" sandwich. If you do and love it let me know too! It's usually just a matter of different preferences. :)
I hope you enjoyed reading about my Saturday afternoon as much as I enjoyed sharing it. It's starting to get too chilly out here so I'm probably going to head back to my apartment and get ready to go meet my friend for some drinks. But before you go, let me know what your favorite sandwiches are in the comments below. I'd love to learn some new sandwich recipes to try out!
Happy eating! :)
@allsthefoods
"Food is the ingredient that binds us together"