Hey everyone, you are first to see this recipe before it goes live to all my other social media channels tomorrow!! Today I will show you how to make salted caramel macarons at home. 

These salted caramel macarons are seriously addictive.  You will not be able to stop at one.  Those gorgeous, little French cookies. They're delicate and pretty. They're fluffy and delicious. And they are so super cute! Cute and notoriously finicky, whip these up for afternoon tea. I also have filled them with home made caramel sauce.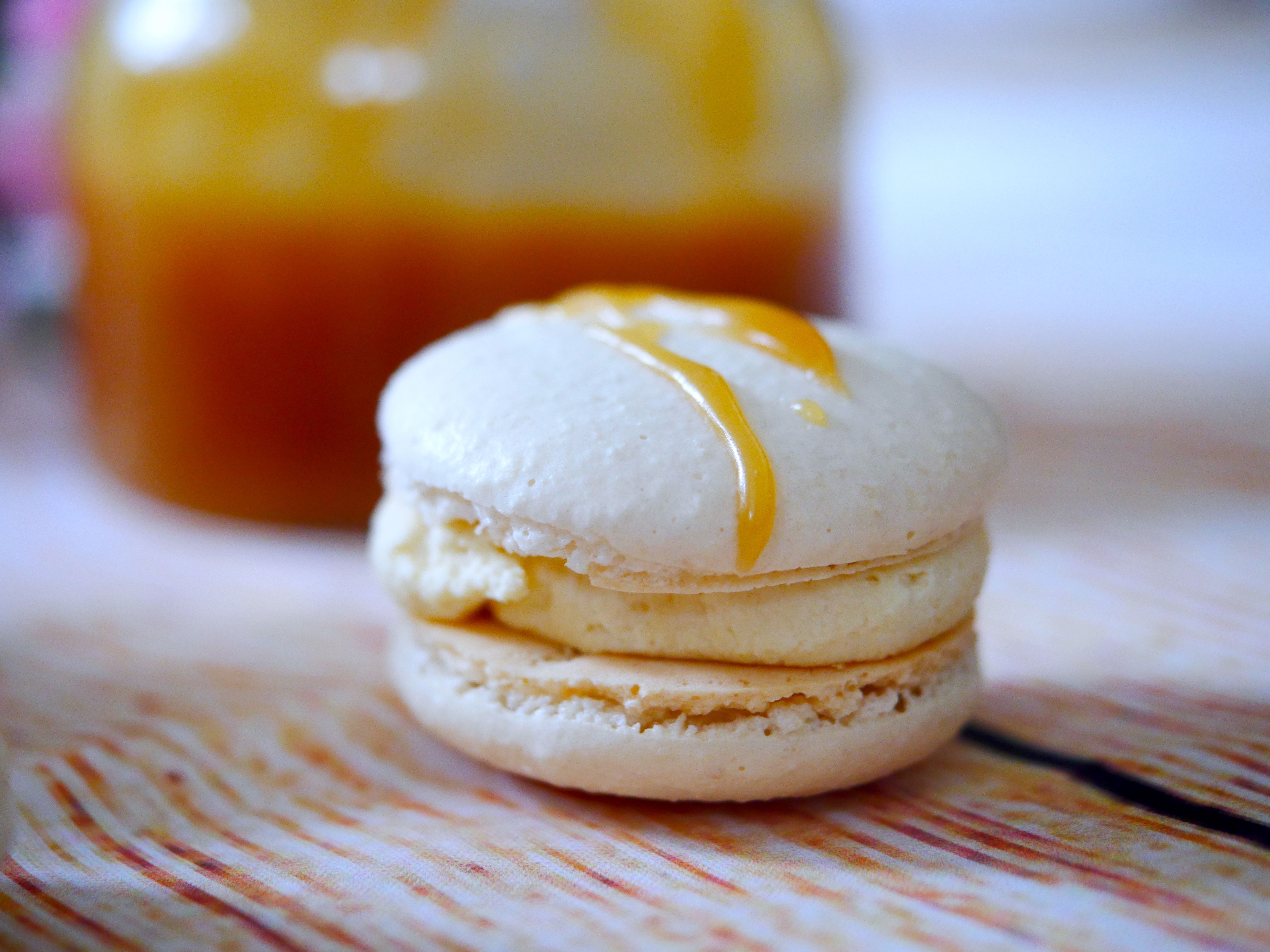 Ingredients 
For the macaron shells 150 gr ground almonds 150 gr icing sugar 55 gr "liquefied" egg whites ( leave egg whites for 1-2 days in a fridge if you can) 150 gr caster sugar 37 ml of water 55 gr "liquefied" egg whites*

For the salted caramel: 175g (or ¾ cup + 2 tablespoons) granulated sugar 60ml (or ¼ cup) water 120ml (or ½ cup) heavy whipping cream 175g (or ¾ cup + 1 teaspoon) unsalted butter, cubed sea salt to taste, I used about ½ teaspoon

For the whipped caramel filling  Salted caramel sauce 120 ml of heavy whipping cream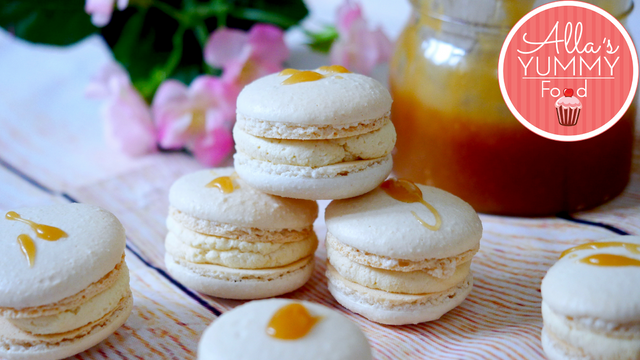 )
Directions 

Step 1 : Add the icing sugar and ground almonds into a food processor and process until well combined. This will help get rid of any lumps in the sugar. Alternatively you may sift the two together. This must be done at least 2-3 times.   Step 2: Place the sugar-almond mixture into a large mixing bowl, add the first portion of egg whites and mix until it forms a paste. Cover with plastic wrap and set aside.   Step 3: Add the sugar and water into a small saucepan. Give them a very gentle stir to get them mixed together. Bring to a boil on medium high heat, then turn down to a simmer. Add a thermometer to the pot to help you measure the temp of the syrup. As the syrup bubbles away it will splatter small bubbles of sugared water on the sides of the pot. Use a pastry brush dabbed in a little water to brush those back into the syrup. This will help prevent the syrup from crystallizing. When the syrup reaches 115C, add the second portion of egg whites to the bowl of a stand mixer and start whisking them on medium/high speed to help break them apart and get them a little frothy.   Step 4 : When the syrup reaches 118C, pour it over the egg whites in a slow and steady stream. Whisk to stiff peaks for about 5-7 min. Stop the mixer and scrape down, then whisk for an extra couple of minutes. When you can turn the bowl over and the meringue doesn't fall out, you know you've reached stiff peaks.   Step 5 : Grab a spatula full of the meringue and fold it into the almond-sugar mixture, mix until well combined. This allows the mixture to thin out a little before you add the rest of the mixture. 
Step 6 : Fold everything together by going around the bowl with a spatula then through the middle. Continue folding until the batter gets thin enough that it drips off the spatula and falls in a ribbon. It should take about 10 seconds for the ribbon to disappear into the rest of the batter. That's when you know the batter is ready to pipe. Spoon the batter into a piping bag with a round tip.   Step 7 : Pipe rounds of batter about 3.5cm (1.38 inches) in diameter, spacing them 2cm apart on (flat) baking trays lined with baking parchment. Gently tap the tray on the work surface from different sides.
Step 8 :  Leave macarons to dry out for at least 30 minutes, until a skin forms on the shells. They shouldn't be sticky when you touch them. It's at this point that you can preheat a fan oven to 150 C (300 F). Bake for 23 minutes. 
Step 9. Times of baking might vary depending on your oven, so its a lot of trial. If you feel your oven is causing the macarons to brown on one side (usually the side closest to the fan) turn the tray around about half way through baking. Once they're baked, let them cool completely.
Step 10 : Make salted caramel saunce. In a medium-sized saucepan combine the sugar and water. Heat over low heat, stirring with a metal spoon until the sugar has dissolved, then crank the heat up to medium-high. Allow to come to a boil. Cook the sugar syrup until it turns into caramel. Once you're happy with the color of the caramel, take it off the heat and immediately whisk in the hot cream. The mixture will start to bubble, but just keep whisking and it will calm down.
Step 11 : Add half the butter, one cube at a time, whisking until incorporated. Then add the salt if you wish. Add the remaining butter and whisk until the caramel thickens (aka: cools). Transfer the caramel to a medium-sized bowl and place in the fridge to chill.
Step 12 : Make your filling by whipping up cream to stiff picks, then add salted caramel and mix well. Add into piping bag and pipe onto each macaroon shell. Add 1 tsp of salted caramel in the middle and top it up with the second shell. 
Step 13: Store in an airtight container in the fridge, but serve at room temperature. The macarons are even better the next day!