RUSSIAN BEEF SOUP ( SOLYANKA)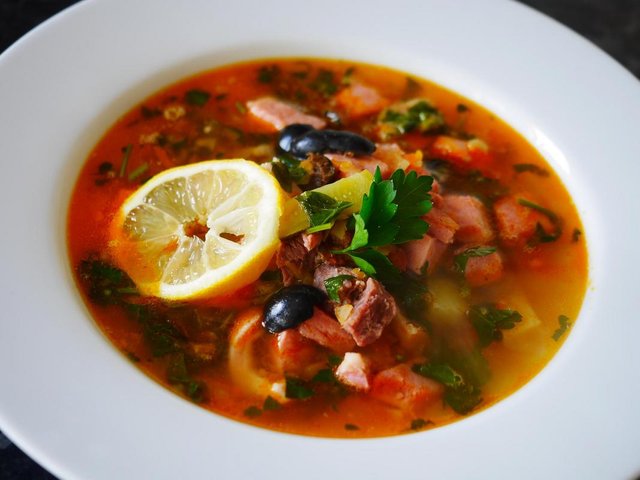 Solyanka (also spelled soljanka), which comes from the word for "salt," possibly originated in Ukraine in the 17th century and became beloved by Russians. This is a hearty, thick soup with salty cured meats, sausages, olives, pickles, sometimes carrots, and dill and sour cream for garnish. Meat Solyanka is a well known Russian and Ukrainian soup with sour and smoked meaty flavour. 


There are meat, fish and vegetable (mushroom) Solyanka but today we are cooking the meat one. Russian salted cucumbers are always used in Solyanka and they give the soup that distinctive salty and sour taste. 

Sometimes some pickle brine is also added. In meat Solyanka you are supposed to use several types of meats (at least 3 different types), most of the meats should be smoked. For meats in Solyanka soup all kinds of smocked supplies are used: ham, sausages, frankfurters, chicken, bacon.


Ingredients 

300 gr of beef ( choose fattier part, so the meat is softer)
200 gr ( bologna sausage smoked)
200 gr ( any smoked meat you like)
4-6 smoked sausages of your choice
2 potatoes ( optional)
3 salted gherkins
1 onion
1 carrot
3 tbsp of tomato paste
black olives
lemon
salt & pepper
greens such as parsley, dill, coriander
1 cup of salted gherkin juice
1 bay leaf
peppercorns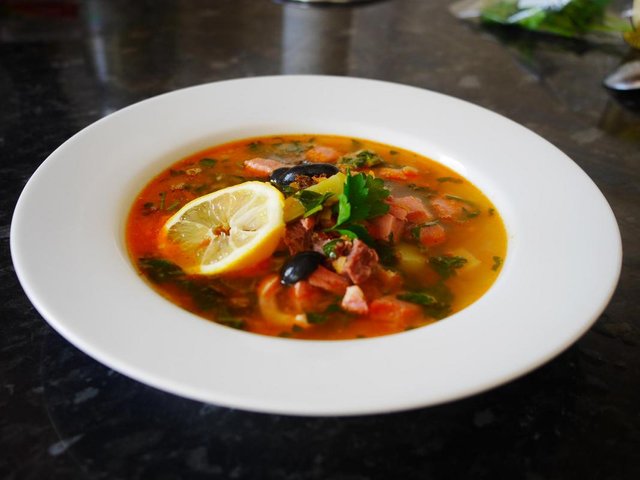 Directions 
Step 1 : Place your beef into a pot with water , add onion, bayleaf and peppercorn and cook for few hours until meat becomes soft and tender, about 2-3 hours. If you can find meat on the bone, that would be even better. Keep the liquid. 
Step 2 : Cut all your meat and gherkins into stripes. 
Step 3 : Add all your meat into the frying pan and cook for 5 min until it browns a little. 
Step 4 : Cut your onion and grate your carrot. Fry onion first for 5 min, then add carrots and tomato puree. Cook it for 5-7 min. Then add your gherkins. 
Step 5 : Get a large pot, place your beef stock in there, add more water. Then start adding all the ingredients. Add your onions, carrots with gherkins. Then add your meats, potatoes and fresh parsley and dill. Lastly add gherkin juice and leave it cooking for 20-30 min on low heat.
Step 6 : Before serving, add some black olives and serve with slice of lemon and sour cream.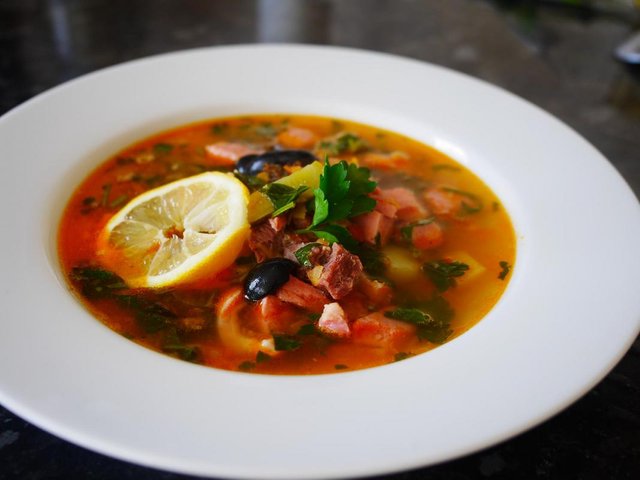 FOLLOW ME !
Facebook: https://www.facebook.com/AllasYummyFood
Instagram: http://instagram.com/allasyummyfood
Pinterest: http://gb.pinterest.com/allatinn/
Twitter: https://twitter.com/allasyummyfood
Google + : https://plus.google.com/+AllasYummyFood
Snapchat Code : allasyummyfood
VIDEO HERE:
Lots of love,
Alla xox