CHOCOLATE & ORANGE RAW VEGAN CHEESECAKE
CHOCOLATE & ORANGE RAW VEGAN CHEESECAKE 


This amazing double chocolate raw cheesecake is to die for!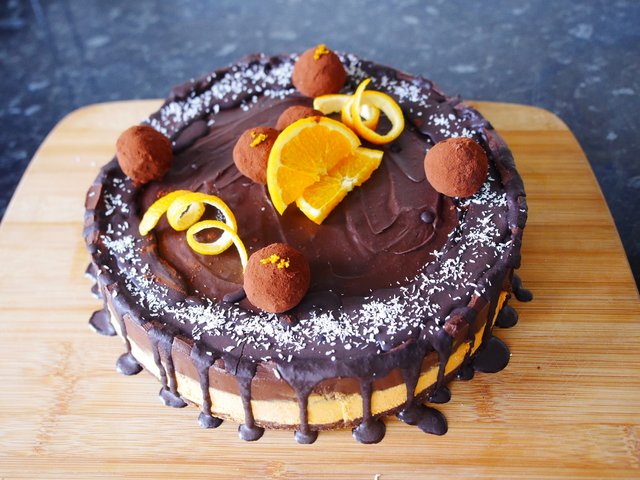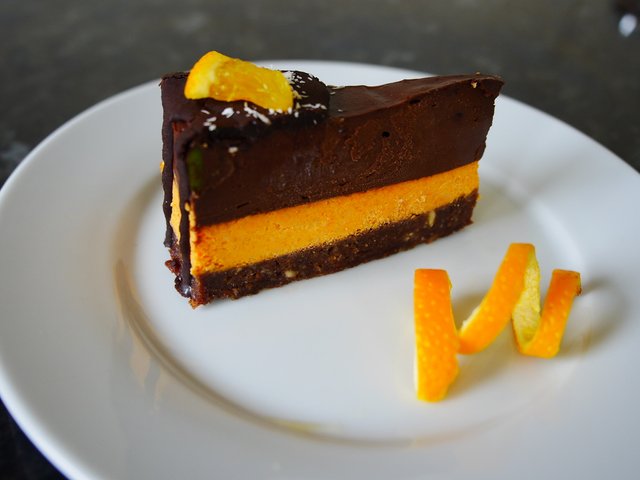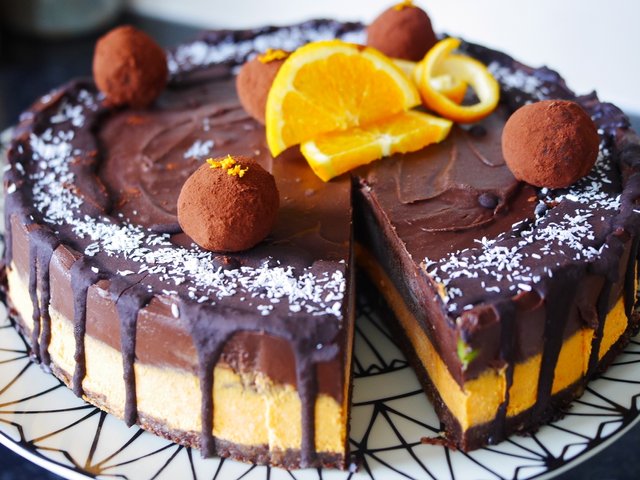 It requires no baking either It is really fresh, vibrant and delicious.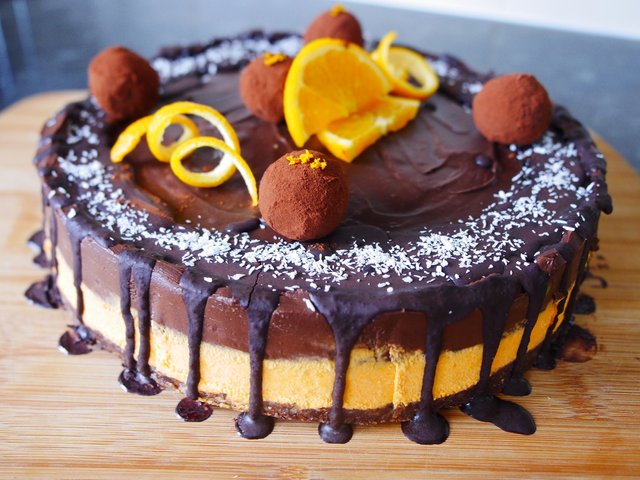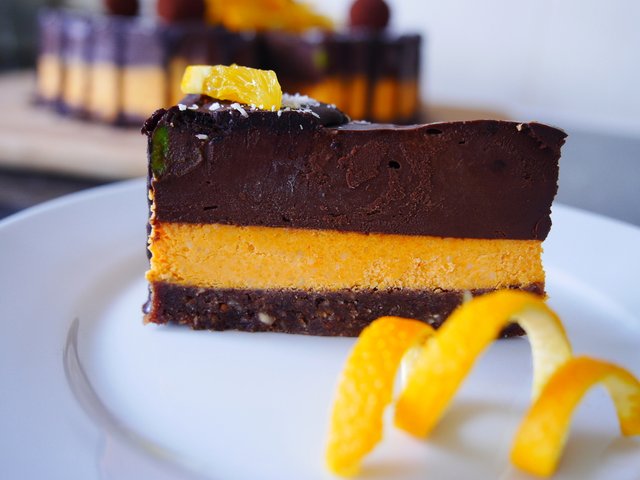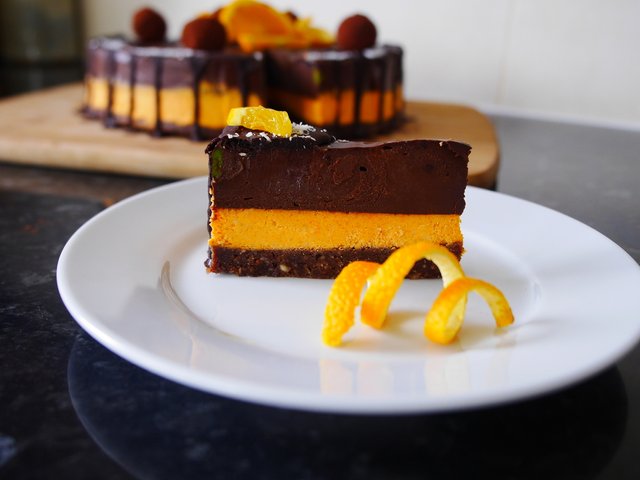 This is one dessert that is seriously hard to mess up.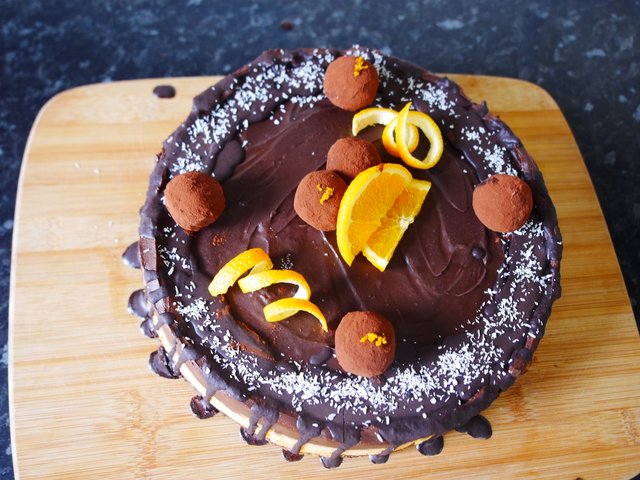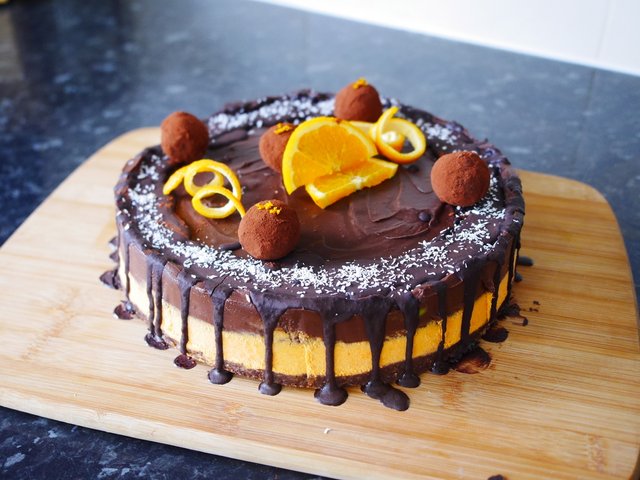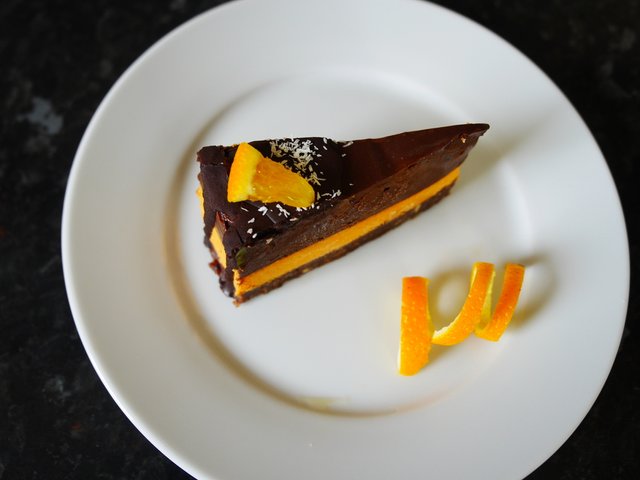 This cheesecake is raw, meaning that all the powerful vitamins, minerals, and enzymes present in the whole foods you use to make the cake remain in tact.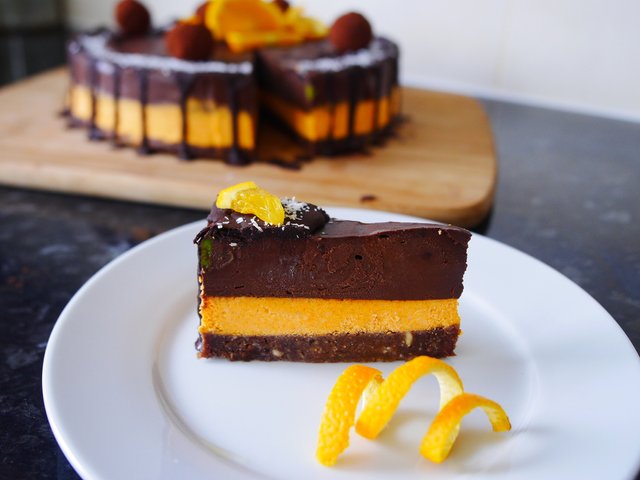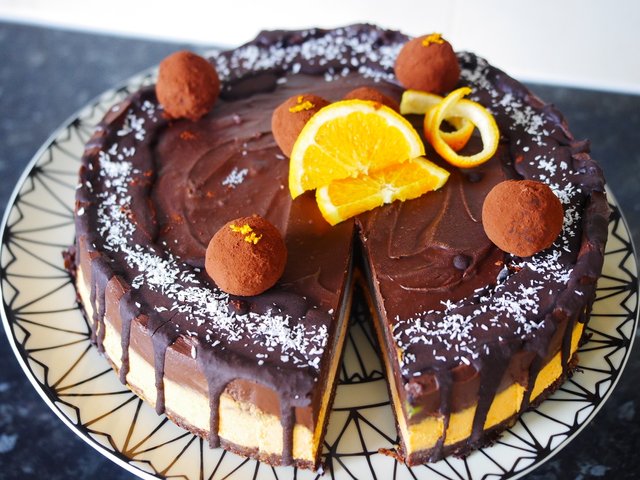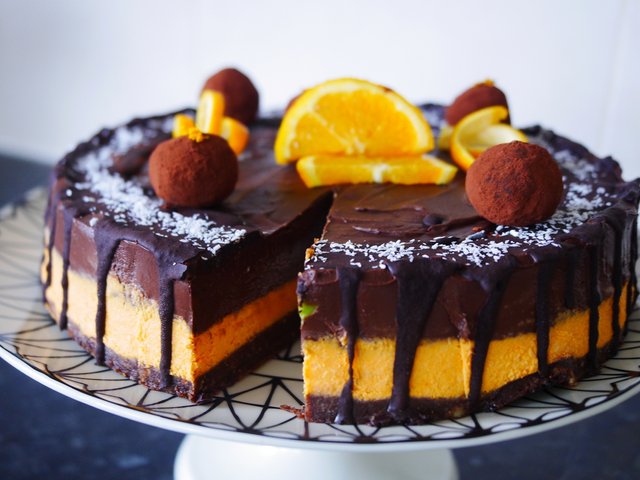 Instead of an atom bomb of empty calories in your belly, you actually have a handful of fruit and nuts.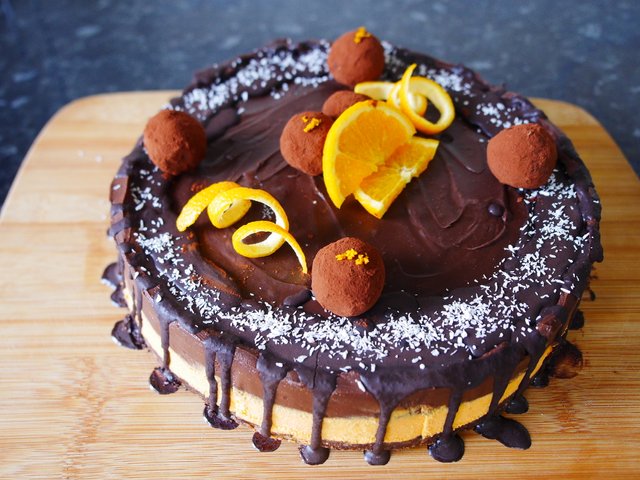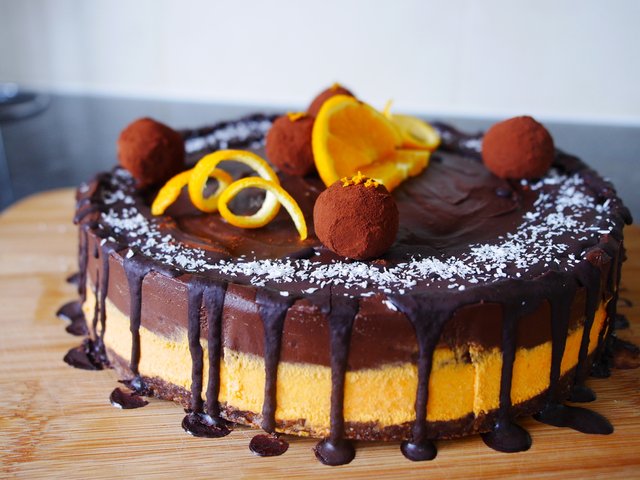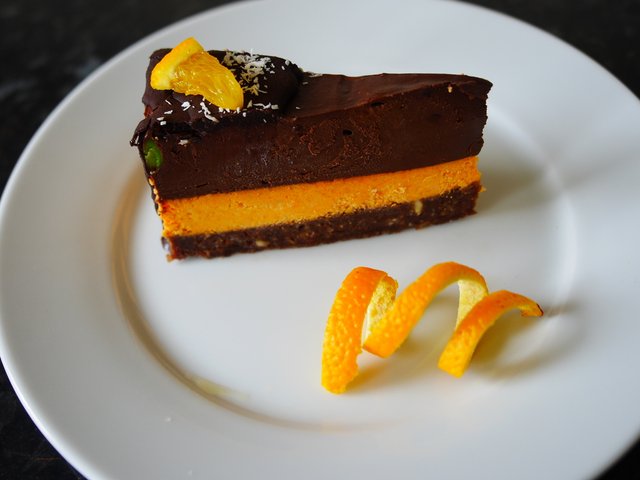 Perfect for the summer! Enjoy!



Ingredients

For the Base:
2.5 cups (350 gr) of almonds + walnuts ( use any nuts you like)200 gr or 10 medal dates1-2 tbsp of coconut oil 
3tbsp of cocoa powder
1-2 tbsp water
2 tbsp of maple syrup
Pinch of sea salt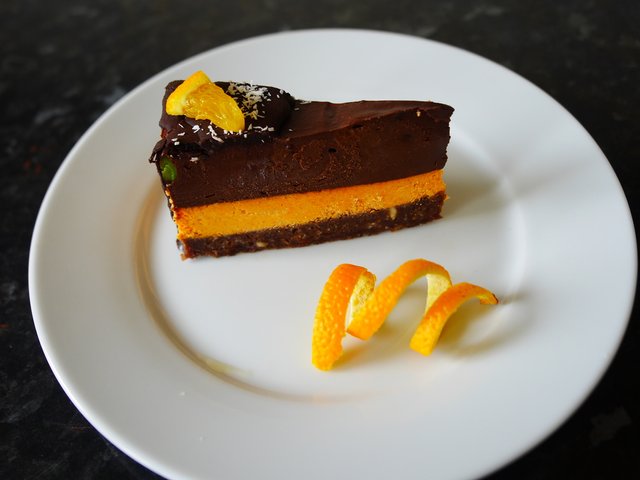 For the Chocolate Layer:
4-5 ripe avocados1 cup or 200 ml of coconut oil 1.5 - 2 cups OR 160-200 gr of cacao powderPinch of sea salt1 cup OR 360 ml of maple syrup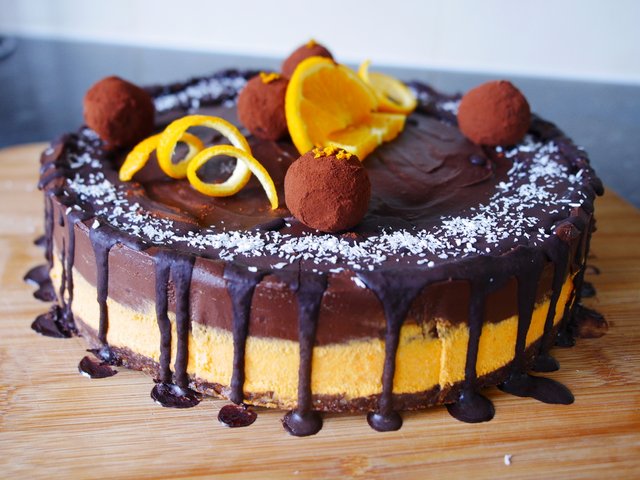 Orange cheesecake
200 gr OR 1 1/4 cup cashews ( soaked overnight or at least 6 hours)
1/4 cup maple syrup
1 tsp of vanilla extract
1/2 cup or 100 ml of coconut oil
Juice of 2 oranges
Zest of 2 oranges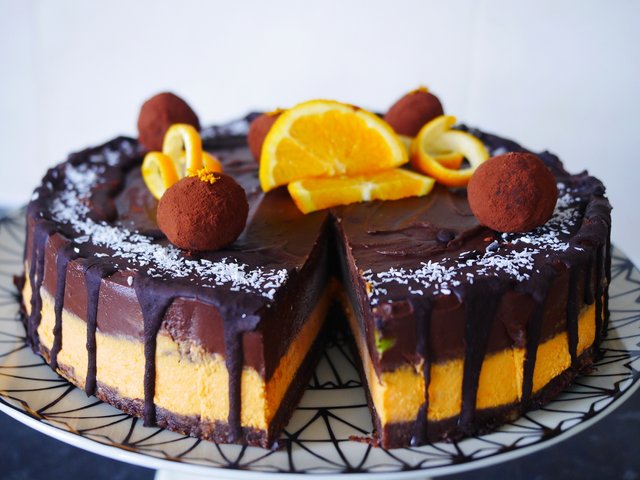 Chocolate topping:
2 large tbsp of coconut oil
3 tbsp of cocoa
3 tbsp of maple syrup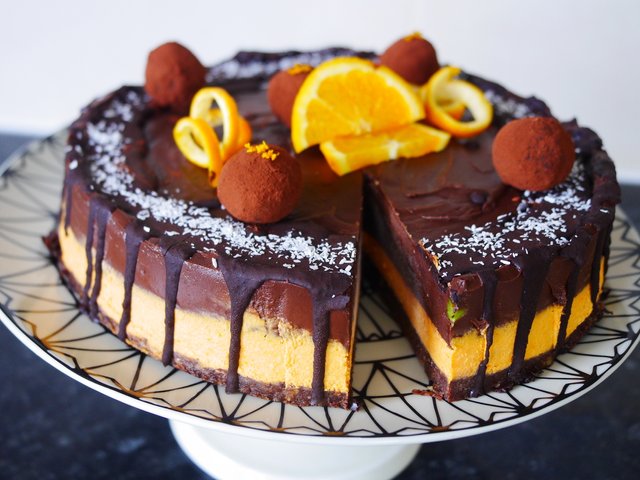 Directions 
Step 1 : Add your nuts into a food process and blitz away, then add your soft dates and cocoa powder with maple syrup. Then add your coconut oil and mix again. Your chocolate layer should be nice and sticky. Then add your chocolate base to your pan and spread it around evenly. 
Step 2 : Make orange cheesecake layer. Zest and juice oranges and set aside. In a food processor add your cashew nuts with maple syrup , coconut oil, orange juice and pinch of salt and blitz until smooth. Then add orange zest and blitz again. Pour your cheesecake layer on top and then place the mixture into freezer for min 30 min. 
Step 3 : Make your chocolate mousse. Cut avocados in half, deseed and scoop out the soft mixture. Make sure they are very ripe. Add them to blender, along with maple syrup and coconut oil and cocoa powder. Mix everything together, until you have smooth mixture. 
Step 4 : Pour chocolate layer on top, spread it even and leave in a freezer overnight or at least 30 min. 
Step 5 : Before serving, make chocolate sauce. In a bowl mix melted coconut oil with maple syrup, then add cocoa powder and mix again until smooth. Add the chocolate sauce all over, decorate with coconut shreds and chocolate truffles if you wish. Enjoy the cake!!
Watch the video here:
Lots of love,
Alla xox