Filipino Boodle Fight: A Filipino Food Tradition.
Filipino Boodle Fight
A longest food display i've been experience.
Hello my dear steemians,"Hello to the steemworld". I want to show some traditional of a FILIPINO. "A Filipino Boodle Fight". Just a trivia about filipino boodle fight. This tradition of eating was originate by the Philippine Military to symbolized there camaraderie, brotherhood and equality of a military. In fact, we love love doing this to show moral support of our beloved Philippine Military. And I'm proud to be a filipino. You will see a big pile of food in different categories. The food is place on the middle of a table where the hungry people eat with using there hands. Eat as much as you can before others grab them all. Remember serve this to the hungry people, workmate, friends etc. If you're slow eater you will definitely run out of food and goodluck to you :)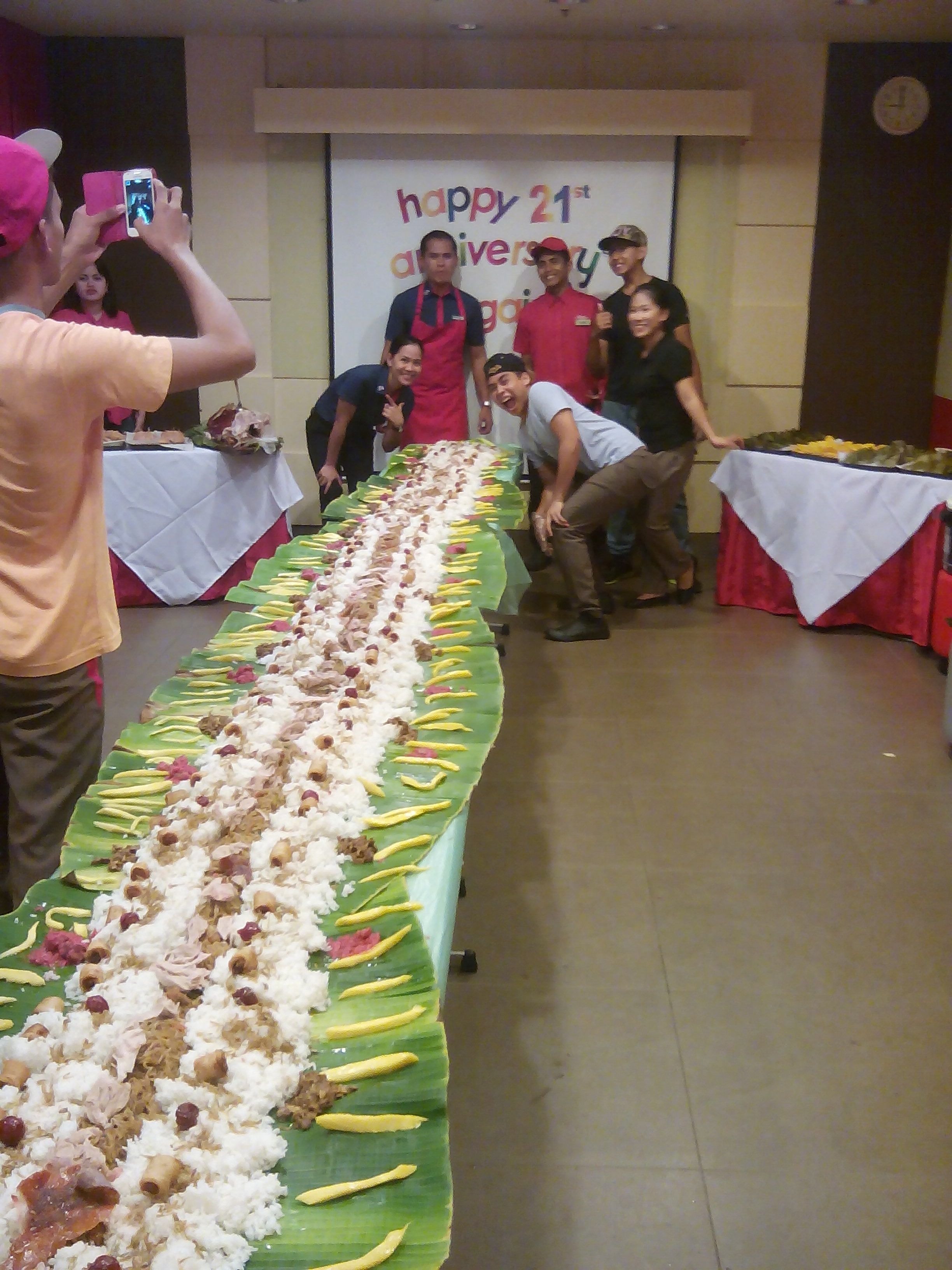 Foods are place on top of a table lined with banana leaves. The rice is placed in the middle so that the dish will be the toppings. Either you will be the designer of the food it's up to you. Do whatever you want the arrangement, style, design etc . . And do not forget a jug of water for washing there hands before the the"fight" begins. No utensils are needed only your both hands. This kind of event is not definitely for dining but for sure this is much more exciting, memorable and pleasant event in your whole life.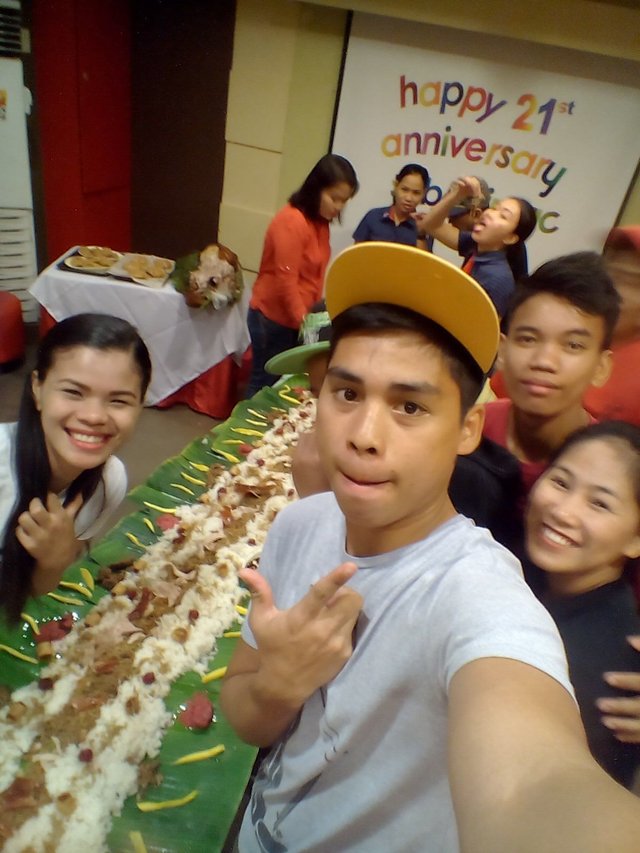 This is the food we've been used.
Rice
Mango
Beef Tapa
Garlic Pepper Beef
Spring Roll (Lumpia Pork)
Lechon (Pork)
Shrimp (Hipon)
Pancit
Dessert (Puto)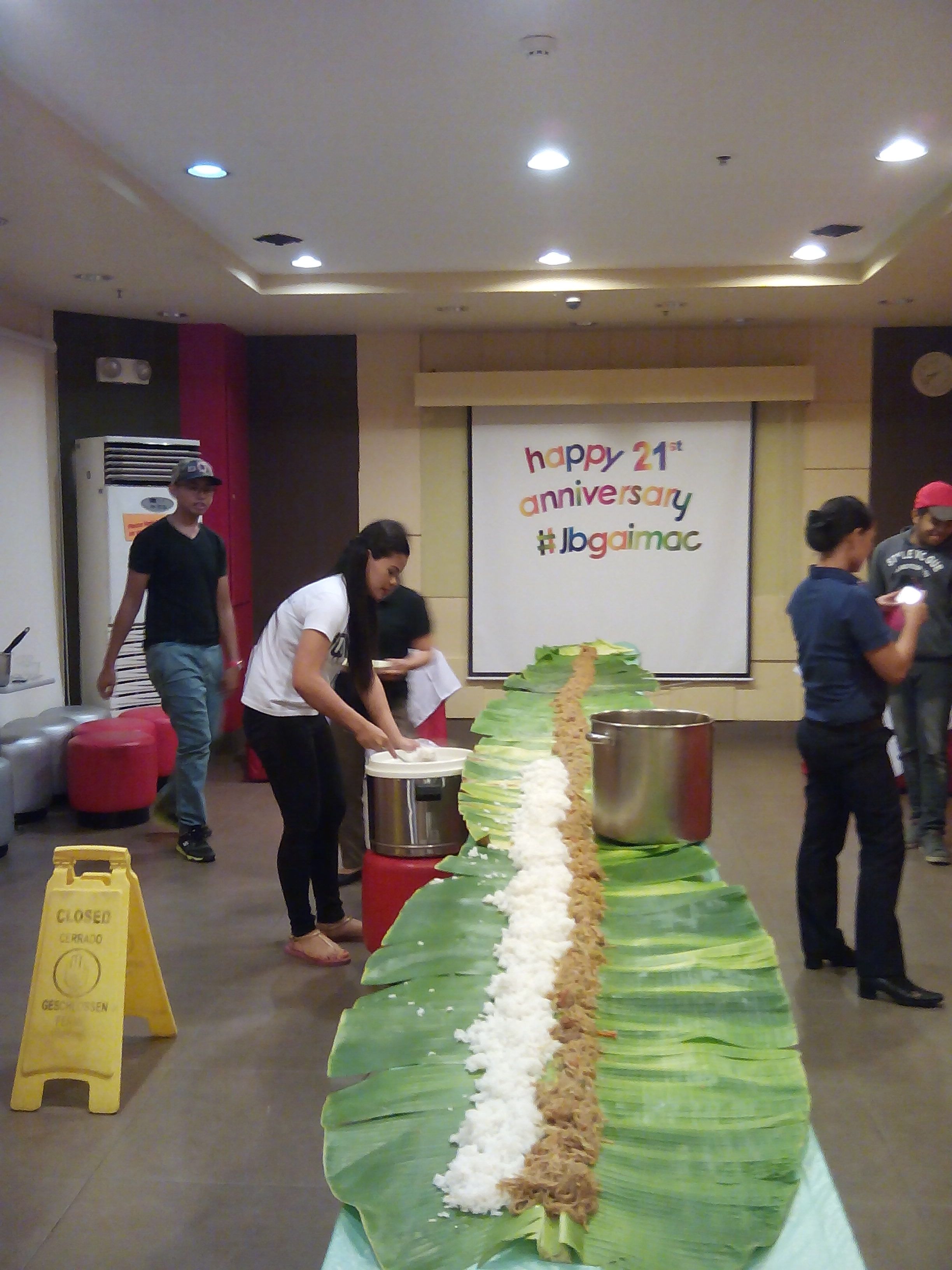 It's a good thing to do when you're in swimming with your friends, relatives and most of all is your family.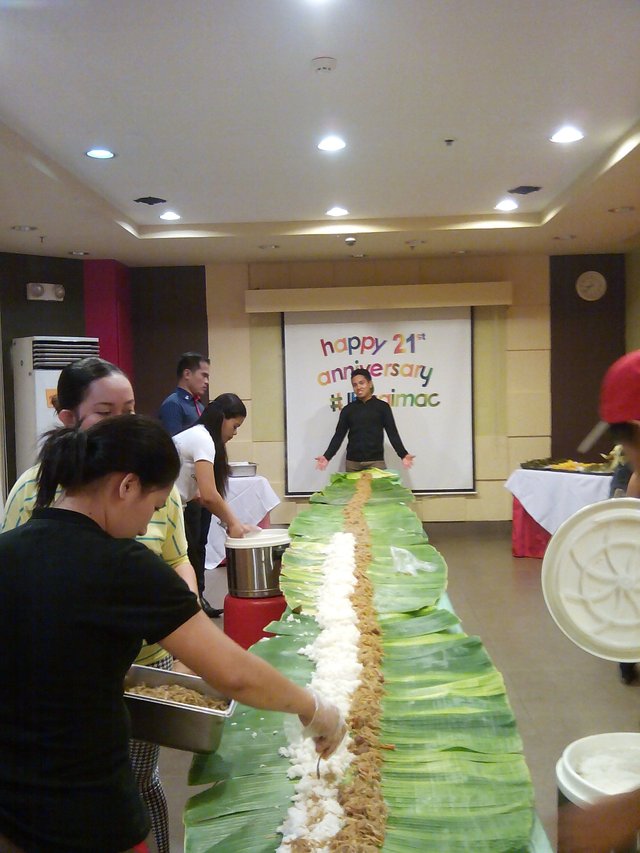 This boodle fight happened on 21st of january. All of my coworkers been there to join the boodle fight and at same time we eat together. When boodle fight start you will notice that everyone keep busy eating. Like they don't want to bothered taking to each other. This time you need to be greedy so you can eat more foods. Again if you are slow eater then goodluck. We celebrate the 21st anniversary of our company "one of the biggest fastfood chain in philippines".
Thanks for Reading
Hopefully you like :)
Long live steemians
@aiyeecanoy