3 things we all need to know about Exercise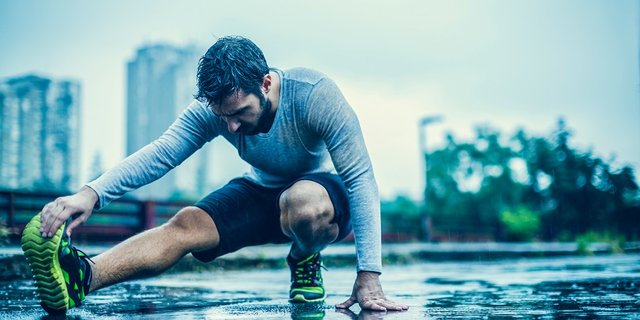 #1.

Exercise will hurt

#2.

Exercise will heal you

#3.

Exercise is fun
Now you're probably scoffing at the contradictory nature of those 3 points, but what you have to realise is that while they appear to contradict they're actually the correct order in chronology.
Exercise will hurt
When you make your first step on that treadmill, that first pump at the weights, that first anything. I guarantee you it won't be fun and it definitely won't make you feel better. By the very nature of what you're attempting, you'll be tearing up your juvenile muscles and causing yourself great pain. Many of those I know reach this stage, feel the burn and quit. What they don't realise is that what burns them today won't hurt them tomorrow. The rips and tears you've induced are healed, made new and made better. More muscle and less pain.
Exercise will hurt you, for that first run and that first weight lifting session you'll be crying on the inside and maybe even on the outside. When I made my first 5 kilometre run I didn't make it past the third kilometre. But two days later, after the muscles had healed enough I woke up at 5am and went at it again. That time I made it to the 4-kilometre point, the next time I made it to the 5th kilometre. I made want I aimed for. Then it stopped hurting and I began to heal.
Exercise will heal you
By heal I don't just mean the physical pain, I mean the mental hurts. Don't believe something like exercise would heal your psychological pains? Your mental issues? Your troubled mind? Well perhaps I need to bring in some scholarly opinions. Don't just believe me, believe Dr Nicola Burton, senior research fellow at the University of Queensland's school of human movement studies.
"we're not only talking about preventing poor mental health or treating it, but promoting good mental health. Even if you don't have depression or anxiety or a serious mental illness that you want help managing, you can enhance your wellbeing and vitality."
This is because exercise can boost mood, concentration, alertness, and even your propensity to look on the bright side, she says.
"We've just done a study showing people who engage in regular exercise experience higher levels of optimism."
Or how about this Dutch study of more than 7,000 adults that found that doing exercise reduced the risk of developing a mood or anxiety disorder over the following three years, even when controlling for socioeconomic factors and physical illnesses.
Now some might wonder how effective exercise is on this, well don't worry the Royal Australian and New Zealand College of Psychiatrists did tests on this and they're studies show from randomised controlled trials that exercise has a moderate to large effect for people with depression. It is also moderately effective for anxiety. In their professional opinion it should be followed up with other pathways to healing these struggles.
Exercise is fun
Now, so we know that Exercise is good for you and that the pain doesn't stay with you, but another point in Exercise's favor is that it's fun. More than anything else it's fun, exhilarting and freeing. The rythmic nature of it is almost akin to meditation, a space for you to blank out and relax. To catch a deep breath and just feel the world we live in. It can even rpovide you with inspiration, much like my own did today in prompting me to write this.
I hope this gave you some interesting new facts about exercising for you to munch over. If you enjoyed this please leave a comment and upvote us. XD
Regards C.