Can you Zwift on a Spin Bike
The answer is yes. There are multiple ways to do so. With this setup, I wanted to make a second cheap option for friends and family to try out Zwift. I used a cheapo dumb spin bike serving basically as a trainer and I added an extra Garmin cadence sensor I had to make it a little smarter.
The Problems
It's not perfect but makes riding a spin bike without the group class enjoyable. BUT, since Zwift doesn't support spin bikes in the game you will essentially create a DIY system. I can say with 100% confidence that this setup is not perfect. This setup's speed sensor does NOT account for the spin bike resistance so you would have to go with the Power Pedal to fix that issue. This means you can put on all the resistance or none of the resistance and your wheel will still spin the same speed as your pedal stroke.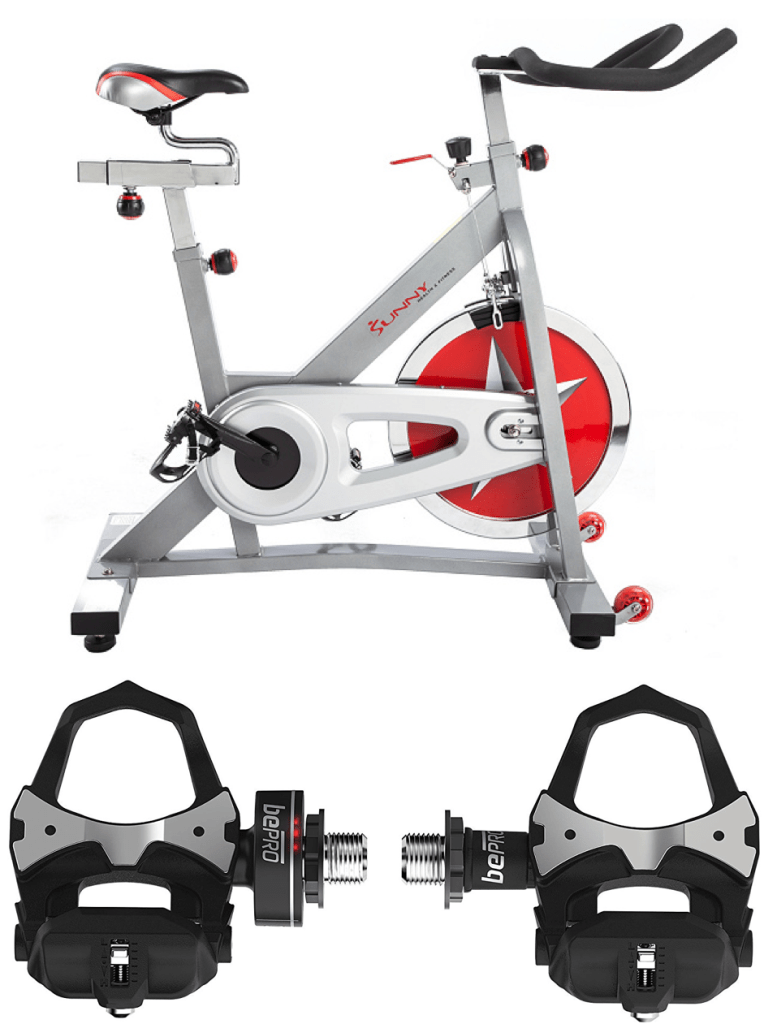 Sunny SF-B1110 Indoor Cycling Bike
Purchase: eBay, Target or QVC. Some of the features include:
Fully adjustable seat, handlebar, & resistance
44 lb flywheel
Heavy duty crank & steel frame
Transportation wheels for easy portability
Chain drive mechanism for smooth and quiet workouts
Built of solid steel and durable plastic
READ Out with the DIY Rollers in with the Cyclops Hammer
With the feature list on this specific bike along with the base price make this purchase a steal. I love that I can setup up the spin bike to give me an almost exact feel of my road bike for maximum training scenarios. Lastly, this bike features a chain drive mechanism for smooth, sturdy workouts since I plan to put some major watts into this bike it was important for me to find a chain system and not belt driven setup.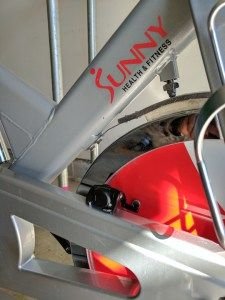 be prob p1 pedal sunny
bePRO S Pedal Power Meter
Next, In order to take a dumb bike with no digital monitoring and turn it into a smart system, you need some sort of watts meter. Really with this kind of stationary bike changing out the pedals is really your only option for actual power meters. They are Easy to Install – "You can install your pedal power meter on your bicycle by yourself in just a few minutes, without the assistance of a mechanic, without needing to modify the device, remove the wheels, or install external sensors." I love how the pedals come with everything the average person needs to install them on their stationary bike.
zPower | Garmin Speed Sensor
The next option is cheaper, much cheaper than the power pedals but much less accurate. Using the speed sensor options will require you to use a game called http://zwift.com, Zwift is the eSports evolution to massively online multiplayer gaming. This is done by connecting your bike to a power meter or speed sensor via ANT+/Bluetooth technology into iOS and computers. Games like Zwift have made huge leaps in the sporting world and it's here to stay. Zwift has personally helped elevate my training to the next left far past what I was able to accomplish prior to game launch. When you decide that you want to use the Gamin speed sensor in Zwift they have to calculate your zpower reading by taking wheel size, your weight and cadence into account to come up with an estimated power reading. Using Zwift is like having LIVE classes with top-notch workout built in. But the coolest thing is that you can ride in real time with others all over the world in the virtual Zwift land. It's $10 a month for unlimited use, just create your avatar and go!
READ Zwifting on a standing desk: ZwiftCaves Setup Tour
The going rate for a Garmin Speed/Cadence sensor is $39 on Amazon. The install only needs a magnet attached to the flywheel and the Garmin sensor attached to the chain guard. This can be done with glue or like I did, by drilling three holes, the first to the flywheel and the last two into the chain guard to secure the zip ties.