A few weeks ago, I started going to spinning classes and I definitely LOVE it.   
Spinning is a physical activity that is carried out on static bicycles. The bikes in my gym are "Real Ryder" and are even better than the classic spinning bikes because they allow a more real movement, as if you were pedaling outdoors, since with your effort you can turn both the handlebars and the bicycle sideways. This activity is usually done in groups and with music to encourage motivation and fun during the 45 to 60 minutes that usually lasts the class.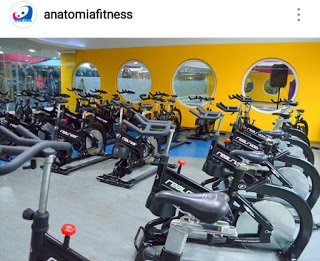 Among its main benefits are:   
#1. Low impact for the joints. It is ideal for people with knee injuries. In addition, it is very unlikely to be injured doing spinning due to its low impact and constant repetition of movements. This also promotes the strengthening of bones and joints.   
#2. Improves heart health by being a cardiovascular exercise. Spinning classes play with the intensity and speed of the exercise to put our heart to work, while helping to lose fat with interval training.   
#3. Increase self-esteem and reduce stress. It is a very fun and dynamic group exercise. It forces you to concentrate which causes you to reduce your cortisol (stress) levels and increase endorphins which makes you feel happier with yourself.   
# 4 Improve your resistance. By being an interval training, not only work the cardiovascular part but also anaerobic resistance (muscle), especially when increasing the level of resistance of the bicycle.   
#5. Tones the muscles of your legs, glutes and abdominals. You work with the different modalities of the bicycle and the intervals, so sometimes you will work more abdominals and even arms, shoulders and back, and other times the greatest effort will be made by your legs and glutes.   
I got the information from https://psicologiaymente.net/deporte/beneficios-spinning. The photos are from my gym @anatomiafitness (Instagram)   
I recommend enrolling in a spinning class, or if you prefer, go out and pedal outdoors!