Oooooo this is gonna hurt. Not physically... but as far as taking a shot to the ego gut, this will certainly pack a punch...
Below I'll be attaching my before pictures for front, side, and back angles. These aren't flexed, posed, or otherwise changed. I set my camera timer, walked over, turned around, and took a picture.
I did it this way for a couple of reasons... first of all, I'm thin enough that I could suck in my gut, flex my arms and abs, and appear to be in much better shape than what I'm actually in. Secondly, I have horrific posture, and I wanted that captured. Part of my journey going forward will be to study and remedy these imbalances, which should/will give me a better overall physique. The only way to do that will be to take as natural of a shot as possible so that when I look at the pictures, I can actually see what's going on.
So without further ado... the dreaded before pictures-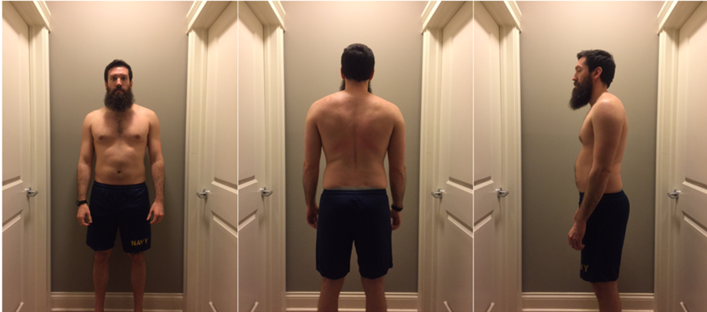 Height: 6' 0" Weight: 186 lbs.
Ouch.
Definitely not what I envision myself looking like at the pool, and definitely an eye opener when you actually see the photos.
Now if you've been keeping up with my entries, you'll know that I'm not a complete slob. I somewhat watch what I eat, workout consistently, and I'm not out binge drinking 3 times a week. All in all, I'm above average in both my physique and my lifts. However, if you read my transformation blog that is linked in my bio, you'll have seen my "after" picture from a while back. I'm in significantly better shape than I am now, and my aim is to get back to that level, albeit stronger and better balanced.
So here we go... let's get these pictures analyzed so I can come up with a game plan for attack.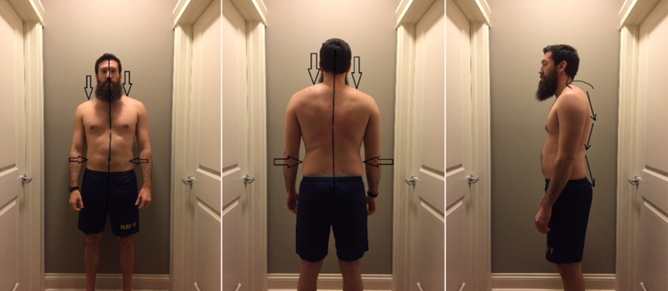 As mentioned in previous posts, my posture has been plaguing me since my teenage years. This is something that I really want to hit hard. It looks sloppy, it hinders athletic movements, and it creates more stress on the body in the long run.
The most obvious imbalance is in my shoulders. It's very plain to see that while both shoulders roll forward, my left actually raises up significantly compared to my right side. I'm unsure of what would cause something like this, so that'll be one of the things on my research agenda tonight/tomorrow.
Also related to posture is my somewhat angled stance, and pelvic tilt. I'm planning on adding in chiropractic care to work on that angled stance. The pelvic tilt is likely caused by a combination of weak posterior chain (lower back/glutes/hamstrings) and my lack of flexibility.
Fat wise, I'm probably holding 10 lbs of fat that could be dropped without getting too lean to the point of taking away muscle mass in an effort to reach a goal. With that being said, my initial plan is to hit the Starting Strength program for 4 months, followed by a fat burning program for 2 months. That'll put me right in the heart of summer time, and we'll see what kind of results we're looking at then :)
Any constructive criticism is welcome!
---







Fitness | Nutrition | Pro 2A | Dog Lover | Motorcycles | Crypto