Yeah as the title says it was a long drive with awkward silences after heated discussions. Not with the hubby but a friend.
The trip started off with my skittish driver friends putting my crock pot on the top shelf in her cupboard with a falulty weak latch. Needless to say it cracked the pot.
Then the skittish driver gunned it causing a 40" flat screen to crash down onto my sholder. They didn't even bother to ask if I was okay. I had to drag it out and tell them I was injured.
About half way there I got tired of their driving and took over. I'm sorry but 45 mph to 55 mph in a 65 is so not okay when the normal travel time is 6 hours. So I gunned it and did just fine for my first time driving a huge motorhome.
We finally got to Keystone Canyon and got some Photos of the water falls.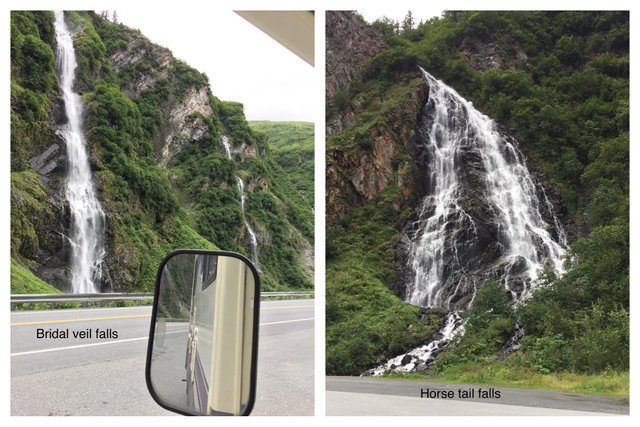 We didn't get into Valdez until almost 8pm, 2 hours late because of the skittish driver.
That night we settled in and slept, I had a rough night. I think something in the energy drinks makes my heart palps worse. Because coffee donesnt effect my heart. So no more rockstar, monster, or starbucks for me. 😔
We told the kids not to wake us before 8am. 💤
---
Well at 7:20 am a kid wakes us saying "can we go fishing!?" 🤦‍♀️
We got up ate some pancakes my grandparents made at their camp. Then headed out.
First Stop, Allison point over by the hatchery.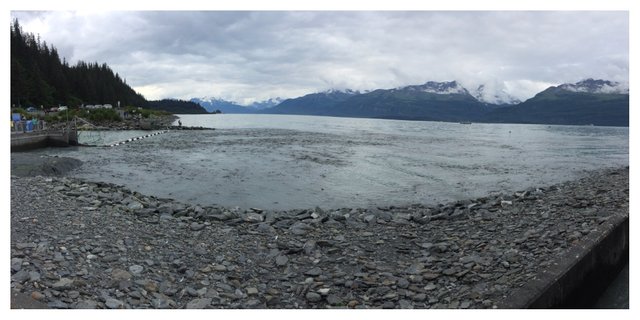 You can see the fish swelling in the water.
We walked the little tourist thingy they have for the hatchery and seen this. ⬇️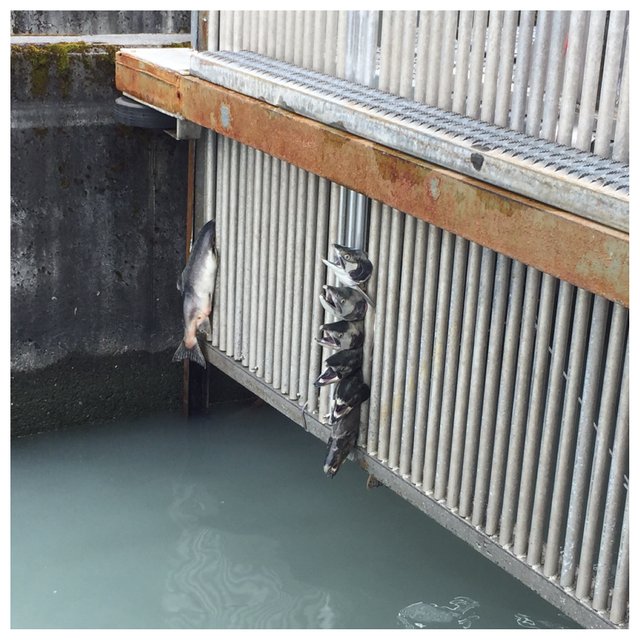 We walked back around to the side of the hatchery and started to fish.
On our way we seen the waterfall that is used for hydro power and is the water used for the hatchery.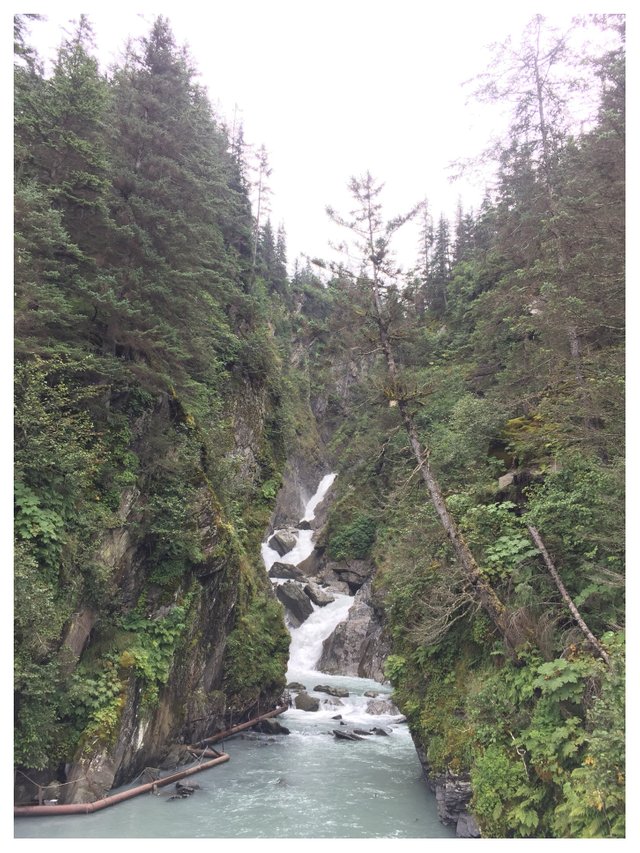 As we got closer we seen a netting boat adrift being dragged around by its dingy.

Once we finally got to our spot and settled in amongst the dead, we started to catch some. We chose all females, they come in later then the males so they are not spent as bad. The hatchery already reached its encampment goal for the year, 270,000,000 eggs!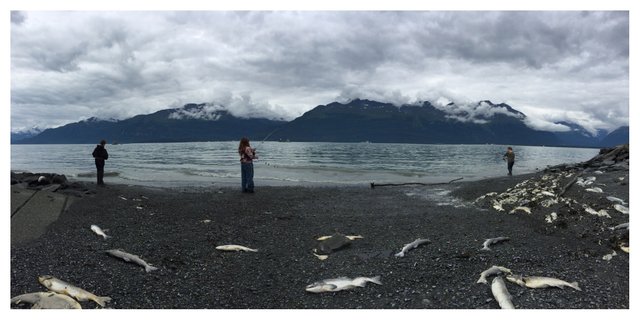 We left with 8-9 pinks, still no freaking silvers! 🤬
On the way to the camp site where the gutting tables are, we seen a bear.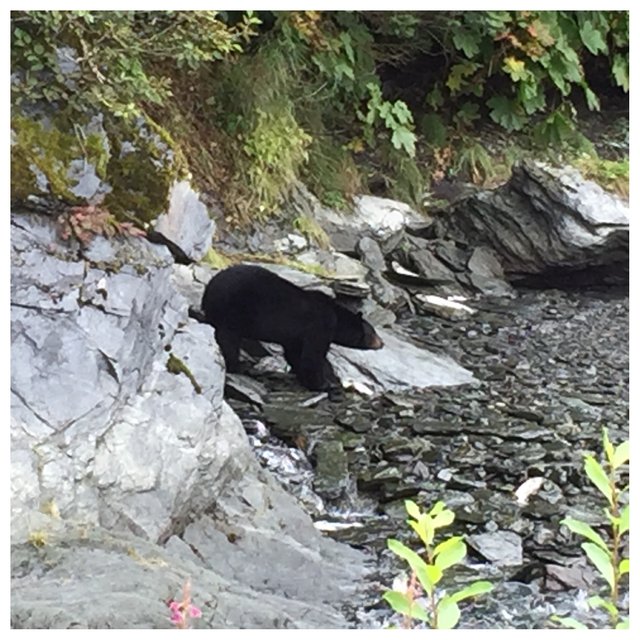 We continued on, headed to the gutting tables and I cleaned up the fish. While my skittish sidekick doned blue gloves. 😒
Anyways I gave her all the fish because we have enough for now. She can feed the worst of the fish to her dogs, they are on a raw diet. We saved three good ones for her, still very nice in color.
Well while I was cleaning and chopping, my side kick hoses out my cooler and broke the lid off. WTF! 🤦‍♀️
Of corse they act as if it's no big deal, it's not theirs.
Damn city people.
Some other fishermen where there watching and asked me if they where high maintenance. I said "yeah they are." Then the bickering back and forth about them being high maintenance made us sound like a couple. It was sad.
I finished the fish, bagged them up and put them in their freezer.
A little later we ate some dinner around 5 pm. Then my grandpa suggested we walk the rocks to get lures.
---
So we walked the beach and found some cool things!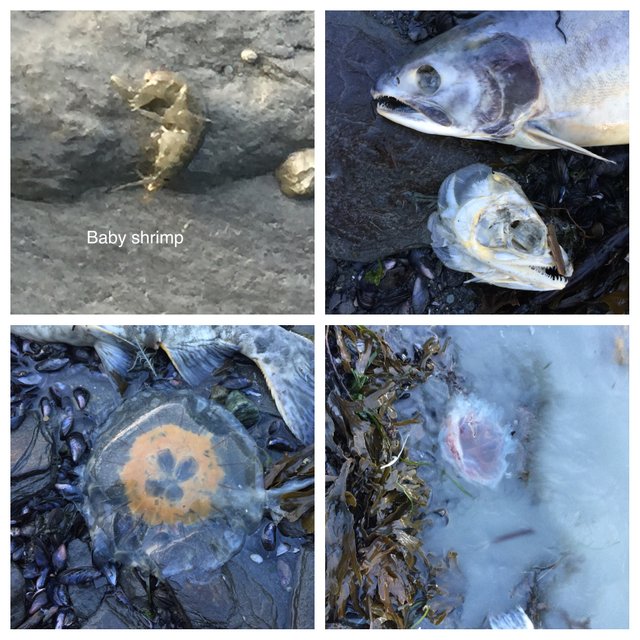 Baby shrimp, different stages of decomposition, two kinds of jelly fish, clams, oysters and barnicals!
We found about 15-20 lures.
We went back to the camp site and slept for the night.
---
The next morning we ate and took off fishing again.
Come to find out my side kick has no idea how to fish.
Doesn't know how to use and open reel, or tie a fishermans knot. So I had to teach them and so did my kids.
What they consider fishing is dip netting.
All dip netting is is scooping the fish out of the water! If you want that go to the pet store and get some damn feeder fish!!! 🤬
We fished in that spot for a few, Went back to camp ate and went back out to a different spot.
Then I had the enjoyment of listening to kids complain that it wasn't as active as Alison point. 🤦‍♀️
Holy shit this trip was killing me. I started to get short tempered quick! The normal bickering started to bother me.
We cut that trip short and went back to camp and watched a damn show.
---
The next day after food, I took the laundry to be washed.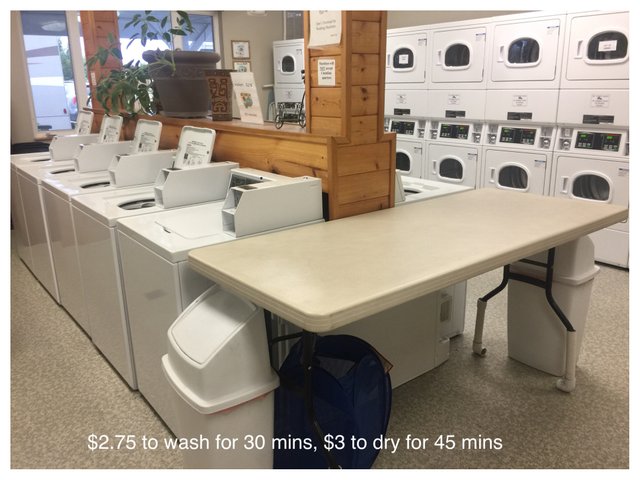 While I was being bored and enjoying the silence I spotted a flyer to the museum.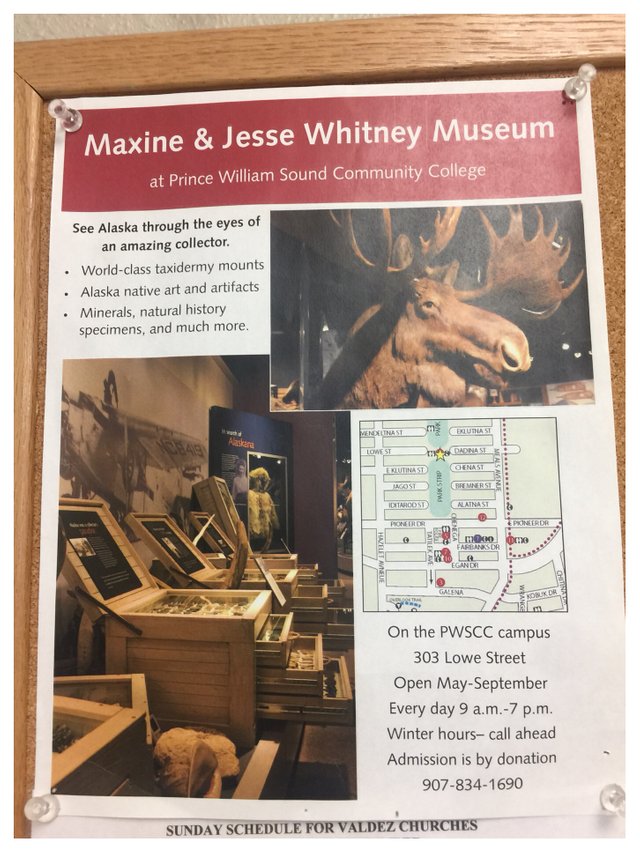 ---
To be continued...
This is our next stop, the museum.
Yes this all really happened, that is why I needed to rest before posting. My travels are not even done yet.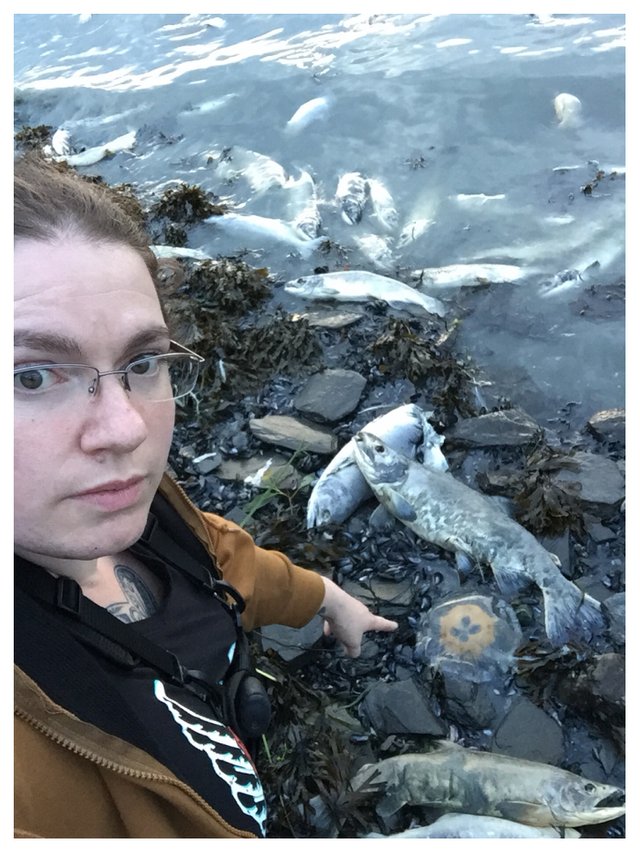 Proof of jelly fish, surrounded in a sea of death.
• All photos and content are our own. Please do not use any part of this post without our expressed permission. Thanks for not being a dick •