Hello again, Steemians! It's me, @jasonmcz. I've barely had time to share anything with you recently because I've been touring China and Hong Kong spreading the word about FirstBlood's upcoming crowdsale.
| Where | When |
| --- | --- |
| Beijing | 09/06-09/08 |
| Shanghai | 09/10-09/11 |
| HongKong | 09/12-09/14 |
| Shanghai | 09/18-09/24 |
In case you missed it, FirstBlood is the upcoming decentralized eSports rewards platform, powered by Ethereum smart contracts. And we're having a crowdsale starting September 26. The crowdsale will allocate FirstBlood Token (1SŦ), the lifeblood of the FirstBlood platform, to the people who believe in us enough to chip in.
The last several weeks have been busy. We've been building a community, marketing, answering questions, coding, designing smart contracts... the list goes on and on, and we've barely even started! One of our most important smart contracts is the token sale smart contract, which will allow us to do a crowdsale on the Ethereum blockchain that raises Ether and allocates tokens. We've finally locked down the details of the token sale, and we've made a neat little graphic to share the final details with you: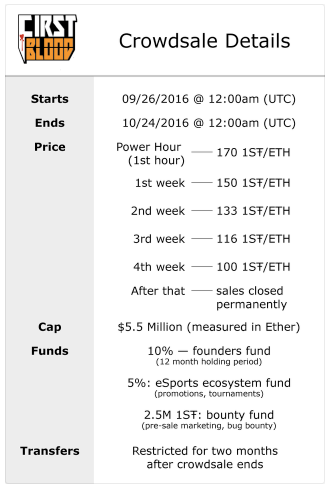 We've also updated our White Paper with the same information. If you haven't read the White Paper, we encourage you to do so. If you have any questions about the crowdsale, the platform, smart contracts, or anything else, feel free to reach out to us in our Slack channel. We're building a great community, and we want you to be a part of it!