The Indian Constitution provides for prohibition of child labour.It say below the age of 15 years shall be employed to work in any factory or mine or engaged in any other hazardous employment."Dispite  the above mentioned constitutional provision, the child labour scenar India presents a disturbing picture. India tops the list of countries having the highest child labour population. Estimates of child labour in the country range from 44 million to 100 million. The Government records admit at least 17.8 million child labour. Major industries which engage child labour include carpet making, gemstone polishing, brass and base metal article, glass and glass wares, footwear, textiles, silk and fireworks. 
                In India the percentage of child labour employed in various occupations is as under: (i agriculture 42.75% (i) transport, storage and communication 0.31%, (iii) construction activities 0.71% (iv) manufacturing, processing and housing 8%, (v) mining and quarrying 0.24%, (v) livestock, fishing, forestry hunting and plantation 6.5% and (vii) trade and commerce 5%.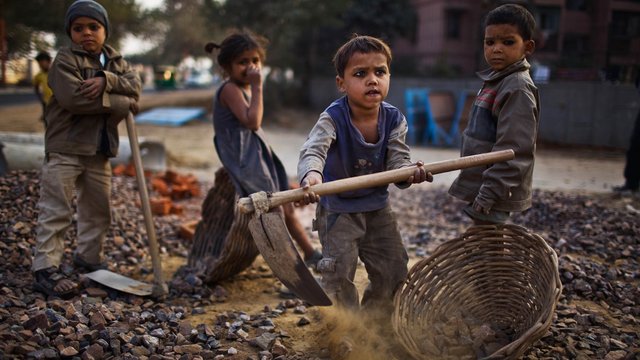 There are 10 pockets known as high density child labour areas in this country. The percentage of school drop-outs is higher here as compared to glass industry in Ferozabad (Uttar Pradesh), the hand-made carpet industry in Mirzapur Bhadehi (Uttar Pradesh), the lock-making industry in Ali garh CUtta (Andhra Pradesh), the diamond in polishing industry in Surat GGujarat) and the hand-made carpet industry in jammu and kashmir.
 The main argument in favour of child labour is that poverty-stricken families will be deprived ofan additional income if child labour is banned. The children are made to work to fill their stomach, But on the other hand, in this process, they are deprived of education. Consequently, when they grow adult, they will have very limited employment opportunities due to lack of education. Thus will start a vicious circle and they may again send their children for work. It is not the poverty perpetuating child labour, but the other way round .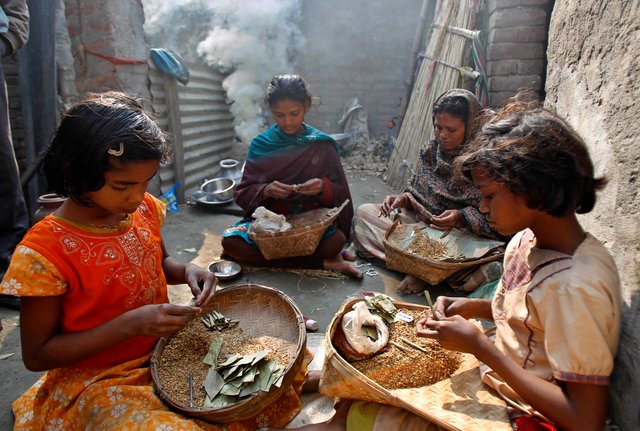 India and the ILO (ntemational Labour Organisation) have signed memorandum of understanding on eventual elimination of child labour. Whatever measures have been taken in India are based on the premises that since the root causeof poverty cannot be eliminated overnight, the best solution is to regulate the practice of child labour No doubt total abolition of child labour would redeem the situation, but such a step cannot be contemplated unless back-up plans are kept in readiness.