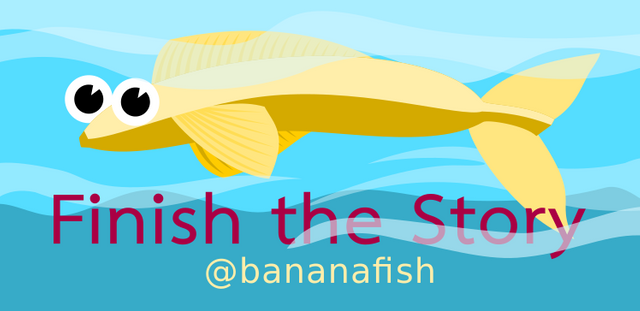 This is my entry to @bananafish contest Finish the Story #52.
---
Pointy Eyes Shine In The Dark
Auntie Masha' n the God's Mistakes / every day on FRINGE -FM! / We will lure them, interview them / fun and tortures never end! "
The radio anchor's words glide over the frantic notes of the jingle like an old rusted Cessna.
"We're still here! I know, my lobotomized listeners, you too are amazed that your beloved auntie is still broadcasting on the frequencies of... "
"Stop with the preambles, old wino!" The voices of the three God's Mistakes recall a misplaced cross between Smeagol and the Chipmunks. In the studio, plastered with purple sound-proofing cones, the three animated puppets stare at Masha with lusty and murderous eyes. In a quick flash, the radio host instinctively thinks about the many crossroads of her life.
"Let's all welcome the most annoying and useless voices in the whole history of radio broadcasting from Edison to nowadays. Don't interrupt me, at least not at the beginning of the program, damn puppets..."
"...Cursed the stoned producer who wanted you," the host adds a quick note in her mind.
"Hey granny, we are co-hosts, not voices." The felt creatures stand assertively.
"As we said, my bizarre radio listeners, here we are at our usual appointment with Masha's spicey interviews. Today we have an exceptional guest who certainly does not need introductions: directly from Berlin, Kurt Kükenvernichter, the one who returned metal music to the wide public. You know, Kurt, that auntie won't allow you to exit this studio without you having confessed at least some sordid and succulent secret." The presenter begins to press. "For starters, we want to know how you managed to convert post-millennials around the world to your music."
Meanwhile, it seems that Kurt has decided to ignore the presentation. The round sound of his flask's stopper popping is not even captured by the microphone that already the singer has gulped down a sip of grog, dark and thick like tar. He slowly approaches the loudspeaker and greets his fans - especially the female ones - with a bronze baritone voice.
"Anyway, I never converted anyone. In these shitty times, I saw an empty throne and sat there."
"Aha. Sure. On thrones, photos of you collapsed on a toilet have been leaked from the net in the last few days. It is said to have been an exclusive party in Miami. Not exactly an image in line with the Kurt we all know. Do you want to deny or give us some clarification?" If radio frequencies could take shape, listeners would now see a scythe.
"They are all ... I was saying ... hhhhh ... it's all a pathetic charade!" The shrill voice of a clown who sniffed early-morning helium extrudes from the singer's throat as from an occluded sphincter.
"What the fuck was that?" Auntie Masha leaps in shock from the chair. The God's Mistake for once are silent, overwhelmed by a more absurd voice than theirs and looking at each other with lost pointy eyes.
Time is strange on radio and silence represents an abomination against nature. Five interminable seconds pass before the host manages to recover and decides to send the advertisement break. Kurt has already thrown himself out of the studio, making shrill desperate blows. In fading out, a coarse puppet's laugh resounds.
In the loft, the thick curtains are still those of the old printing works. The late rays of the sun filter through the large dirty windows together with the sounds of the offices being emptied. A man wrapped in black leather and studs is spread on a padded velvet chaise long while, at the end of the room, another figure sits composed giving him his back.
"You see, Doctor, my voice is everything, why did it start to betray me? I can't understand what's happening to me. I feel violated by a dark and perverse part of myself. Under this thick layer of metal, there is a sensitive heart and I don't think I can stand this anymore."
As he confesses, Kurt hears a little music coming from behind the back of the chair. It looks like something already heard.
"Doctor?"
"Isn't this riff I just invented beautiful?" Asks the therapist to the air with a gloating triumph note in his voice. Kurt pokes his head out and sees him fiddling with a tiny electric ukulele.
"Actually I think it's Smoke On The Water, Doc."
The chair snaps in a flash of lightning.
"Kurt, I have the solution but it won't be easy and requires your blind trust in me." Dr. Machete smiles as a strange light moves through his eyes. Struck by dusty beams of light, he looks like a sly Cheshire Cat.

My ending
Kurt thought of the worst. What does the doctor want to do? The worst inquisition devices and torture methods were passing his mind. The leather chair began to pinch him. He felt his palms began to sweat. On the spur of the moment, his womb became flabby. Light spasm cut his stomach making the anus weak. He thought he would get shit his pants.
"You have nothing to be afraid of," doctor Machete looked like an angel falling out of the light well. "I'm the doctor. My mission is helping people."
Kurt clenched his anus to stop the diarrhoea assault that threatened to legitimate his name.
"Say A", doctor Machete said aiming a drum stick to Kurt's mouth.
Ukulele sound came again from behind.
"It's Smells Like Teen Spirit now," Kurt tried to avoid mouth opening.
"AAA," Machete opened his mouth reminding Kurt what to do.
Kurt wide opened his mouth crawling out the tongue.
"That's right," Machete pressed Kurt's tongue by a drum stick looking to the throat. "Mhm... As I thought."
Machete put a drum stick back into the pocket and turned off the light flash.
"So?" Kurt asked.
"Who would say that a mighty metal singer, like you are, would shit from fear?" Machete said. "You disappointed me, Kurt. Where does your immense metal power disappear?"
Kurt fell into despair after these words.
"Be brave, man!" Machete braved him up. "Remember the mighty gigs you have done on the stage. Remember the crowd screaming and singing your songs altogether with you. Remember hands wide prostrated to touch you, the god, the idol. Remember bras flying right to you. Remember naked tits offered to you."
Kurt felt his womb becomes sturdy again and the diarrhoea assault disappeared.
"Yes! I'm mighty!" He said in a whistling voice.
"That's Kurt I know," Machete upbear him. "Just, there's something you have to know."
Kurt looked at him interrogatively.
"You're kicked out from the band," Machete showed a piece of paper. "I'll take your place. Here's the contract."
"What?!" Kurt was outraged.
Machete ran out from the ordination.
"Come back Machete!" Kurt yelled. "I'll kill you, little stinky cunt!"
Ukulele played Paranoid riff.
"Quit playing that shit!"
The sound has quieted after Kurt's yell. He took the contract to read.
...High concentration is needed to catch that fish. A vampire fish locates into deep waters, so it's nearly impossible to catch it...
"What the fuck is this?" Kurt was amazed. "Hey! My voice is back!"

| | |
| --- | --- |
| | |
| | |
| --- | --- |
| | |