:: FinanceX :: Exchange Made Simple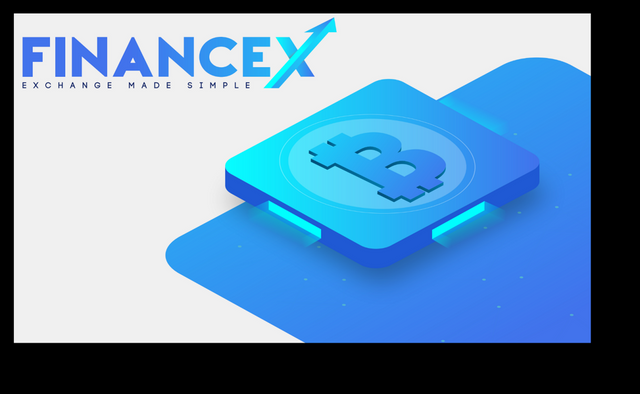 ---
FinanceX is a project that plans to establish a fiat to cryptocurrency trading platform. The platform when established will make the exchange and trading of cryptocurrencies easy than what is currency widely obtainable. The proposed exchange has the vision of becoming one of the most liquid through the introduction of the fiat-crypto pair in the exchange market.
This exchange will enable trader to trade a wide variety of cryptocurrencies using native currencies from their countries and various others.
FinanceX Introduction Video
https://ico.financex.io/
---
Even though there are many cryptocurrency exchanges presently in the market the sector is still faced with the challenges of trading in fiat. Essentially forcing traders to utilize major cryptocurrencies like Bitcoin or Ethereum before accessing viable trading pairs and liquidity. The few payment methods are such that many traders have little options on how to make and receive payments, limiting or excluding some from making trades at all. For some there are no options that facilitate fiat of various countries.
For most, this typically leads to extra trades and fees, multiple exchanges and wallets, and lengthy time delays to purchase and trade directly with fiat in most exchanges.
These minor issues are plagued by the most obvious and complained about feature among cryptocurrencies - Most exchanges and traders are focused on trading pairs that have the highest liquidity.
Which are typically those cryptocurrencies that fall into the top 100, despite the fact that there a myriad of tokens and coins with respectable market caps that could be traded along with fiat. There are instances where some coins are de-listed because of low liquidity.
Liquidity is a major concern FinanceX intends to tackle
FinanceX Solution
---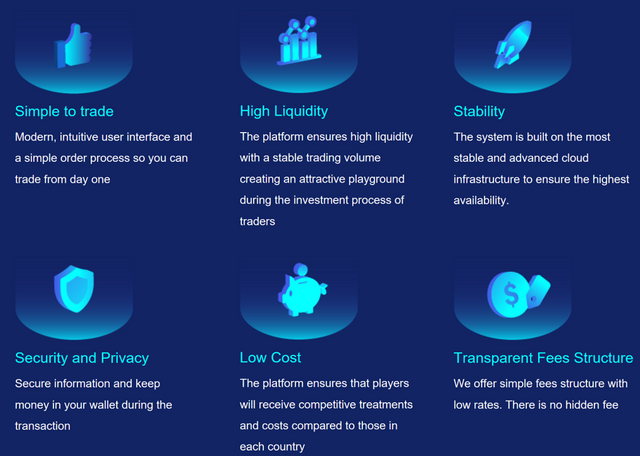 ---
FinanceX will use various payment options to enable traders use the platform.
PayPal, Screw, bank transfers and e-wallet.
These usually take less than 60 seconds to make deposits into the trading wallet and a little longer to withdraw using the preferred channel. With this system, traders will able to use their native currencies to make trades at FinanceX.
The FinanceX platform will connect crypto exchanges in different countries enabling them to use the platform as a means of exchanging fiat from the various countries as traders gain access to them and trade cryptocurrencies using fiat.
The platform is counting on high liquidity due to interconnectivity with local fiat holding exchanges. It plans to attract users through a low fee regimen.
The project intends to keep adjusting the hardware of the exchange according to its capacity. It aims to accommodate 100,000 transactions to 200,000 per second. This will give users the ability to make and execute their orders in time.
FinanceX will have a user friendly interface that allows easy management of portfolios and developed on the core engine that most stock exchanges work on, allowing the platform to boast the highest security standard in the industry.
The FinanceX (FNX) token will act as the internal currency of the platform's ecosystem enabling easy exchange within it.
FinanceX [FNX] Token Pre-Sale Live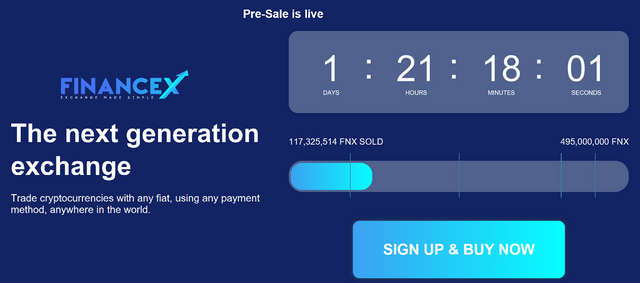 Followed by Main Public Sale

---
Investor Information
Ico Website: https://ico.financex.io/
WhitePaper: https://drive.google.com/file/d/1rYAQXQW0UJWLnxB7mYRHq3PxEsA4i8Bf/view
Exchange: https://financex.io/
BitcoinTalk [ann]: https://bitcointalk.org/index.php?topic=4891389.0
Social Links
Telegram: https://t.me/FinanceX_Token
Facebook: https://www.facebook.com/FinanceX.io/
Twitter: https://twitter.com/therealFinanceX
Linkedin: https://www.linkedin.com/company/next-generation-exchange-ltd-financex-exchange/
Medium: https://medium.com/FinanceX
Reddit: https://www.reddit.com/user/FinanceX
Youtube: https://www.youtube.com/channel/UCDC6DrhaS4Ck9l2dO8CymMQ
FinanceX Labs: https://labs.financex.io
---

---
---
BitcoinTalk user: Mr.Ease
User link: https://bitcointalk.org/index.php?action=profile;u=803528
Eth Address: 0xfd797888c66DfEbf7bA5A6927a50F2F75Ad7175e
Follow Me for Upcoming Token Sale Information