(2019) It's Time To Completely Switch To Electronic Banking! Here's Why: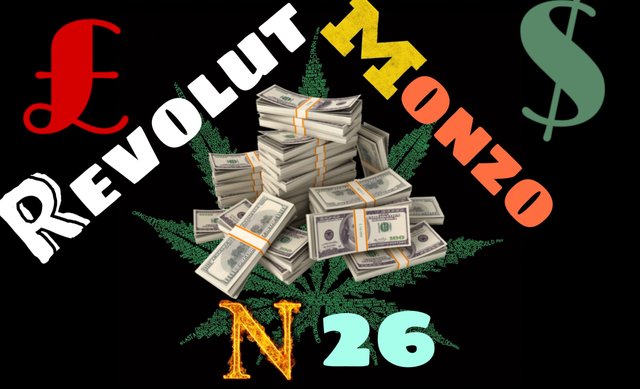 Have you heard of Revolut Or N26? Or maybe Monzo? Well, those are my favourite banks in 2019, and it's for a good reason - IT'S ALL COMPLETELY ELECTRONIC!
Dear Steemians, today I represent you the very best banks in 2019 that are completely online based. Registrations are super quick and easy, and they only take like 2-10 minutes, and as a bonus you don't have to worry about going to the bank and waiting on those long lines just to do what you need to do.
Before I begin I want you all to know that all of these banks (just like traditional banks) are protected by FSCS (Financial services compensation scheme), so you don't have to worry about your money's safety. 🙂)
Let's begin!
1 Revolut
Revolut is my favourite online bank because of 1 specific reason, and that is the support for cryptocurrencies! For now they only support 5 cryptos: Bitcoin, Bitcoin cash, Ethereum, Ripple and Litecoin, but I believe this will change in the future and we will have more cryptos to choose from. So dear Revolut if you're reading this, please add some low value cryptos like Dogecoin, Bytecoin, Electroneum, etc.
2 N26
N26 is probably the most popular of all these banks I mentioned (as of may 2019), and that's probably because N26 has the best fee options available. There is literally 0 fees on cash withdrawal and lowest exchange fees comparing to traditional banks. I am a guy who just loves to have some cash with me, because you never know when you're going to need it, especially on the weekends. 😉
3 Monzo
Monzo is the most popular choice in the UK, and that's because it's based in London. Monzo is great for their smartphone app; it looks stunning, it's very easy to navigate and there is plenty options to choose from, for example very fine tuned statistics chart, and easy to use payment options.
REGISTRATIONS BONUSES AVAILABLE
There are bonuses of up to 5-10£ for Monzo and N26 when you register, which is basically free money! You just need to deposit some cash or spend small amount of money to use it, which is no big deal anyway.
If you would like to go to registrations directly, just click/tap on any banks in this post.
Hope you enjoyed reading my post, and I want you to have a nice day, everyday! ☀️