Stock market news live updates: Stock futures open higher as more earnings top estimates
Yahoo Finance Live Chart
---
S&P 500 (^GSPC)
Dow Jones Industrial Average (^DJI)
NASDAQ Composite (^IXIC)
E-Mini S&P 500 Mar 21 (ES=F)
Mini Dow Jones Indus.-$5 Mar 21 (YM=F)
Nasdaq 100 Mar 21 (NQ=F)
Treasury Yield 10 Years (^TNX)
SPDR S&P 500 ETF Trust (SPY)
Invesco QQQ Trust (QQQ)
Stock futures opened higher Tuesday evening as stocks looked to resume their rally.
Earlier in the day, the Nasdaq powered to another record closing high as tech stocks outperformed, while the S&P 500 and Dow each ended a tick below their recent record levels. Still, all three major indexes have performed strongly for February to date, as has the small-cap Russell 2000, which closed at its own record high on Tuesday and extended its winning streak to seven sessions.
A wave of better than expected corporate earnings results, alongside expectations for more fiscal support from congressional lawmakers, has helped support stocks. Companies that reported quarterly results after market close on Tuesday largely topped expectations, adding to the pile of estimates-topping reports for last quarter.
Lyft's stock (LYFT) surged more than 10% in late trading after the company said it could be profitable as soon as the third quarter this year, or a full quarter ahead of earlier estimates, thanks to rigorous cost-cutting measures. Shares of Twitter (TWTR) jumped 3% overnight after the company's sales grew more than expected and its profit beat estimates, though it warned that user growth will likely slow in 2021 after a pandemic-era boom.
So far, companies comprising more than three-quarters of the S&P 500's market capitalization have reported fourth-quarter results as of Tuesday. In aggregate, these results have topped expectations by 17%, and 81% of companies beat their own projections, according to an analysis by Credit Suisse's Jonathan Golub.
But even amid strong earnings and supportive monetary and fiscal policy, some strategists have begun to debate whether the recent leg higher in markets can be sustained in the very near-term as sentiment starts to get frothy.
"We've seen a very strong phase of what I'd call fast markets: A strong rally the last six months in risk assets across the board," Joseph Little, HSBC Global Asset Management global chief strategist, told Yahoo Finance. "And what that means in practical terms for investors is that a lot more is now discounted. And the story around recovery, around faster economic improvements, around the vaccines is now, at this point, well-known to investors and to other market participants. And that poses the question of what could happen to markets next."
"My suspicion is that we're at a point now where, as more is discounted, it becomes harder and harder for the news to really support the market further and further. And that creates what I call a hypersensitivity," he added. "It means markets are rather vulnerable if the news flow becomes a little bit more difficult, if the news flow begins to disappoint. I'd still be positive as we look out over a six month view. But it could mean that after the run that we've seen, we're in line for a phase of maybe a bit more consolidation."
Others, however, have remained more upbeat.
"It's clear that there's a lot of optimism out there, but I would argue that there are good reasons to be optimistic. Keep in mind that just six or eight months ago, there was an expectation that it would take much longer, if at all, to develop a vaccine that protects against COVID-19," Kristina Hooper, Invesco chief global market strategist, told Yahoo Finance. "The fact that we have effective vaccines, extremely effective vaccines that are now being distributed means that there is a light at the end of this tunnel and it is a bright light, hence a lot of optimism. Especially given we have a very accommodative Fed, and we also have a decent amount of fiscal stimulus and potentially more coming."
—
6:09 p.m. ET Tuesday: Stock futures hold near record levels
Here's where markets were trading Tuesday evening as overnight trading kicked off:
S&P 500 futures (ES=F): 3,911.00, up 5.5 points or 0.14%

Dow futures (YM=F): 31,312.00, up 34 points or 0.11%

Nasdaq futures (NQ=F): 13,694.50, up 14.25 points or 0.1%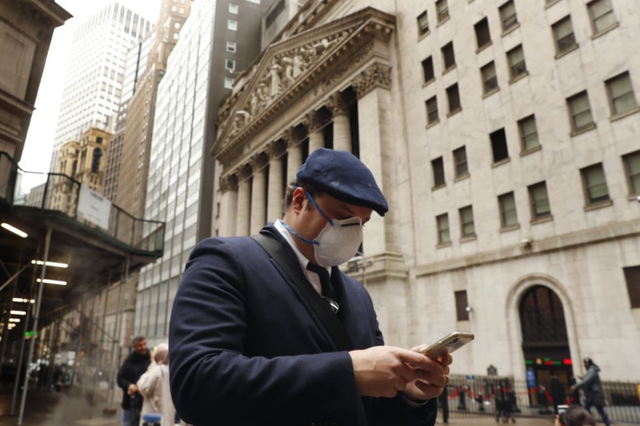 A man wears a protective mask as he walks past the New York Stock Exchange on the corner of Wall and Broad streets during the coronavirus outbreak in New York City, New York, U.S., March 13, 2020. REUTERS/Lucas Jackson
Yahoo Finance Live. Follow her on Steemit: @yahoofinancelive
---
Find live stock market quotes and the latest business and finance news
For tutorials and information on investing and trading stocks, check out Cashay