VERTEX - UNIQUELY AN ICO AFTERMARKET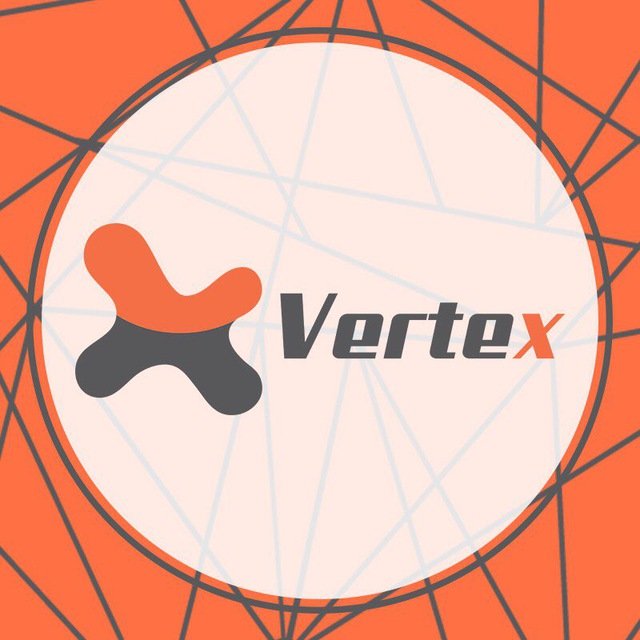 Source
I first came across vertex in one of my airdrop hunting spree sometime last year. One of my buddies had shared me the airdrop link on telegram and without wasting much time, I got onboard. Vertex airdrop campaign turned out to be one of the few successful and sincere airdrops events I have participated in because unlike the majority of them that merely fool hunters and deny them the tokens after all the stress, vertex team duly sent out their token to eligible participants and i received my share of 18vtexp in my imtoken. (I actually need to convert these to the main platform token asap tho it is nothing worthwhile - at least at present)


ABOUT VERTEX
Vertex is a decentralized finance platform that is set up on the ethereum blockchain network. It is a market where project owners can list their tokens in no time after their token generating event (ICO). To get a full grasp on the nature of this market, let's borrow some lines from the project's whitepager:
Vertex.Market is a digital asset aftermarket that allows investors to trade digital assets, such as Security and Utility tokens before they are listed on cryptocurrency exchanges.Source
In other words, vertex is a kind of ICO aftermarket for investors and other users who wish to acquire some of the traded tokens at an early stage. It is a secondary market of some sort that offers liquidity for new crypto currencies.
The vertex platform is powered by its own platform token, VTEX. The dapp currently ranks #846 on https://www.stateofthedapps.com


ONBOARDING
Visit https://vertex.market/vertex to signup on the platform with your email and password. After successful registration and verification of your email, you should be able to log into your vertex account which looks like this on first login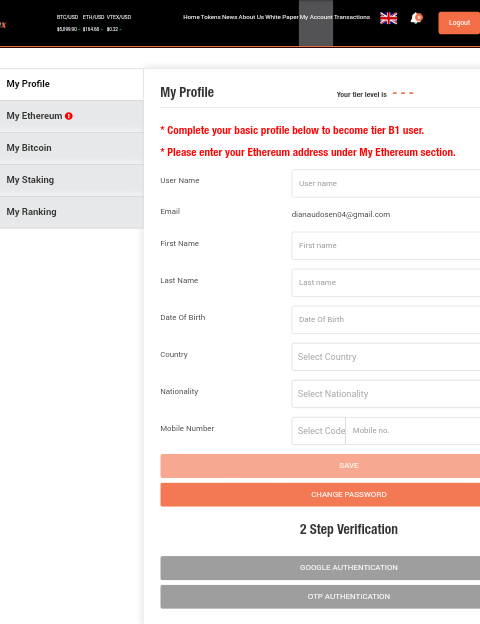 MAKING PURCHASES
There are two types of accounts on vertex - Buyer account and Seller account. Let's assume you are a buyer seeking to acquire some good tokens from vertex before they hit exchanges. You need to first upgrade your account to a B1 level at least which entails supplying your basic info, setting a two-step verification, as well as your ether wallet address as highlighted in the screenshot above to unlock the full features of a Buyer account.
Once you've saved these, you should notice changes to your profile page as the updates unlock B1 level on your account. You should now be able to buy your favourite tokens.
To do this,
Select Tokens from the main menu.
You'll be presented with a list of available markets/coins as below.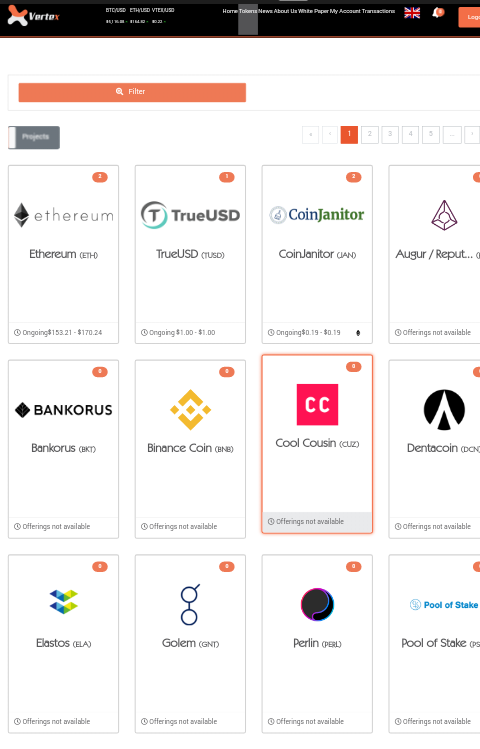 Scroll through to find the token you wish to buy. Alternatively, you can search for the token buy using the filter function.
Once you find your preferred token, tap on it to open its info page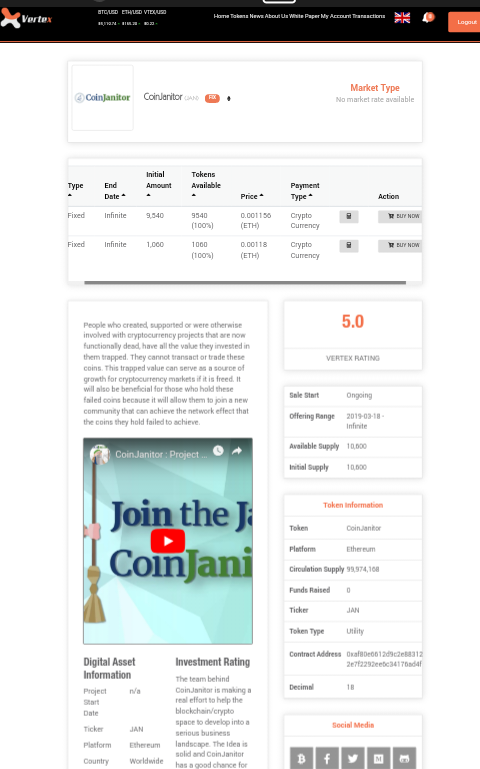 On a very important note, it is advisable to always do a thorough research on a project before you decide to invest on it. Consult the project documents, social media accounts, communities, research on the team etc. The information on each project here - as seen of coinjanitor above- are rather shady, you shouldn't rely on these in making your investment decisions.
For each coin, you should see the number of available markets as the one above. The prices for the coins are in eth and are determined by each seller, and so might not necessarily be uniform. Go for the market/price you are comfortable with.
Decided on the amount of tokens you want with the help of the calculator function, then click on Buy now and confirm in the next page.
You'll then be shown the wallet address of the seller to which you have to make your payment.
Pay directly to the seller from your registered ether address else your payment would be void.
Once your payment is made, the system would notify the seller to transfer the tokens to your given ether address.


FEATURES OF THE DAPP
A STAKING SYSTEM
A RANKING SYSTEM
NEWS FEED
NOTIFICATION
TWO-STEP VERIFICATION
TOKEN MARKET
A STAKING SYSTEM:
This system is put in place to cut trading fees for users. The staking is done with VTEX token. The more of VTEX you stake, the lesser your fees on the platform.
RANKING SYSTEM:
Users on the platform are generally ranked in categories depending on their activities and level of verification. New users generally are on a level known as 'steel'
NEWS FEED:
This is one of the most commendable features of vertex dapp. The news shared here are random picks of blockchain updates and cryptocurrency, and not only news about the vertex platform.
NOTIFICATION:
This feature alerts you on all transactions/activities performed on your account
TWO-STEP VERIFICATION:
Here you get to choose the method of verification you wish to best secure account -- Google authenticator or an OTP (One Time Password)
TOKEN MARKET:
This is the core feature of vertex as it bears the entire essence of the dapp. The token market consists of various project tokens that buyers/investors can choose from.


MY TAKE ON VERTEX - A Unique Platform
Vertex market is unique and very distinct from the conventional crypto market we know. For instance, funds are not stored on vertex platform nor do token prices depend on cmc, but are determined by individual sellers. Vertex market also has no orderbook; transactions are done peer-to-peer. Anyone can easily place offers on vertex market which close once the supply is finished. Vertex is a great way to help crypto investors make early investments. It offers them the opportunity to acquire tokens at an early stage before they are listed on exchanges - esprcially if they missed such project ico.
TURNOFF
A noticeable turnoff with vertex market is that it makes it easy for dishonest people/project owners to game the system. Coz in the event of the projects failing, investors who bought the project tokens lose their funds.


RECOMMENDATIONS
To protect investors, it is essential for vertex to thoroughly scrutinize each project before allowing their tokens to be listed.
There are lots of closed offers that need to be cleared from the market. This will make it easy for buyers to find available offers at a poin in time.


MY RATING
3/5 stars go for vertex market until further updates are made to the dapp especially with respect to security for investors/buyers.


Useful links
Website/dapp
Whitepaper