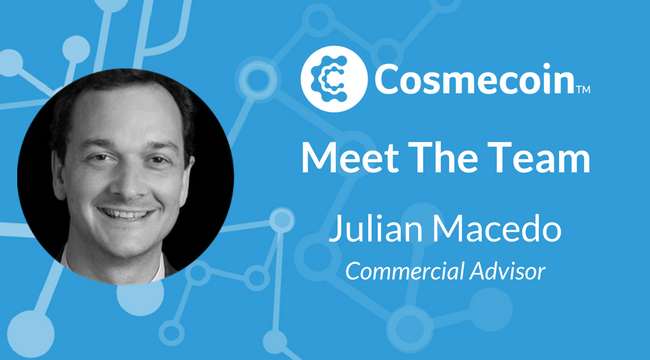 Julian Macedo spent more than 20 years in public Equity Capital Markets across Europe in equity execution, advisory and origination at bulge bracket investment banks, most recently as Managing Director in ECM at Barclays where he was responsible for $23bn of deal volume and over 40 transactions in 2014–2015. He set up The ECM Team in 2016 to provide in-house "deal captain" services for equity issuers, supporting management on the transaction requirements, as well as the transition to a listed company and the subsequent engagement with the market. He is a member of the advisory board in a personal capacity.
Here's what Julian had to say about joining the Cosmecoin advisory board as Commercial Advisor:
"For some time I've been interested in how my world of securities offerings might intersect with the development of blockchain. It's a fascinating discussion which raises fundamental questions like, what defines a security? Could a utility token also be a security? And could the answers change in each jurisdiction? Given securities regulations in the US (for instance) are still based on the lessons learned from the Great Depression, it's no wonder blockchain raises rather big questions without obvious answers.
iConsult was clear, from our first meeting, that they wanted to avoid the negative perception and very material risk taken by previous tokens. They wanted to do things the right way — and even try and answer some of the unanswered questions. Which is exactly what attracted me to the blockchain Wild West in the first place, and why I decided to join the advisory board.
iConsult have taken good advice from the leading international law firm, Allen & Overy, to structure a blockchain platform that has used best efforts to meet US and international securities regulations. And incidentally, created what could become a new standard for tokens, the Residency Confirmed Smart Contract, an enhancement on the standard ERC20 smart contract. It seems appropriate that blockchain may be able to solve its own problems."
Julian Macedo, LinkedIn: https://www.linkedin.com/in/julianmacedo/
DISCLAIMER:
Neither this document nor anything contained herein shall form the basis of, or be relied upon in connection with, any offer or commitment whatsoever in any jurisdiction. Any offer to acquire tokens will be made, and any investor should make its investment decision solely on the basis of the information that is contained in the information memorandum to be published by iConsult Software Ltd in due course in connection. Copies of the information memorandum will, following publication, be available at www.cosmecoin.io.
These materials are not an offer of securities for sale in the United States. The securities to which these materials relate have not been registered under the US Securities Act of 1933, as amended (the "Securities Act") or the securities laws of any state or jurisdiction of the United States. Accordingly, these securities may not be, sold, pledged, assigned, delivered or otherwise transferred, exercised or redeemed, at any time, within the United States or to, or for the account or benefit of, U.S. Persons. There will be no public offering of the securities in the United States.