The last two days Ted and I haven't been able to talk film. At least not in a literal way. The reason is lack of wifi on my side and a phone that won't charge.

The good news is, that yesterday, I was able to (We)transfer all footage I've shot for episode 2 to Ted. This is how he responded by email:

Ted:
You sent enough to keep me busy. Sorry about your phone - We'll talk as soon as you're up and running again!

And then, a couple of hours later, after having received a second batch of videos ( sent from the house of another friendly neighbor )

Ted:
All of your phone footage is in 720P - Probably can only use it for audio - Hopefully your monologue isn't in 720p, but I suspect it is. Will see what I can do with what I have for E2

Ted:
I can enlarge your footage by 300% - It'll be a bit pixilated like THWOT - will see what I can do

Ted:
Okay - I see all of your close ups are with the phone in 720p to capture your audio


To which I replied:
Strange because I'm pretty sure it was set on 4K. I guess my phone was acting up before it broke down on me.
There's more footage on the way...


Ted's emails kept arriving. He must have been excited

Ted:
The most important thing is that this expression was captured in 4k

Ted:
That expression was priceless!

I'm not completely sure but he might have been referring to this moment of acting mastery from my side: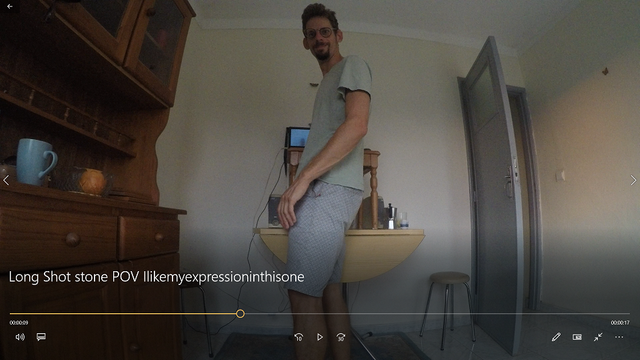 What do you think? ( besides me looking like the monkey that I evolved from. That fish eye lens makes me look totally out of proportion, haha. They should call it monkey eye instead) Is this the priceless expression that Ted points out?
As you can see in this screenshot ( which isn't 4k), I named my clips to make the editing somewhat easier for Ted.

Ted followed it up by another email:
wow you sent even more - If I can't get everything I need from all of this footage, then I suck!

and another:
I think I struck some gold...

Me:
Glad to hear that the mining has been successful!
Greetings from the house of a friendly neighbor
P.S. Funny to see how you seem to continue our skype chat in Gmail, haha!

I can conclude from Ted's final messages that he doesn't suck. That the footage I sent him was enough to make him create something awesome once again.
Nevertheless, I was reminded yesterday, that we still need a tiny bit of video for the end of episode 2. I realized also that I won't be able to come up with any sound, until my iPhone ( that was functioning as a recording device and second ( vlog style ) camera ) is working again. I might shoot the end of episode 2 without sound ( The GoPro Hero 5 Black's audio has appeared to be terrible ). There's no dialogue needed and I'm sure Ted can work something out in post.

TO BE CONTINUED

Recent episodes you will like:
Building Momentum
First Episode Finished
Don't Miss the Teaser of this Project