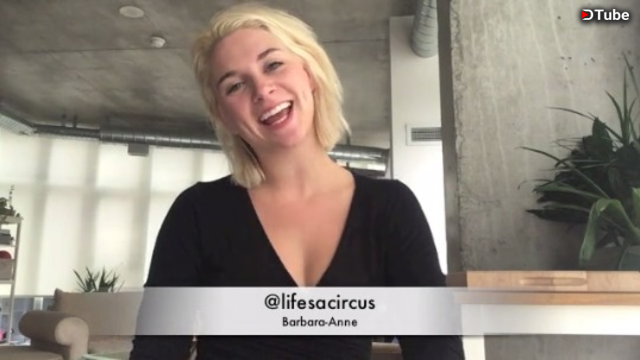 ---
Steemy steemy friends,
Wow what a week on Steem! I've been sharing some films that I'm in that will be screening in Canada and I want to thank you for all the love on those. Even more exciting I'm Minnow of the Month thanks to the one and only @corcuscate and attended an amazing Creators meet up in Toronto with the @steembirds this past Sunday! Everyone is diving back in after the Hardfork20 and
I AM TOO! So here's what's up...
I started on Steem around the same time I wrote the first draft of my FIRST short film Barbara-Anne Since then I have spoken about wanting to create content for Steem but today I realized, probably out of my own fear, that I haven't actually told the Steem world what the material was. I've talked around making something and my process but HERE IT IS...
Barbara-Anne is based on a 28 year old, Toronto woman who is a home making, people pleasing, serial killer. Let that sink in. Her name is (you guessed it) Barbara-Anne and she's obsessed with the 1950's and speaks in a Southern Accent. Its a dark comedy (if you couldn't tell) and it's short and sweet. Watch the Dtube video to hear how I created the character (kinda embarrassing...welcome to my artist brain!) the work I've been doing at Second City to develop it, the scenario, and why I want to create this type of content and these types of female roles.
I'm realizing I am bad at asking for help or support and I love to just do things by myself. BUT that's not how you grow as an individual or build community so my steemy friends- please upvote, re steem, comment and ask questions and be a part of me getting my first short film made. I would love to fund some of this (or maybe ALL OF IT?!) on Steem. I know some other people have already been successful on the platform doing these types of things so please feel free connect me to them and offer any advice or insight you might have.
Some things I'm planning that you have to look forward to are...
Interview with Director Kat Webber
Kat has edited the past few Drake music videos and has directed a number of commercials, music videos, short films and HAPPENS TO BE one of my best friends! Yeah I roll with some badass babes.
Interview with Co-Star Emily Coutts
Emily is an actor and producer who is currently on Star Trek Discovery playing Keyla Detmer and has a list of other amazing credits... oh and she's ALSO one of my best friends. Like I said- I'm surrounded by some seriously awesome and talented women.
Improvisations of Barbara-Anne
I am discovering lots about Barbara Anne through improvs and I'd love to film and share some exclusively on Steem!
The creative process
Sharing more details about this specific project and the discoveries I'm having as a first time film maker. I've been on screen but learning all of the behind the scenes business is it's own thing!
Behind the Scenes on Set
When we are ready to shoot I want to have lots of behind the scenes video and photos.
Okay now that I've put an actually name to the project I'm working on it feels like a real things! Lets rock and roll babbyyyyy
xo
K
---
▶️ DTube
▶️ IPFS