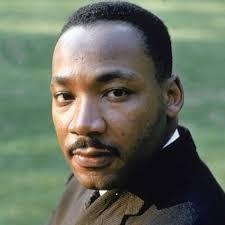 Martin luther king ( January 15, 1929 – April 4, 1968) was an American Baptist minister and activist who became the most visible spokesperson and leader in the Civil Rights Movement. He is best known for his role in the advancement of civil rights using the tactics of nonviolence and civil disobedience based on his Christian beliefs and inspired by the nonviolent activism of Mahatma Gandhi.
King became a civil rights activist early in his career. He led the 1955 Montgomery bus boycott and helped found the Southern Christian Leadership Conference (SCLC) in 1957, serving as its first president. With the SCLC, King led an unsuccessful 1962 struggle against segregation in Albany, Georgia, and helped organize the 1963 nonviolent protests in Birmingham, Alabama. King also helped to organize the 1963 March on Washington, where he delivered his famous "I Have a Dream" speech.
On October 14, 1964, King received the Nobel Peace Prize for combating racial inequality through nonviolent resistance. In 1965, he helped to organize the Selma to Montgomery marches, and the following year he and SCLC took the movement north to Chicago to work on segregated housing. In the final years of his life, King expanded his focus to include opposition towards poverty and the Vietnam War, alienating many of his liberal allies with a 1967 speech titled "Beyond Vietnam".
In 1968, King was planning a national occupation of Washington, D.C., to be called the Poor People's Campaign, when he was assassinated by James Earl Ray on April 4 in Memphis, Tennessee. King's death was followed by riots in many U.S. cities. Ray, who fled the country, was arrested two months later at London Heathrow Airport. Ray was sentenced to 99 years in prison for King's murder, and died in 1998 from hepatitis while serving his sentence.
King was posthumously awarded the Presidential Medal of Freedom and the Congressional Gold Medal. Martin Luther King Jr. Day was established as a holiday in numerous cities and states beginning in 1971, and as a U.S. federal holiday in 1986. Hundreds of streets in the U.S. have been renamed in his honor, and a county in Washington State was also renamed for him. The Martin Luther King Jr. Memorial on the National Mall in Washington, D.C., was dedicated in 2011.
Early life and education ![image(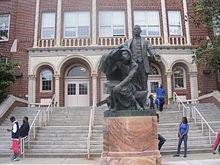 )
King was born on January 15, 1929, in Atlanta, Georgia, to the Reverend Martin Luther King, Sr. (1899–1984) and Alberta Williams King (1904–1974).[1] King's legal name at birth was Michael King,[2] and his father was also born Michael King, but the elder King changed his and his son's names following a 1934 trip to Germany to attend the Fifth Baptist World Alliance Congress in Berlin. It was during this time he chose to be called Martin Luther King in honor of the German reformer Martin Luther.[3][unreliable source?][4] King's parents were both African-American, and he also had Irish ancestry through his paternal great-grandfather.[5][6][7]
King was a middle child, between an older sister, Willie Christine King, and a younger brother, Alfred Daniel Williams King.[8] King sang with his church choir at the 1939 Atlanta premiere of the movie Gone with the Wind.[9] King liked singing and music. His mother was an accomplished organist and choir leader, and she took him to various churches to sing. He received attention for singing "I Want to Be More and More Like Jesus." King later became a member of the junior choir in his church.[10]
King said that his father regularly whipped him until he was fifteen; a neighbor reported hearing the elder King telling his son "he would make something of him even if he had to beat him to death." King saw his father's proud and fearless protests against segregation, such as King Sr. refusing to listen to a traffic policeman after being referred to as "boy," or stalking out of a store with his son when being told by a shoe clerk that they would have to "move to the rear" of the store to be served.[11]
When King was a child, he befriended a white boy whose father owned a business near his family's home. When the boys were six, they started school: King had to attend a school for African Americans and the other boy went to one for whites (public schools were among the facilities segregated by state law). King lost his friend because the child's father no longer wanted the boys to play together.[12]
King suffered from depression throughout much of his life. In his adolescent years, he initially felt resentment against whites due to the "racial humiliation" that he, his family, and his neighbors often had to endure in the segregated South.[13] At the age of 12, shortly after his maternal grandmother died, King blamed himself and jumped out of a second-story window, but survived.[14]
King was skeptical of many of Christianity's claims. At the age of 13, he denied the bodily resurrection of Jesus during Sunday school.[15] From this point, he stated, "doubts began to spring forth unrelentingly."[16][15] However, he later concluded that the Bible has "many profound truths which one cannot escape" and decided to enter the seminary.[15]
Growing up in Atlanta, King attended Booker T. Washington High School. He became known for his public speaking ability and was part of the school's debate team.[17] King became the youngest assistant manager of a newspaper delivery station for the Atlanta Journal in 1942 when he was 13.[18] During his junior year, he won first prize in an oratorical contest sponsored by the Negro Elks Club in Dublin, Georgia. Returning home to Atlanta by bus, he and his teacher were ordered by the driver to stand so that white passengers could sit down. King initially refused, but complied after his teacher told him that he would be breaking the law if he did not submit. King said that during this incident, he was "the angriest I have ever been in my life."[17] A precocious student, he skipped both the ninth and the twelfth grades of high school.[19]
During King's junior year in high school, Morehouse College, a respected historically black college, announced that it would accept any high school juniors who could pass its entrance exam. At that time, many students had abandoned further studies to enlist in World War II. Due to this, Morehouse was eager to fill its classrooms. At the age of 15, King passed the exam and entered Morehouse.[17] The summer before his last year at Morehouse, in 1947, the 18-year-old King chose to enter the ministry. He had concluded that the church offered the most assuring way to answer "an inner urge to serve humanity." King's "inner urge" had begun developing, and he made peace with the Baptist Church, as he believed he would be a "rational" minister with sermons that were "a respectful force for ideas, even social protest."[20]
In 1948, he graduated from Morehouse with a B.A. in sociology and enrolled in Crozer Theological Seminary in Chester, Pennsylvania, from which he graduated with a B.Div. degree in 1951.[21][22] King's father fully supported his decision to continue his education.
While attending Crozer, King was joined by Walter McCall, a former classmate at Morehouse.[23] At Crozer, King was elected president of the student body.[24] The African-American students of Crozer for the most part conducted their social activity on Edwards Street. King became fond of the street because a classmate had an aunt who prepared collard greens for them, which they both relished.[25]
King once reproved another student for keeping beer in his room, saying they had shared responsibility as African Americans to bear "the burdens of the Negro race." For a time, he was interested in Walter Rauschenbusch's "social gospel."[24] In his third year at Morehouse, King became romantically involved with the white daughter of an immigrant German woman who worked as a cook in the cafeteria. The daughter had been involved with a professor prior to her relationship with King. King planned to marry her, but friends advised against it, saying that an interracial marriage would provoke animosity from both blacks and whites, potentially damaging his chances of ever pastoring a church in the South. King tearfully told a friend that he could not endure his mother's pain over the marriage and broke the relationship off six months later. He continued to have lingering feelings toward the women he left; one friend was quoted as saying, "He never recovered."[24]
King married Coretta Scott on June 18, 1953, on the lawn of her parents' house in her hometown of Heiberger, Alabama; he was 24 and she was 26.[26] They became the parents of four children: Yolanda King (b. 1955, d. 2007), Martin Luther King III (b. 1957), Dexter Scott King (b. 1961), and Bernice King (b. 1963).[27] During their marriage, King limited Coretta's role in the Civil Rights Movement, expecting her to be a housewife and mother.[28]
At age 25 in 1954, King was called as pastor of the Dexter Avenue Baptist Church in Montgomery, Alabama.[29]
Speech about i have a dream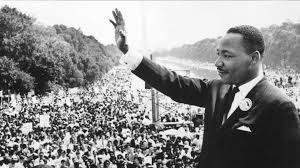 I am happy to join with you today in what will go down in history as the greatest demonstration for freedom in the history of our nation.
Five score years ago, a great American, in whose symbolic shadow we stand today, signed the Emancipation Proclamation. This momentous decree came as a great beacon light of hope to millions of Negro slaves who had been seared in the flames of withering injustice. It came as a joyous daybreak to end the long night of their captivity.
But one hundred years later, the Negro still is not free. One hundred years later, the life of the Negro is still sadly crippled by the manacles of segregation and the chains of discrimination. One hundred years later, the Negro lives on a lonely island of poverty in the midst of a vast ocean of material prosperity. One hundred years later, the Negro is still languished in the corners of American society and finds himself an exile in his own land. And so we've come here today to dramatize a shameful condition.
In a sense we've come to our nation's capital to cash a check. When the architects of our republic wrote the magnificent words of the Constitution and the Declaration of Independence, they were signing a promissory note to which every American was to fall heir. This note was a promise that all men, yes, black men as well as white men, would be guaranteed the "unalienable Rights" of "Life, Liberty and the pursuit of Happiness." It is obvious today that America has defaulted on this promissory note, insofar as her citizens of color are concerned. Instead of honoring this sacred obligation, America has given the Negro people a bad check, a check which has come back marked "insufficient funds."
But we refuse to believe that the bank of justice is bankrupt. We refuse to believe that there are insufficient funds in the great vaults of opportunity of this nation. And so, we've come to cash this check, a check that will give us upon demand the riches of freedom and the security of justice.
We have also come to this hallowed spot to remind America of the fierce urgency of Now. This is no time to engage in the luxury of cooling off or to take the tranquilizing drug of gradualism. Now is the time to make real the promises of democracy. Now is the time to rise from the dark and desolate valley of segregation to the sunlit path of racial justice. Now is the time to lift our nation from the quicksands of racial injustice to the solid rock of brotherhood. Now is the time to make justice a reality for all of God's children.
It would be fatal for the nation to overlook the urgency of the moment. This sweltering summer of the Negro's legitimate discontent will not pass until there is an invigorating autumn of freedom and equality. Nineteen sixty-three is not an end, but a beginning. And those who hope that the Negro needed to blow off steam and will now be content will have a rude awakening if the nation returns to business as usual. And there will be neither rest nor tranquility in America until the Negro is granted his citizenship rights. The whirlwinds of revolt will continue to shake the foundations of our nation until the bright day of justice emerges.
But there is something that I must say to my people, who stand on the warm threshold which leads into the palace of justice: In the process of gaining our rightful place, we must not be guilty of wrongful deeds. Let us not seek to satisfy our thirst for freedom by drinking from the cup of bitterness and hatred. We must forever conduct our struggle on the high plane of dignity and discipline. We must not allow our creative protest to degenerate into physical violence. Again and again, we must rise to the majestic heights of meeting physical force with soul force.
The marvelous new militancy which has engulfed the Negro community must not lead us to a distrust of all white people, for many of our white brothers, as evidenced by their presence here today, have come to realize that their destiny is tied up with our destiny. And they have come to realize that their freedom is inextricably bound to our freedom.
We cannot walk alone.
And as we walk, we must make the pledge that we shall always march ahead.
We cannot turn back.
There are those who are asking the devotees of civil rights, "When will you be satisfied?" We can never be satisfied as long as the Negro is the victim of the unspeakable horrors of police brutality. We can never be satisfied as long as our bodies, heavy with the fatigue of travel, cannot gain lodging in the motels of the highways and the hotels of the cities. We cannot be satisfied as long as the negro's basic mobility is from a smaller ghetto to a larger one. We can never be satisfied as long as our children are stripped of their self-hood and robbed of their dignity by signs stating: "For Whites Only." We cannot be satisfied as long as a Negro in Mississippi cannot vote and a Negro in New York believes he has nothing for which to vote. No, no, we are not satisfied, and we will not be satisfied until "justice rolls down like waters, and righteousness like a mighty stream."1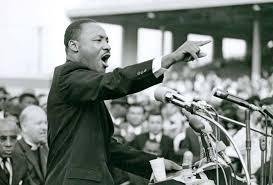 I am not unmindful that some of you have come here out of great trials and tribulations. Some of you have come fresh from narrow jail cells. And some of you have come from areas where your quest -- quest for freedom left you battered by the storms of persecution and staggered by the winds of police brutality. You have been the veterans of creative suffering. Continue to work with the faith that unearned suffering is redemptive. Go back to Mississippi, go back to Alabama, go back to South Carolina, go back to Georgia, go back to Louisiana, go back to the slums and ghettos of our northern cities, knowing that somehow this situation can and will be changed.
Let us not wallow in the valley of despair, I say to you today, my friends.
And so even though we face the difficulties of today and tomorrow, I still have a dream. It is a dream deeply rooted in the American dream.
I have a dream that one day this nation will rise up and live out the true meaning of its creed: "We hold these truths to be self-evident, that all men are created equal."
I have a dream that one day on the red hills of Georgia, the sons of former slaves and the sons of former slave owners will be able to sit down together at the table of brotherhood.
I have a dream that one day even the state of Mississippi, a state sweltering with the heat of injustice, sweltering with the heat of oppression, will be transformed into an oasis of freedom and justice.
I have a dream that my four little children will one day live in a nation where they will not be judged by the color of their skin but by the content of their character.
I have a dream today!
I have a dream that one day, down in Alabama, with its vicious racists, with its governor having his lips dripping with the words of "interposition" and "nullification" -- one day right there in Alabama little black boys and black girls will be able to join hands with little white boys and white girls as sisters and brothers.
I have a dream today!
I have a dream that one day every valley shall be exalted, and every hill and mountain shall be made low, the rough places will be made plain, and the crooked places will be made straight; "and the glory of the Lord shall be revealed and all flesh shall see it together."2
This is our hope, and this is the faith that I go back to the South with.
With this faith, we will be able to hew out of the mountain of despair a stone of hope. With this faith, we will be able to transform the jangling discords of our nation into a beautiful symphony of brotherhood. With this faith, we will be able to work together, to pray together, to struggle together, to go to jail together, to stand up for freedom together, knowing that we will be free one day.
And this will be the day -- this will be the day when all of God's children will be able to sing with new meaning:
My country 'tis of thee, sweet land of liberty, of thee I sing. Land where my fathers died, land of the Pilgrim's pride, From every mountainside, let freedom ring.
And if America is to be a great nation, this must become true.
And so let freedom ring from the prodigious hilltops of New Hampshire.
Let freedom ring from the mighty mountains of New York.
Let freedom ring from the heightening Alleghenies of Pennsylvania.
Let freedom ring from the snow-capped Rockies of Colorado.
Let freedom ring from the curvaceous slopes of California.
But not only that:
Let freedom ring from Stone Mountain of Georgia.
Let freedom ring from Lookout Mountain of Tennessee.
Let freedom ring from every hill and molehill of Mississippi.
From every mountainside, let freedom ring.
And when this happens, and when we allow freedom ring, when we let it ring from every village and every hamlet, from every state and every city, we will be able to speed up that day when all of God's children, black men and white men, Jews and Gentiles, Protestants and Catholics, will be able to join hands and sing in the words of the old Negro spiritual:
Free at last! Free at last!
Thank God Almighty, we are free at last!3