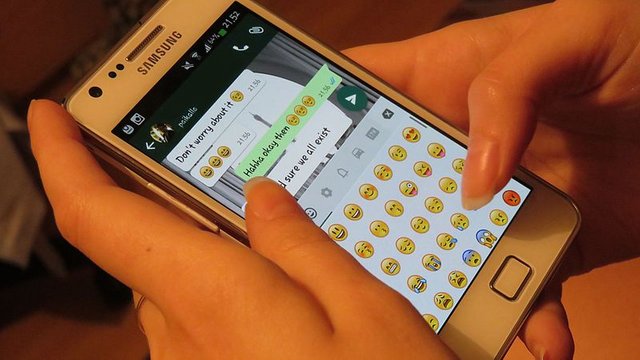 Source
---
October 11, 2018
Messages in this group are protected with end-to-end encryption. Touch for more information.
Ana Maria Rojas created the "Candidate Proposals" group.
Ana Maria Rojas added you.
Ana Maria Rojas

Well, I made this group so that everyone can read and have the information at hand. Let's see, his name is Manuel Rojas, he is six feet tall, short gray hair, bald at the top. Wide shoulders, strong arms, big belly. Light skin, flat nose, very small brown eyes, oval face, shaved with acne marks and a prominent double chin. Wears dark glasses to drive and shouts at phone freehands. Drives a Land-Rover Discovery 2017 gray, AAF-4G5 plates, with a New York Yankees sticker on the back window. He always wears light-colored short-sleeved shirts and jeans.15:21
He goes every day around 9 am to his eleventh floor office in the Skyline tower in downtown, stays there until about 12:30 when he walks to a restaurant in the lunch area and has a couple of cups of coffee, returns to his office around 14:00. He remains locked up until 15:00, when he starts attending clients and having meetings with his employees until 18:00. At that time, he closes the office and if he doesn't have any more appointments, he goes to the 10th´s bar. 15:29
There, he drinks a couple of beers talking to the owner or one of the usual drunkards, that couple of beers can turn into dozens, depending on the company and the day. Come home after 20:00.15:30
It must be a weekday, he's with me on weekends and I don't want to take any chances. 15:31
+584128756415

Ma'am, there's no risk, we're professionals, we know how to work under pressure. 15:33
+584168569785

It may be a good idea for you to be present to avoid any suspicions. 15:33
Ana Maria Rojas

I thought about it but knowing him, he may get violent and I don't want to be present if something goes wrong. 15:36
+584168569785

Don't worry chief, it's simple, we follow and intercept him somewhere in the road, shoot him and take the truck, for you, we'll give you some not very strong hits to avoid suspicions and leave you on the road, without a problem. Less than 5 minutes, a piece of cake.15:39
+584128756415

He won't be able to get violent, he won't have time. Chief, the weekend is better.15:40
Ana Maria Rojas

No. There will be a weekday. 15:41
+584168569785

Perfect boss, you command, a weekday will be. Now, as for the money, half before and once we finish the work, then, the other half. We will keep the truck too, of course.15:42
+584128756415

That has already been agreed, the lady knows what our honours are. I told you, our clients are reliable, ladies and gentlemen who would never think of conning us. Excuse my partner lady, it's a little coarse.15:44
honorariums*15:44
Ana Maria Rojas

No problem, it's better to make everything very clear. Clear beads preserve friendships, right? And yes, the truck has always been part of the agreement, you can take it without any problem. The money, how do I make the delivery? 15:46
+584168569785

We can arrange a delivery at a public payment site in gold or foreign exchange. You could also transfer the funds to an account we have in Panama for these purposes.15:48
+584128756415

Don't even think about cash, the first thing they will do is review your account movements and if they see a very large withdrawal they will be suspicious. International accounts are more difficult to investigate, they have to have a warrant, send it to the Panamanian police, confirm that everything is in order, avoid bureaucracy and wait several months. If things go well, as it will, they will have no reason to do all the paperwork.15:50
Ana Maria Rojas

Perfect, send me the account number, I will make the transfer. How long will it take for the work to be done?15:51
+584168569785

It doesn't look complicated, it could be this very weekend but you don't allow it, so taking into account that today is Thursday, we have to confirm the information you have given us, study the terrain, confirm the payment and make plans for the work, I think you can be sure that no later than Thursday next week will be done.15:51
Ana Maria Rojas

Perfect. Thank you very much, you are very kind. By the way a friend wants to hire your services.15:52
+584128756415

You're not telling all your friends this, are you? We told you, be very, very careful...15:52
+584168569785

Madam, I know these are not manners but I must remind you that this must remain in absolute secret.15:53
Ana Maria Rojas

No, no, no. I swear I haven't said anything, I mean, she is a good friend and always complains about her husband, she told me that he hits her and I know how much she would like to get rid of him. I'm sure she would hire you, she's reliable and she can pay. But I haven't said anything to her yet because I wanted to ask you if you are interested in the job. 15:55
+584168569785

All right, I've confirmed your transfer, all in order. Sorry for the misunderstanding, we didn't mean to be rude but these issues are quite delicate. If you really think your friend is trustworthy, give her this phone number and tell her to send me a message with the word "password", so I know it's her.15:58
Ana Maria Rojas

Perfect, it' s a pleasure doing business with you. Have a very good day.15:58
+584128756415

The same for you, we will be in contact to coordinate the second part of the payment.15:59
---
+584165649823
Password.16:05
+584168569785

Good afternoon, I was waiting for your message.16:05
+584165649823
Good day, let's get to the point. I want it to be this weekend, on Saturday we will go to a cabin at Paramo, I want it to look like a heist that got out of control, I don't mind spending a few hours tied up and receive some blows but I want everything to happen in front of me, that should arouse suspicion, right?16:06
+584168569785

Perfect sir, anything else?16:06
+584165649823
You have to be realistic. Ana is hot, nobody would stop raping her in that situation, several times. She has just made the first payment, the second part will be double and I will do it in a week. I will keep the truck.16:07
---
Disclaimer:
This is a totally fictional and experimental story that I wrote inspired by the anecdote of a friend who was accidentally added in a whatsapp´s group. The phone numbers that appear in the story are invented, people and names are invented as well, and as far as I can tell, nothing like this has ever happened.
---
Posted from my blog with SteemPress : http://jcalero.vornix.blog/2018/11/05/wrong-number/
---