Concert (A short Story)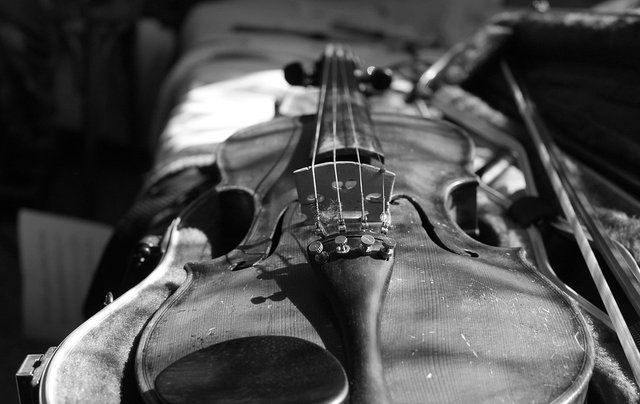 I slowly stood up and faced the mirror. Pain shot through my back and I had to put my hand down on the armrest to steady myself.
"Dad, are you okay?", the concerned voice of my son softly filled the room.
"I'm fine. I'm fine.", I replied as I focused on the reflection of the mirror. It showed an aged face full of wrinkles. Thick big round eyeglasses and weary eyes behind it. I straightened my tie as my son handed me my favorite black suit.
"Where's Glenda?", I asked as I turned around and shuffled towards the other end of the room where a music stand was placed. Beside me were 2 young gentlemen in their late teens. Their hands on my arms and waist, giving me support. They were my students. It took a while for me to cross the room and when I arrived, my son was already there waiting with Glenda.
Glenda was the name of my violin. I was a classical soloist for more than 5 decades. I had toured the world together with Glenda. Through all my ups and downs, she was always there. My faithful child.
I stretched out my arms and received Glenda, the touch of wood, and the soft resonance of the strings was music to my ears. My last concert was 5 years ago. I had retired since then but I had 1 more concert to play. My last and final one.
Tuning the instrument was difficult to accomplish with my shaky fingers but I refused offered help. To me, this was a bonding moment. Slowly the strings tightened, the vibrations creating sounds that were music to my ears. With this came memories of the past. My first concert at Carnegie Hall. The loud claps, whistles, and shouts for an encore at Vienna. The silent crowd in a cockfighting arena, mesmerized by the music that Glenda and I made. The music camps I held in remote mountain areas for the children. Nostalgia.
"Dad, it's almost time.", my son gently reminded me.
"Okay, I'm almost ready."
I played some tunes on the violin then slowly set it back in the case. "One last concert Glenda. Make me proud", I muttered.
People escorted me to the car waiting outside the house. The media was present but reporters stood in line on the far right, stopped by family and friends. Bless them!
We arrived after a 30-minute ride. People greeted me in the hallway as I made my way slowly to the elevator that took me to the 3rd floor. There I marched the hallway towards the entrance of my concert room. The slow walk seemed more like a trance, each step was a review of my life and how great it was. Each breath was the melody of every song I played. Each blink of the eye was a picture of love, peace, joy, family, friends, pain, suffering, hard-work and perseverance.
The door to the room was open. Beyond it, complete silence. I entered the room. The bright light blinded me for a moment, something I never got used to. Then I saw her, my eyes only on her. Mary, my darling, my love lying on a hospital bed. A couple of tubes were attached to her body. A painful sight!
More than 6 decades, we were together. She was my first fan. My most loyal follower. I met her during one of the fancy balls I attended after a concert. We were inseparable from that night onwards. She went with me as I frolicked around the world. Yes, she loved my music and my music loved her. I stood beside her, squeezed her hand and kissed her forehead.
Now it was time to play.
I picked up my violin, closed my eyes and took a deep breath.
This concert is for the most wonderful person in the world.
---
Thank you for reading the story.
Though this is a work of fiction, it is inspired by a true virtuoso, Maestro Kabayao. This excellent man made his debut concert at Carnegie Hall at the age of 17. I had the opportunity to meet him and his family twice at their home, thanks to a friend who happened to be one of his students.
With this post, I hope to inspire classical musicians in Steemit. Let us come together and form a community. Let us bring to Steemit the music we all hold dear.
Maestro Kabayao, thank you for your service to mankind.
Photo credits to Pixabay
Follow @isaganispeaks for more poetry, freewrite, medical history and, health and music blogs.
---
Tired of drifting at sea? The Isle of Write welcomes thee.