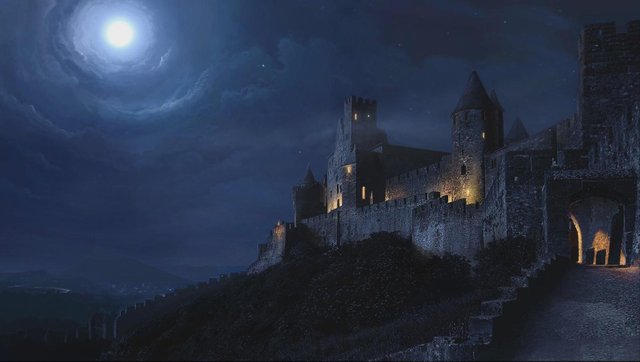 Red scaled the castle wall. At the top, hand firmly on sword, he surveyed the parapet. No resistance. No guards on duty. Red proceeded down a stone staircase into the courtyard, his dark cloak blending into the shadows.
All this evasion and no one to evade.
In the center of the courtyard was the throne room. Large gold doors with massive gold rings for handles stood in front of Red. He heaved his body against them and they swung open. Running into the room, sword raised high in the air, he exposed his face pulling back the cloak's hood. Adrenaline coursed through his veins. Only one other man was there; his target.
The emperor yelled down to Red from the top of the staircase leading to the throne, "Okay, you win, the empire is yours now. Good luck with your new job."
Red was blindsided and stepped back as if to avoid a sword strike.
"Stand and fight!"
"No need. I graciously bow down to my new ruler," the emperor said, grabbing a bag placed beside the throne. He bounded down the steps.
"God I'm glad you came. Another month and I think someone would have poisoned my food. At least my spies are still worth their salt."
"I... I don't understand."
"Nothing really to understand, young valiant man. I am off for a well-deserved and extended vacation, indefinite really. This empire and its fickle subjects can go to hell. Oh, you'll need this," the emperor said, placing a gold crown in Red's empty hand.
Grasping the crown in both hands, Red let his sword fall to the marble floor with a loud clank, the sound echoing off the chamber walls. He stared at it as the emperor hurried out of the room. He heard a horse neigh and then gallop away.
Red was a damn good fighter; he had been since he was a boy. He fought in the slums of his old kingdom and trained with the best rebels once he reached maturity. But to be a leader, an emperor…
He slowly walked up the stairs and sat down on the throne, reluctantly placing the crown on his head. Through the back door entered the queen. She stood in front of him. Black thick hair fell down over her shoulders draping over her naked breasts. A gold girdle adorned her hips. She smiled at Red as she bent down on her knees and put her arms on his strong thighs. Dazed, he looked at the queen. He got up grasping her hands as she led him to the royal chamber.
---
Fools, Red thought as he laughed. He'd seen the men in front of him many times. Arbitrating their farm boundary disputes did not please him but he did find humor in it. The royal duties had expanded Red's mental abilities but also his belly. He grabbed a drumstick and tore his teeth into it. A young maiden fed him grapes as he smiled lustfully at her. His once fiery hair was woven with white strands.
That evening his chief spy entered the throne room. "Sire, we have word there is a plot against you. The people have grown weary..." the spy spoke but Red stopped listening.
The people, huh. These people are ungrateful children. They have no idea what it means to rule, to try to appease everyone yet remain strong in the face of opposition. The people, ugh.
As he mulled over these thoughts a smile crept over his face.
"This pleases you, Sire? They are sending a very capable freedom fighter. I can have him found and executed."
"What pleases me is none of your concern. No, I do not want him found. I do not want him touched. Forget about him entirely, I will handle this myself."
That evening he retired the royal guard. "Spend time with your families for once," he told them. Having made preparations for his departure and giving the queen specific instructions, he waited patiently on the throne.
A young man burst in through the doors. Looking at the man a sense of loss swept over Red, not for the empire but for what the man possessed inside, what he once had. Red got up off the throne and yelled, "Okay, you win, the empire is yours now. Good luck with your new job."
---
Special thanks go out to these fine folks from the Writers' Block who made editing suggestions:
@steemitgraven29
@thinknzombie
@authorofthings