Happy Friday y'all!
This week for Food Fight I'm trying something a bit different. @dandays and I were separated for the beginning part of the week so I could go see a doctor in Panama. It sounds much more exciting than it actually was but all in all it was a good trip. Needless to say @foodfightfriday just crept up on me and I hadn't adequately prepared for it with food pictures… 🤔 I smell a reoccurring theme each week 🤦🏼‍♀️… so I have another idea…
When was the last time you had a blood panel? A blood panel that includes your cholesterol, blood sugar levels and hormones? Did you know that hypoglycemia, pre diabetes, diabetes, and insufficient pancreatic enzymes can be seen on a simple blood test? You might be wondering what any of this has to do with @foodfightfriday and yes I'm getting there but it's actually crucial information to have for yourself.
Our pancreas kicks out a couple enzymes that are supposed to be used to break down our food. It's the organ that's also in charge of our insulin which is the same chemical involved in regulating our blood sugar- super important sounding organ right?!?
Well there are a plethora of things that can go wrong with your pancreas to effect a multitude of other things in your body and diabetes is one of them. I know many people think "but I'm on a plant based diet so diabetes is of no concern to me" and they couldn't be more wrong. Sure, maybe you don't have to worry about diabetes but remember those insulin and blood sugar levels I was talking about, those issues can and do afflict everyone.
If I sit down and gorge on a bowl of double scoop ice cream sprinkled in white chocolate nibs mixed with candy shell dark chocolate on an empty stomach, how high do you think my blood sugar will soar? What goes up must come down and the higher it goes the worse the crash.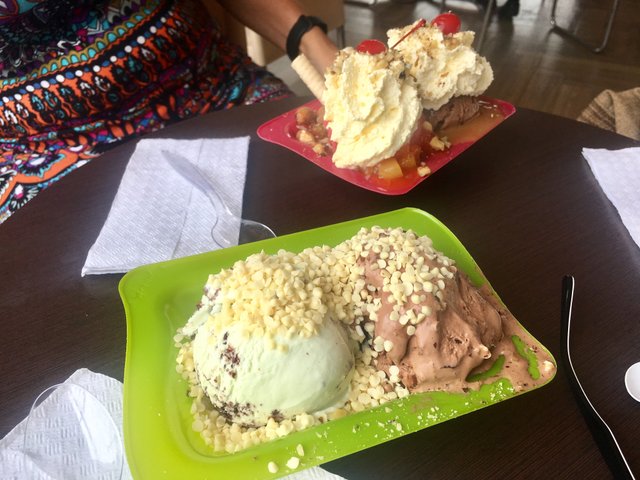 Now I don't claim to know anything about nutrition but I assume if you were just told your blood work glucose levels are in the range of a prediabetic you'd probably want to stay away from that ice cream store. I mean sure, you aren't a full blown diabetic, yet, but even a frappacinno, as low carb as it might be, can send your blood sugar sky high. And what have we learned today? All together now:
"What goes up must come down", the crash is inevitable.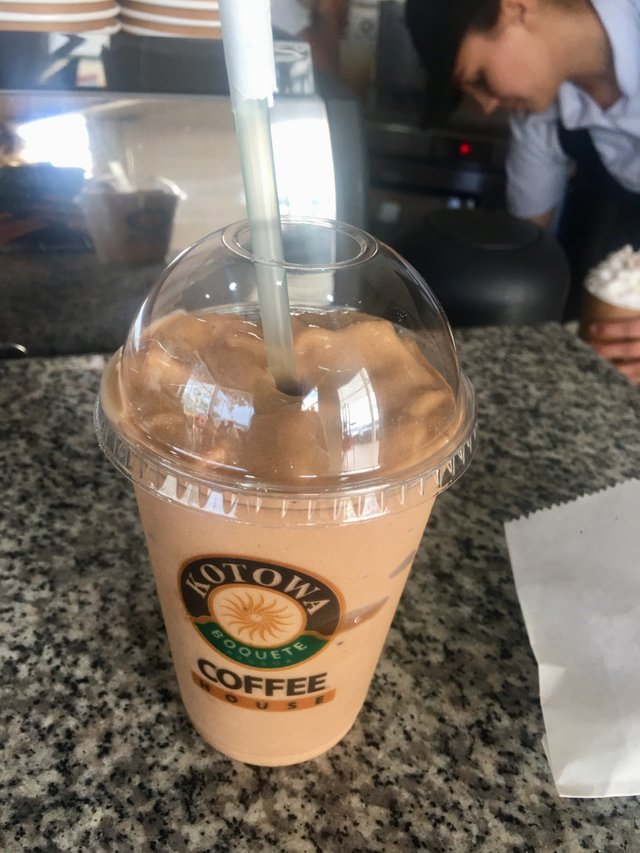 "But what if I mixed that sugar with caffeine Pura"?
Well then you're an even bigger moron than I thought. The caffeine, sugar, fat trifecta are going to make for a crummy ride into sickoville. Check him out, he can't get ahold of himself… that's exactly what your body is doing on the inside, freaking out!
Eating plant based won't save you here. I guess if your blood work showed you had high cholesterol, good and bad, plus an elevated uric acid count then this plate would look like a good option, right?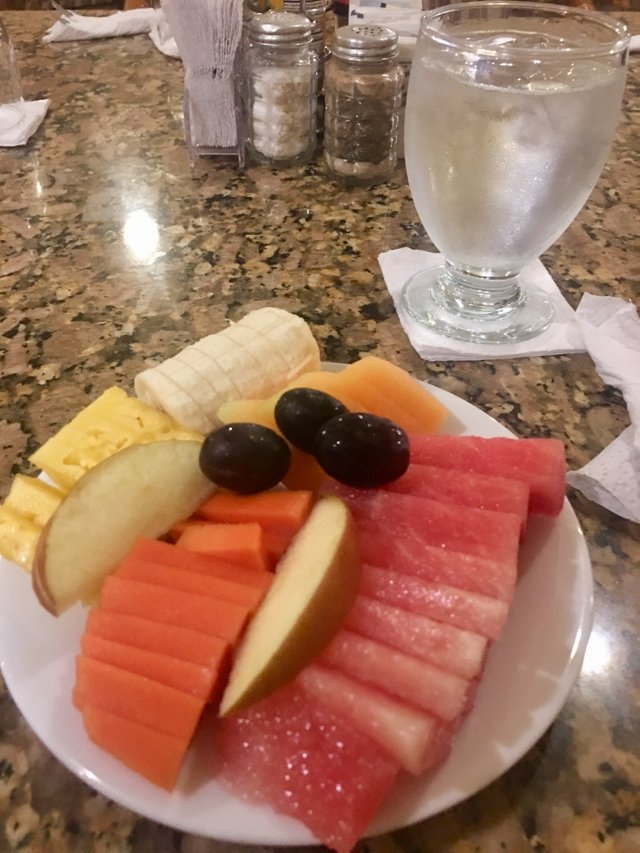 But then there's that pesky prediabetic thing to consider… is a fruit plate really an ideal breakfast for a prediabetic? I don't know 🤷🏼‍♀️, that's why I'm asking. Fruit breaks down into fructose and is used by your body in the same way glucose is so wouldn't that make this fruit bowl the same as eating 15 Oreos for brekkie? Probably not! However appealing that fruit plate may look if you have blood sugar issues you may want to pair it with a healthy fat or protein. I don't know, I'm just guessing here that a prediabetic should probably try and maintain a very balanced blood sugar and maybe a lower carb diet, maybe. Fruit is considered a carb, right?
So then what do you eat if you have a prediabetic diagnosis, blood sugar issues, high good and bad cholesterol, and elevated uric acid in your blood? Is it even possible to have high cholesterol if you're a plant eater?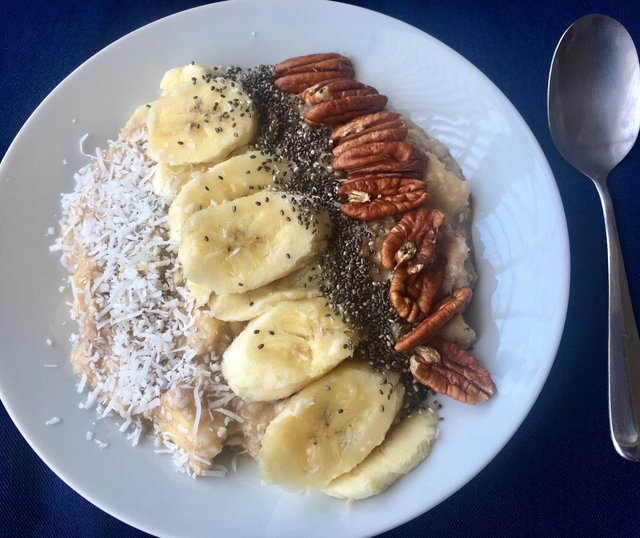 Would this oatmeal made with coconut milk, banana, apple, cinnamon, chia, and pecans constitute a healthy meal for someone with all of those problems?
Maybe something a little lower in carb and glycemic index would be better… like let's say a piece of fish, veggies, and slaw but that probably doesn't make for an equally appetizing breakfast 🤔. Can you skip breakfast, opting for a black coffee and trendy "intermittent fasting" sesh instead?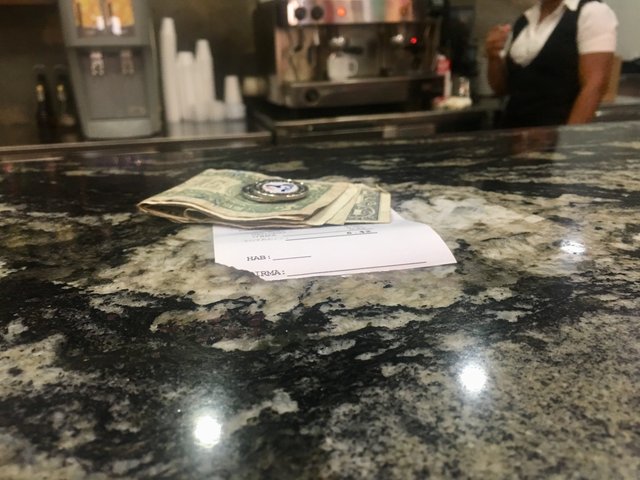 Would the caffeine minus the sugar keep your levels in check or is that fasting business bad for your uric acid levels? Jeeze, so many questions and even more conflicting answers.
The thing about all of these questions too, is that everyone has the "answer". Doctors will tell you something different than your nutritionist, and they'll say the opposite of what your hypoglycemic neighbor says, who will swear that their naturopath has all of the answers and the naturopath will recommend you to an acupuncturist because in addition to regular adjustments, colonics, and crystal therapy you still need to see a western doctor to run and interpret blood tests so you know exactly how much all of your efforts are NOT working. Sounds crazy right??? Or, you could just change your diet…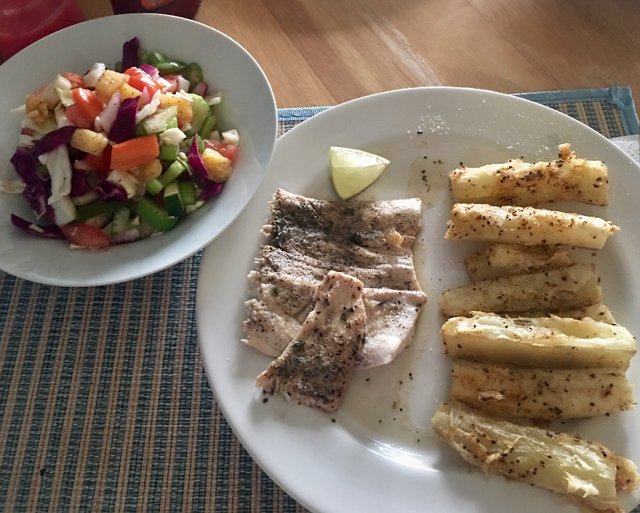 Mahi, yuca fries and cabbage slaw… will this raise your blood sugar, contribute to high cholesterol, or increase your amount of uric acid? Asking for a friend…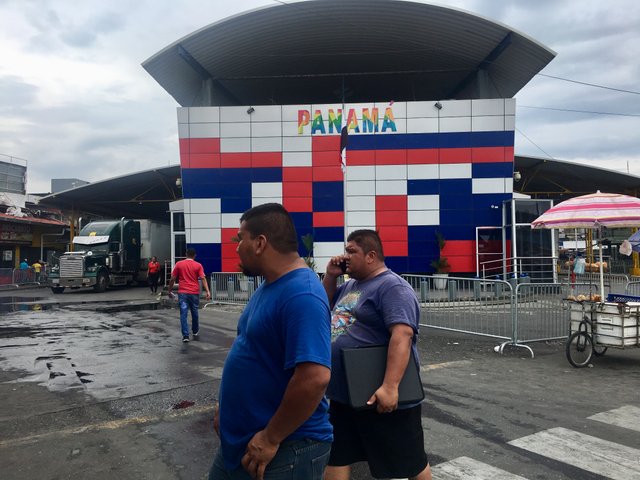 Thanks for hanging out with me today on this thundery, lightning(y) Food Fight Friday. I'll be right on over to check your contenders out. Don't cha just love this community? I know, it's my last question- promise.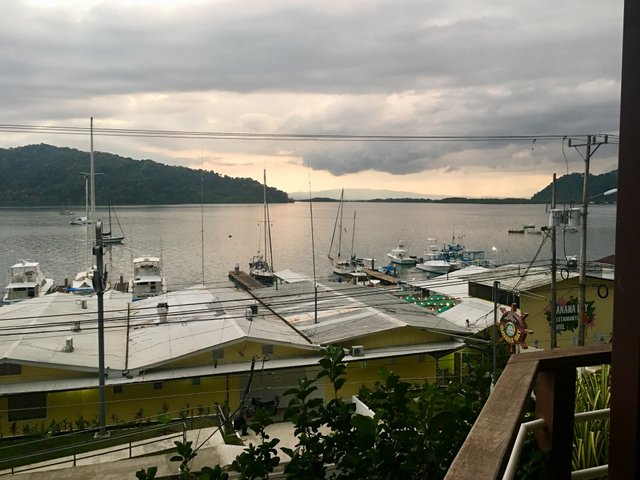 Special shoutout to all of those who make this contest possible: @jlsplatts -the creator, @dandays -cuz he's cute, @weirdheadaches -resteeming/curating and all of the week to week participants: @cicisaja, @glenalbrethsen, @thebigsweed, @farm-mom and everyone else who comes to the party every Friday. Y'all are the real hero's.
Pura Vida ✌️